Overall, Neoito has been a great partner to work with. They have provided us with all of our development needs over the past two years and have enabled us to grow and succeed. Their team of talented developers, their responsiveness, and their ongoing support have been instrumental in helping us reach our goals. We are extremely pleased with our partnership and look forward to continuing to work with Neoito for many years to come.

Kristi Holt
CEO, Vibeonix
Kristi believes in holistic entrepreneurship, which has helped her start and scale up more than five startups over the years. She is also fascinated by how people's voices are linked to their emotional intelligence. With AI, she learned it was possible to understand employees more deeply, keeping their emotional intelligence – as a guide to their mental well-being – especially in a post-pandemic era. 
Vibeonix was born out of this need to help people. She found a team to help her with the complex AI model and data collection, but developing a product that people found soothing and usable required work. 
That's when we came in.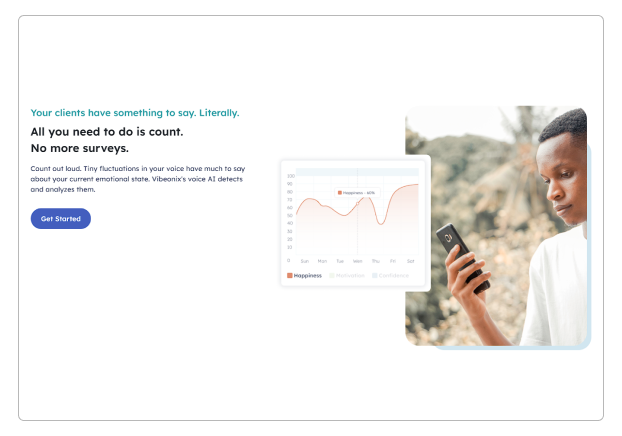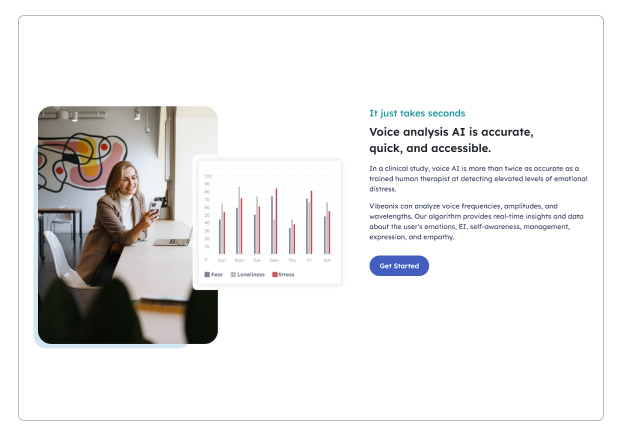 With raw data already coming in from an AI partner, we had to make sense of the trained data by employing an appropriate calculation logic. After intense research and brainstorming ways to communicate data with Kristi, we reached a plan – figure out the emotions that constitute a particular mood and give each of them a score to easily group them.
`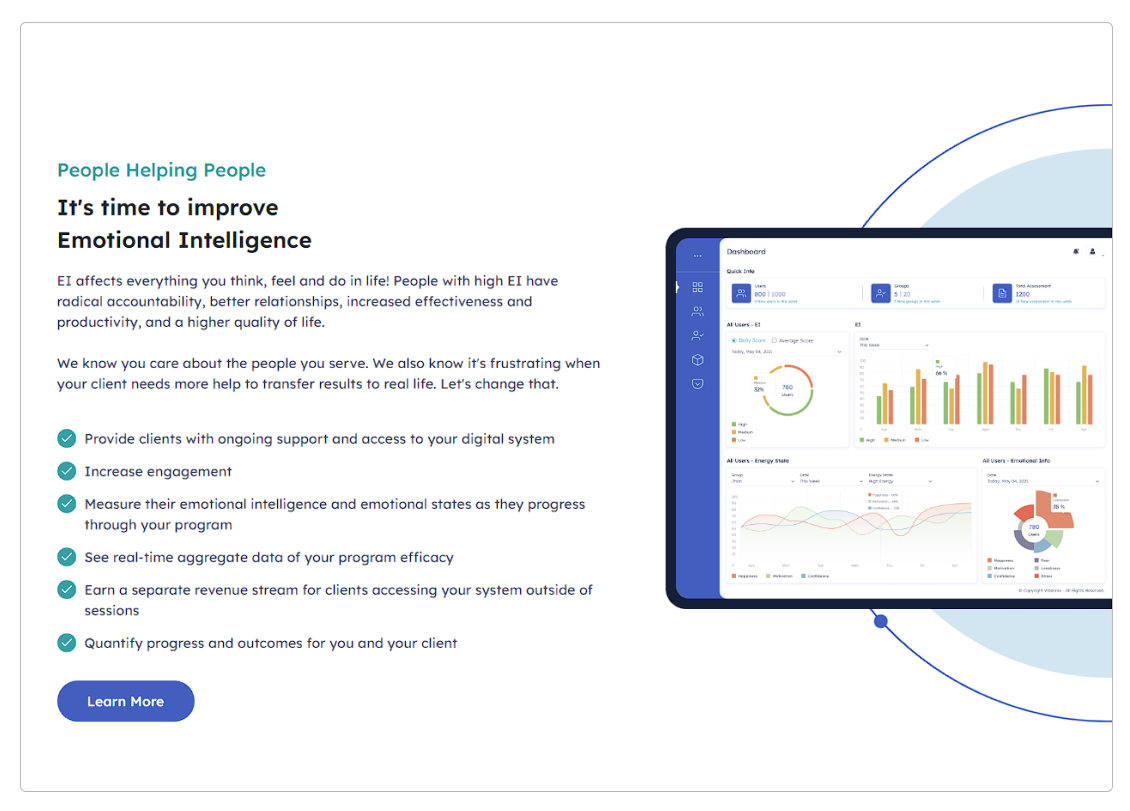 As we solved the mood analysis problem, presenting the findings to users became our next most interesting challenge. It was agreed that a pinch of scepticism was to be expected from first-time users. So the app should incorporate maximum data points for users to visualise their emotions and their correlation to the corresponding mood.
`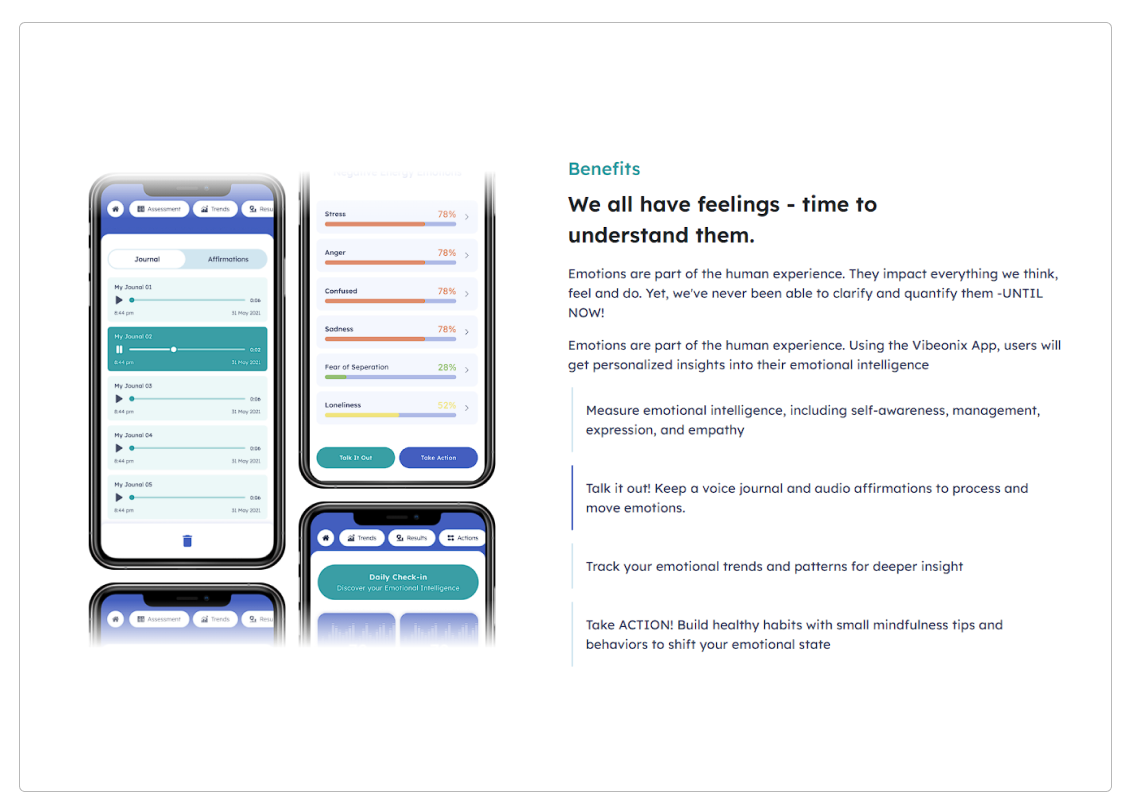 The challenge here was to make the app as intuitive as possible. With an empathetic approach to design, we came up with a simplified frontend for the product that users understood right from the start.
With extensive AI-trained audio data from users, VIbeonix had two big obstacles to tackle before the product launch:
Create a calculation logic to map data points to emotions and score them based on intensity.

This required our team to make sense of the filtered data from the AI model.

Fit the data into a presentable form so that customers could easily validate their results.

Develop an app that could stay with users long term and correct itself to become error-free.

The app required elements for user retention so that we could get chronological data.

Develop the frontend and backend for the mobile version of the app.

Make the app user-friendly and gather feedback to review and better the app usage.
Vibeonix is still in its early stage of adoption, and users find it immensely useful to have it as a guide to understanding their emotional and mental well-being. The product is growing with intuitive user feedback and better training of data with real-time data. Vibeonix is set to be introduced in a couple of major school chains in Texas.
The app has served almost 12000 users so far, covering over 200+ clients, with assessment tests taken over 24000 times.
We're still working to make Vibeonix better.
Vibeonix has helped our team to better understand productivity and the impact of work and other strains that could affect their effectiveness at the office.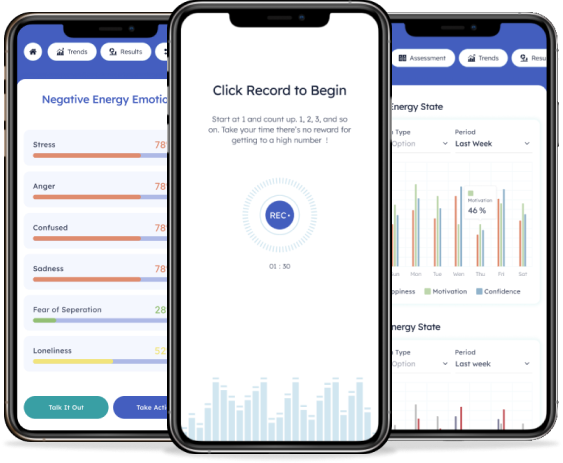 The Vibeonix mobile app is a fully responsive AI-enhanced application with a frontend that hides the complex calculations that go into evaluating human emotions. The clean UI coupled with the third-party API for AI calculations are managed seamlessly at the backend of the application.
The app now has predictive indicators to help businesses, schools, and hospitals know the emotional intelligence of participants. With group, individual, and app-level access to categorise users, Vibeonix is perfect for companywide adoption and gauging organizational health.
Vibeonix has served almost 12000 users so far covering over 200+ clients last year, finding new areas where users can be helped.
Let's Talk