The US construction industry creates significant communication gaps between contractors and their clients, leading to project delays and resource burn.
NextPort's founders, Albert Da Silva, and Brad Wilson, approached us to build a platform that could bridge this communication gap. With years of experience working on construction projects across the country, the duo recognized the need for an effective solution.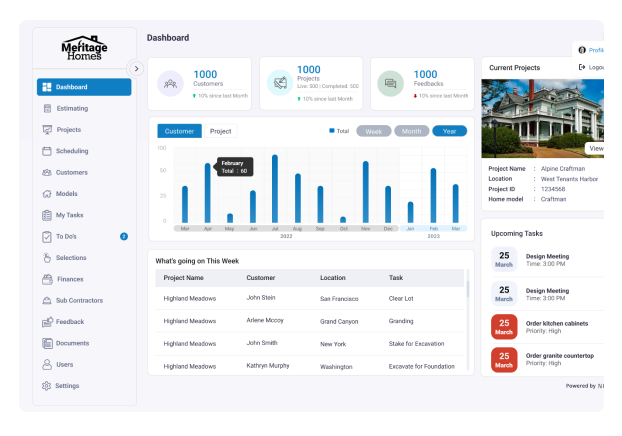 In order to address the unique requirements of construction companies and contractors, we realized NextPort needed a full-scale software suite from the get-go.
`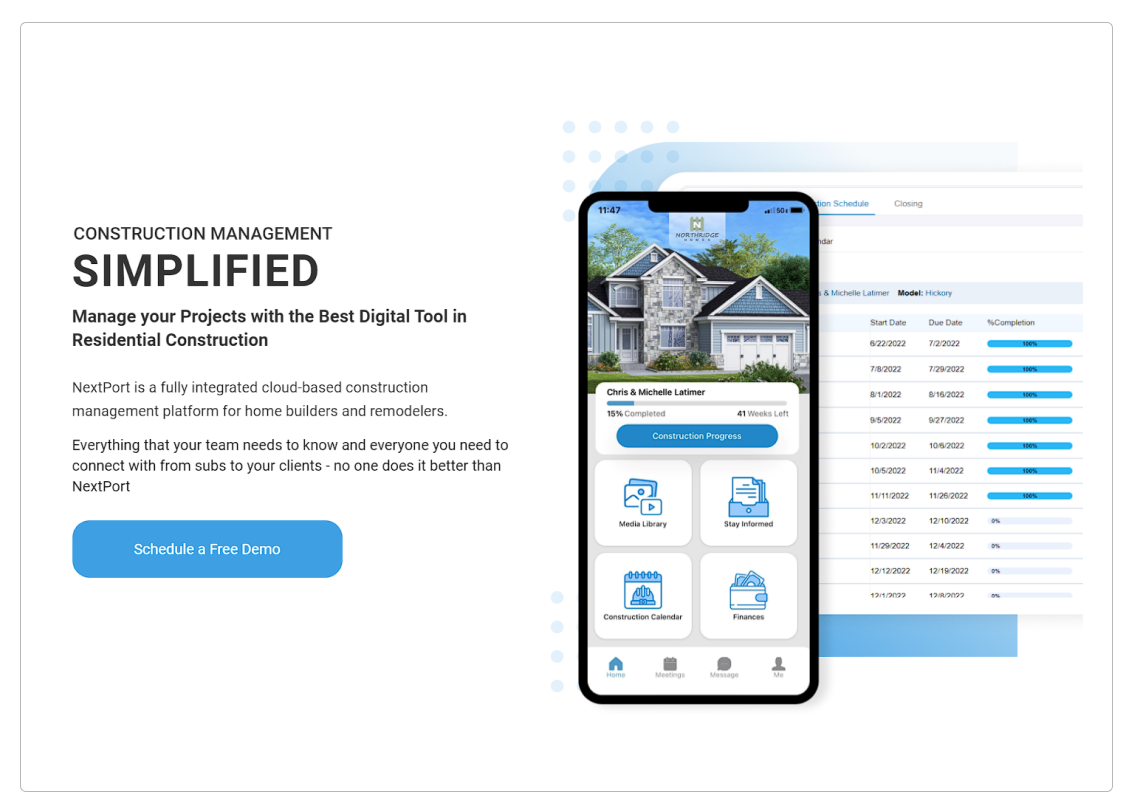 Tailor the experience to align with each unique home build, enhancing the personal connection with customers.
Eliminate communication delays and confusion by updating the construction status directly in the app.
Facilitate a transparent and engaging connection with customers by allowing them to visually track construction progress through shared photos and videos.
`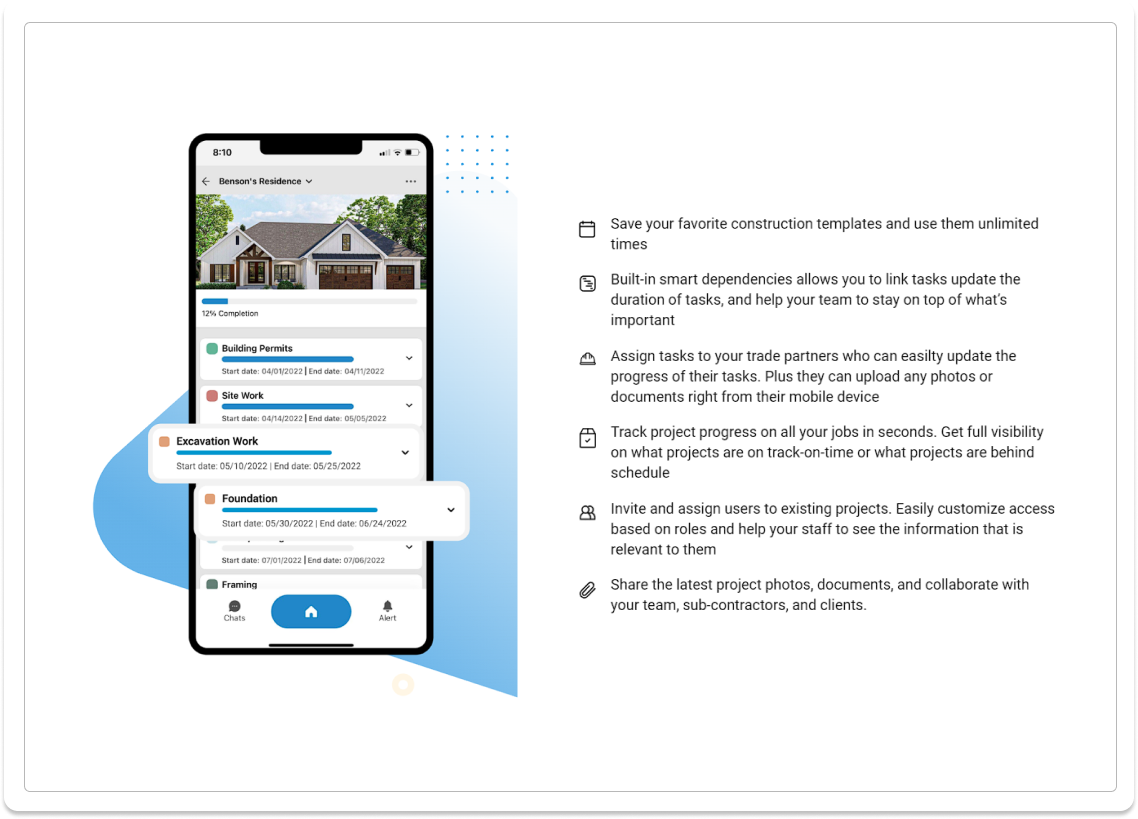 Offer an exceptional experience to customers by providing them with a cutting-edge messaging tool that keeps them informed about weekly progress.
Act as a constant guide for customers, keeping them abreast of what is coming next in the construction process, and ensuring a stress-free journey.
The NextPort team faced several challenges in developing a full-scale software suite:
Building a new version of the MVP to accommodate more construction companies and contractors on the platform.

Dynamic third-party data integration, which made it challenging to bring the data to a mobile front with the existing MVP.

The existing version of the MVP lacked an effective way to streamline the workflow of construction teams, limiting the scope of the platform.

Multiple iterations were needed to make the app scalable and user-friendly at every touchpoint
We devised a 360-degree development strategy, considering the tech and business aspects of the product through a dedicated team model.

We understood that NextPort needed a powerful architecture to turn its vision into a winning product. So we opted for a plug-and-play type architecture.

The initial idea of a single communication platform was iterated drastically to build a full-scale CRM software suite with an array of top features that let users manage their construction projects seamlessly.

NextPort has significantly reduced the communication gap between contractors and their clients, leading to fewer project delays, reduced costs, and increased revenue.

The product's scalability and user-friendliness have made it a go-to solution for construction project management. The solution has gained early adopters at an impressive rate and is poised to revolutionize the construction industry.
The Neoito team has been a committed partner in the development of our software. Although we initially had some concerns about time zone differences or communication challenges related to language or accents, we have found that the core team is very articulate and well-spoken, while being extremely flexible to the time zone needs of our schedules. Saving on expenses while having access to experienced developers has lowered our cost of entry into the marketplace.
Brad Wilson
Co-Founder at Next Port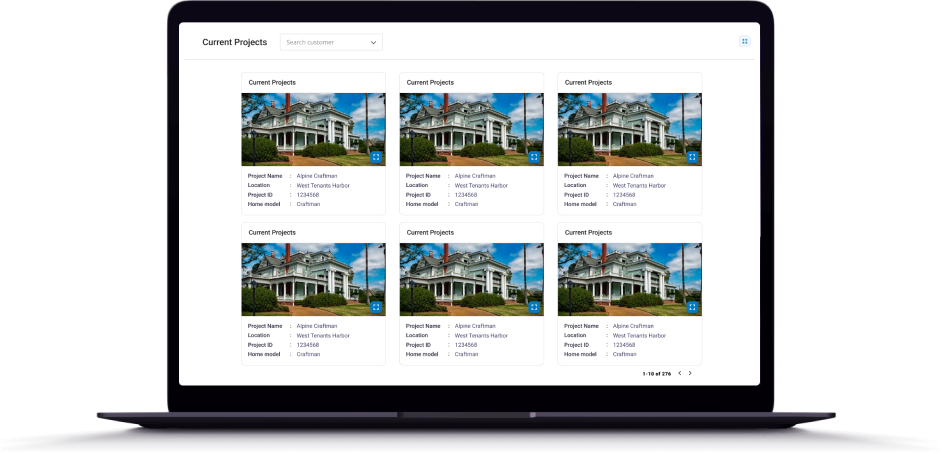 We have built the NextPort app on a powerful plug-and-play architecture, transforming it into a highly scalable product.
It has evolved into a construction management platform containing several top-notch features to streamline construction processes, improve revenue, track insights, and handle communications.
NextPort is now a full-scale CRM software suite with a couple of mobile and web apps serving many users. It provides an end-to-end solution to help people manage construction projects virtually worldwide.
The product is being adopted by early users at an impressive rate.