There are more than 5.6 million apps ready to download on both the Play store and Appstore combined. Of them, 97% of Play Store apps and 93% of App store apps are free to download.
This leads to a common question – How do apps make money? or How do free apps make money?
We have curated this blog to address these queries, along with the best tips to choose the best monetization model for your app.
Read it to understand the best strategy for your app monetization.
Let's get started with some fascinating stats about earnings of apps.
Stats on How much apps earned for last year
A total of 133 billion US dollars is the revenue acquired by the apps on the Google Play store and the App store.
There are 19% increase in the total revenue compared to the last year.
Games accounted for about 67% of the total app revenue in 2021.
Annual app revenue from 2016 to 2021.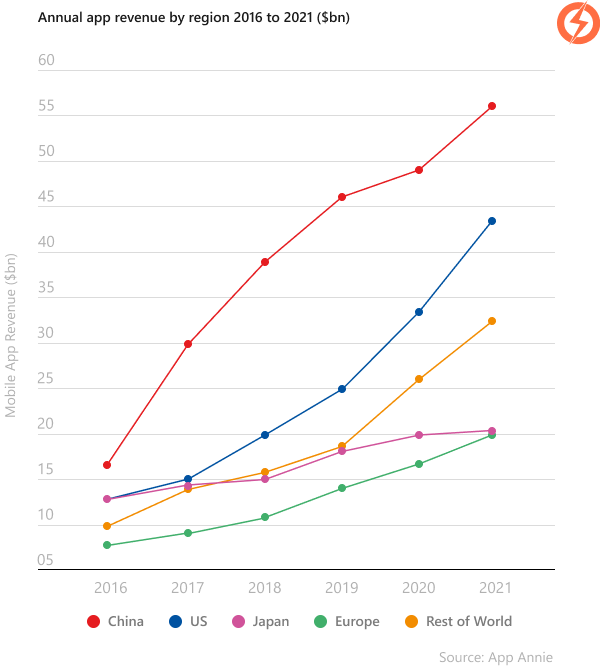 You can see more stats on mobile applications here.
Free app vs Paid apps
| Free Apps | Paid Apps |
| --- | --- |
| Attracts more target customers | Attract more niche target customers |
| Easy to gain reviews | Bit slow to attract a lot of reviews at early stage |
| Development and design are comparatively less complicated when compared to paid apps. | Since people pay, you need to deliver top-notch design and development. The cost of development increases. |
| Multiple monetization models can be used in future. | Limited types of monetization |
| Can easily create a name for brands | Even though with a good app idea, with limited people usage will delay creating a name for brand |
Freemium apps These kinds of apps are free to download, but after downloading, you should pay for using the premium features or content. Some apps offer a free trial for one week or more after that; the users should pay to use the app.
How do apps make money?
Before we dive straight into the money-making process, we need to look into some important factors that create a large impact on monetization strategy.
Here are some top tips which will guide you step by step in choosing the monetization model.
Top tips for choosing a monetization model
Advertising plays a large role in the app monetization model, but it doesn't work for every app. Many less popular ways can yield more results for your app model. Let's see how we can reach the best monetization strategy
App purpose and goals
You need to have a clear understanding of the app goals by defining the pain points you solve.
A better understanding of the USP of your product will show you the best pathway for the monetization model.
If you are going to stream videos, you can opt for paid models, but for product-based apps like billing software, you can provide a freemium model.
Understanding the app's purpose and goals will be the first step in choosing the best monetization model.
Familiarity with the target audience
Understanding the target audience is crucial. Let's say you develop an app for working professionals; you can't add ads to this model. If your app is a game, people will be ready to spend 30 seconds on the ad.
You can use different surveys and analyze the audience's demography to assess them better.
Competitor analysis
When you enter into an app model with a lot of competitors like gaming, then evaluating the risks is important.
Competitor analysis will give you a pattern of how your target customer behaves and how your competitors handled the pitfalls at an early stage.
You can find a better monetization strategy from your competitors. You can also find some areas where your competitors lack, and you may fill those loopholes to bag more users.
Try to look into your competitor's apps and use them. Research the reviews in the app stores for their apps and lear how you can do it better.
Technologies
The technology you choose to develop an app plays a vital role. You can select any technology; just consider the amount and resources you are going to invest.
You can use cross-platform app development or separate technology for both Play Store and iOS app development. You can choose the technology wisely, which will be suitable for monetization and user experience.
Choose a monetization model
Once you get a more in-depth understanding of the target audience and competitors, you can move forward to choosing the right monetization for your app.
You can use a single strategy or combine two strategies into one.
User testing
After selecting the app monetization model, you can implement it and start testing. Sometimes the model won't work as you expected; there are many reasons for it. Sometimes, the subscription amount may be higher or lower. You can do testing with the app and make it.
Knowing how to choose one, we move to different types of monetization – which answers the question- How do apps make money?
6 Best monetization models for apps
Look into the most popular and proven 6 best monetization strategies for apps of different sectors.
Here we go
1. Advertising
One of the most popular monetization models is in-app advertising. Most gaming apps use this strategy to monetize. Your apps get payment based on:
Cost per impression
Cost per click
Cost per install
Cost per view
The amount of money for pay-per-click will be low, but if you have a large user base, then you can generate a considerable amount from advertising.
Types of in-app advertising
Video advertising – Providing video ads for providing rewards while playing games.
Banner ads – Banners at the top or bottom of the screen.
Interstitial ads – Ads that will come as a popup on the fullscreen for a specific time.
Rewarded video – Providing rewards for watching ad videos.
If you charge your customer for using the app or using any features, you can't pop up with ads. Apps that are free to use can use ads to generate money.
2. Subscriptions
The subscription model is one smooth method to monetize the app which has content. The best apps for subscriptions are
Audio streaming
Video streaming
Digital news apps
Cloud services
You can charge your customers on a weekly, monthly or yearly basis. Some great examples of this type is Amazon, Spotify, AWS services and more.
3. Freemium and in-app purchases
If you are looking for a monetization model without ads, then in-app purchases will be the best option to choose. You can charge the user for using the premium features or gaining access to any premium content of your app.
You can also provide specific content after some days of their release to free users, and paid users can access the content at release. Some digital newsletters will give 3 or 4 articles per free user and unlimited content for paid users.
This strategy has a high success rate if the content is of good quality. For example, gaming apps are used to sell virtual products to generate money.
4. Crowdfunding
Crowdfunding is one of the emerging ways of monetizing your apps. When you build the MVP of your app, you can use the following platforms to raise funds.
Kickstarter
Crowd funder
Indiegogo
Fundable
Appsfunder
You need to clearly elaborate your app's USP to attract attention on those platforms; there will be thousands of app computing to attract funds.
5. Sponsorship
The sponsorship model is one of the least used app monetization strategies. Apps that are market fit and have a good number of regular users can use this monetization model.
If you focus on the specific niche of the audience, you can tie up with the brands whose focus is on the same audience.
One great example of this type is the Weather Channel app, which places a sponsored ad in the background of the temperature check.
You can charge the sponsor monthly, or you can also divide the revenue of the app.
6. Affiliate marketing
Placing affiliate links will be one good and effective way to monetize your app.
Like the sponsorship model, you will place the links to other products, but we use multiple links to different products.
Like advertising, the payment will be based on impressions, clicks, and installs. You can contact any products or services similar to your app to start affiliate marketing.
One great example of affiliate marketing is Amazon. They have generated millions of sales using product selling based on affiliate marketing.
Rather than the above-mentioned methods, there are other methods like selling merchandise and email marketing that will generate decent revenue for your app.
Future of the app market
When we look at the future of the app market, it is bright, with more emerging apps on the row.
We have seen some apps making millions. The critical point here is that we need to stand out in the competition to win users and implement monetization methods.
If you can develop an app with a good user experience and security, the possibility of success is high.
Many fields like machine learning, augmented reality, virtual reality, and artificial intelligence are emerging and providing endless opportunities in the future.
All you need is the perfect product for your customers; the best way to do that is to develop your app from a future-ready app development company that can help you build your app from scratch and extend their hand for maintenance in the future.
Looking to build a profitable app from scratch?
Get in touch with us now to get a Free Consultation.
Bonus FAQs
How much money do apps make per download?
Free apps don't make money for downloads, the paid apps make money as per their rate. You can calculate the amount per download using the revenue of the app per year and total downloads per year.
Do free apps make a lot of money?
The amount of money free apps make will differ based on the apps, Facebook makes a lot of money and some kids playing apps don't make that much money. It is completely based on the user base and the monetization model.
How do free mobile apps make money?
There are different monetization models apps can use to make money. Some of them are in-app purchases, ads and more.