The bell rang. You opened the door to receive the food you ordered using your smartphone.
Your smartphone pings to let you know that your ride is due in five minutes.
Your smartphone pings again to remind you it's time to work out.
The list goes on. While the pandemic forced everyone into their homes, businesses decided to bring the world to you.
You can watch new films/series, buy food/cloth, even make an appointment with your physician, and many more with just a few taps on your smartphone.
This blog focuses on the importance of having a mobile app for a business, especially for on demand service providers and contains statistics collected from reliable analytical sites like Statista, Sensor Tower, Appfigures etc. and the rest from our researchers.
When you finish this blog, you will understand:
The importance of having a mobile app.
The growth of mobile apps, their downloads, usage throughout the years, revenue generated, etc.
What are the trending apps of 2022?
What kind of apps are performing well?
Ideas for On demand Service apps.
Top on demand service apps and the revenue it generates.
And other key stats of On demand apps.
Key takeaways
In 2021, the total number of apps downloaded was around 230 billion.
In the 3rd quarter of 2021, the total value of global consumers spent on mobile apps amounts to 34 billion USD.
The estimated user growth of mobile users will be around 7.4 billion in 2025.
The retention rate benchmark for entertainment and media, when considering 90+ days, is 24% [highest among all the others].
The most downloaded app of 2021 was TikTok, with 656 million downloads and revenue of 1.7 billion USD.
The total revenue bagged by companies through taxi apps in the past year (2021) is around 225 billion USD worldwide.
The eLearning market is set to reach new heights and GMInsights predicts that the industry will be a trillion USD market by the end of 2028.
The market value of video conferencing apps in 2021 is 4 billion USD and by 2028, it is expected to rise to 8 billion USD.
The mobile e-commerce app revenue worldwide has struck 3.5 trillion USD. And among them, the US has produced 380 billion USD.
If there is a person in this world who doesn't use an app, they might be someone without a phone. Smart or not, apps are an integral part of mobiles and the number of apps has been soaring ever since businesses saw opportunities to reach their customers.
Promoting your brand, boosting your sales and surpassing your competition are a few of the many reasons to have a mobile app for your business. But in 2022, you have more reasons to build an app.
Check out these eye-opening stats to get a grip on what benefits await your business in 2022.
The following statistics will shed some light on the mobile app downloads and revenue and app usage. If you want to know about On demand apps straight, I suggest you revisit the table of contents and skip down.
With over 5 million apps available over different platforms, the user spending on apps has exceeded 380 billion. The primary technique most apps leveraged was the in-purchase option. According to Emizentech, around 70% of gaming apps and 50% of non-gaming apps followed this practice.
Let's take a look at how the revenue stood in 2021.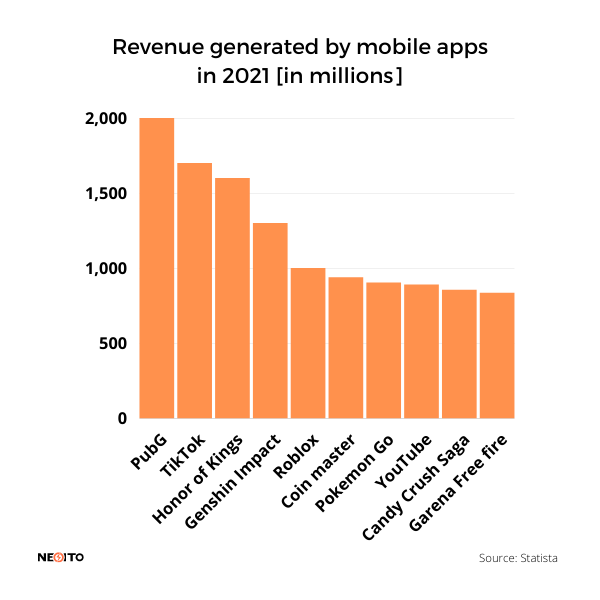 Non-gaming apps
TikTok is the top grosser of 2021 in the non-game apps bringing in a total of $1.7billion in revenue. Second to TikTok is YouTube, with $891 million, followed by  Tinder with $769 million.
Gaming apps
PubG stands atop all others by bringing in a whopping $2 billion revenue. "Honor of Kings" is the runner-up by bringing in a revenue of $1.67 billion and third place to "Genshin Impact" with a total revenue of $1.3 billion.
In the US alone
Robolox came first by creating a total revenue of $588 million with Candy Crush Saga and Coin Master trailing behind with $556 and $486 million, respectively.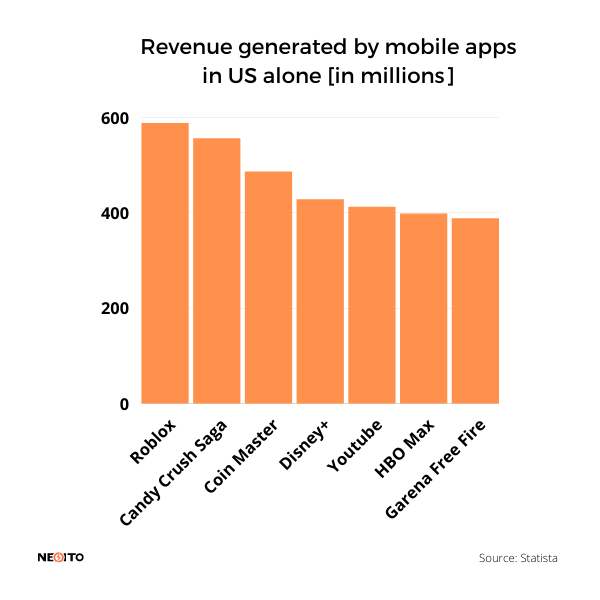 There is no doubt that the app users made a steep climb when the pandemic hit. The steep rise of 13 billion new downloads from 2019 to 2020 started, and the downloads have only increased moving into  2021.
Take a look at how mobile app downloads have increased over the past five years.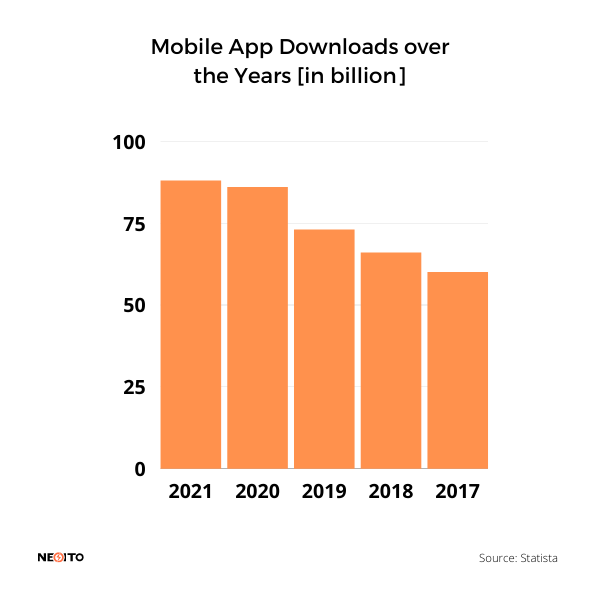 App downloads by country
China tops the list of countries with most app downloads, leaving a staggering difference of 72 billion from the runner-up. We considered these statistics to give you an idea about global app usage trends. This will help you optimise your app accordingly.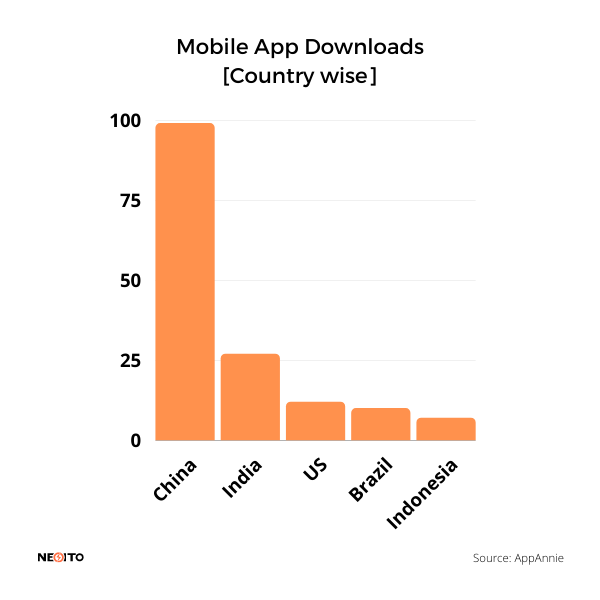 Most downloaded apps of 2021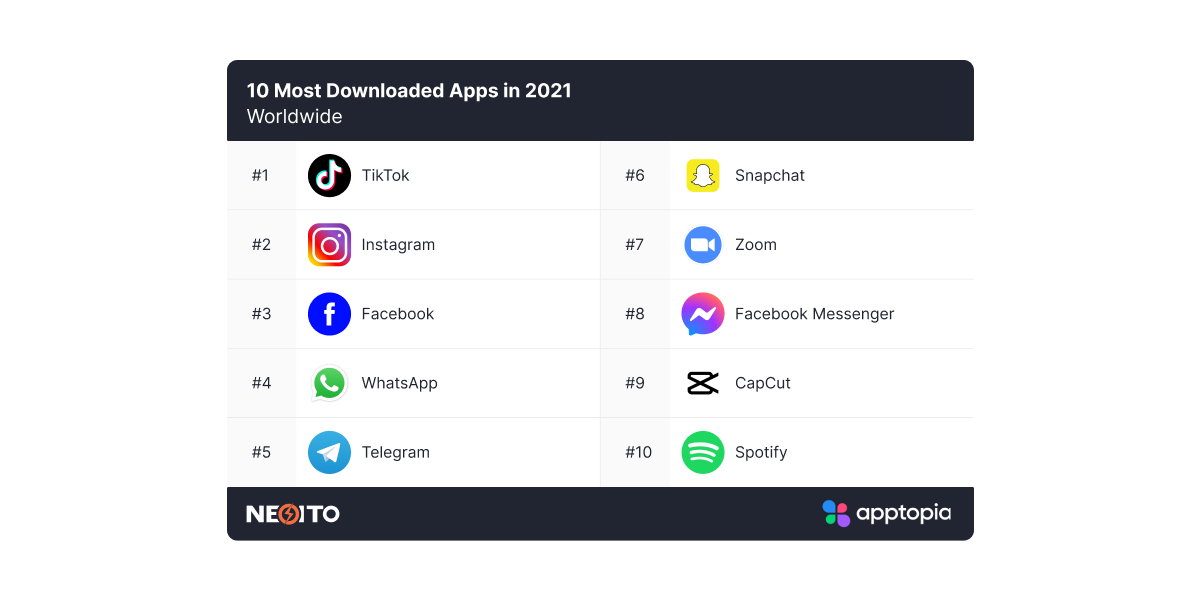 Take a look at the trend of mobile app downloads in 2021 to get a better understanding of what customers are seeking.
TikTok
Instagram
Facebook
WhatsApp
Telegram
Snapchat
Zoom
Facebook Messenger
CapCut
Spotify
If you have noticed the table you have seen 3 out of the 10 are messaging apps, so building a messaging app that makes it stand out from the rest is a good idea. . We will move further deep into the on demand app trends, the ideas you work out, and more. Read on.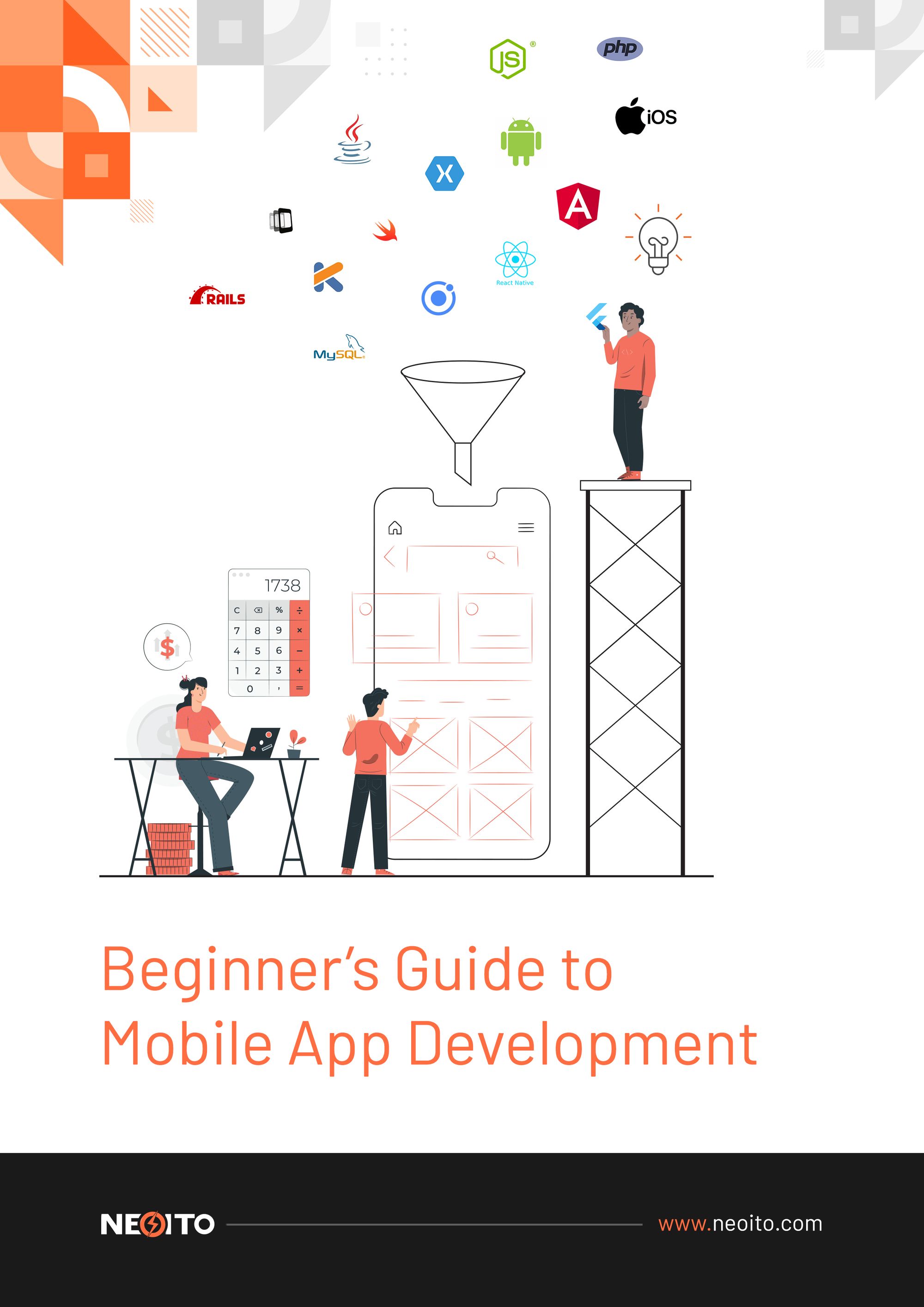 Free Download
A Complete Guide to Mobile App Development
According to a study conducted by eMarketer, an average adult in the USA spends an average time of 4 hours on the phone and out of it, 88% is spent on apps. And even when considering the world in general that number doesn't budge at all. Take a look at the findings of our team.
App usage by age
You don't have to be a soothsayer to predict that people between the age of 18 – 24 use mobile apps the most. Teenagers tend to spend a total of 3 hrs and 45 mins on the apps.
You don't have to be a soothsayer to predict that people between the age of 18 – 24 use mobile apps the most. Teenagers tend to spend a total of 3 hrs and 45 mins on the apps.
| Age Range | Monthly hr spent per app |
| --- | --- |
| 18-24 | 113 |
| 25-34 | 102 |
| 35-44 | 94 |
| 45-54 | 76 |
| 55-64 | 69 |
| 65+ | 51 |
This is based on a study done by Simfom. Having knowledge about our target customers helps in improving the overall aspect of how we optimise the products and our approach towards the customers.
App ranked by usage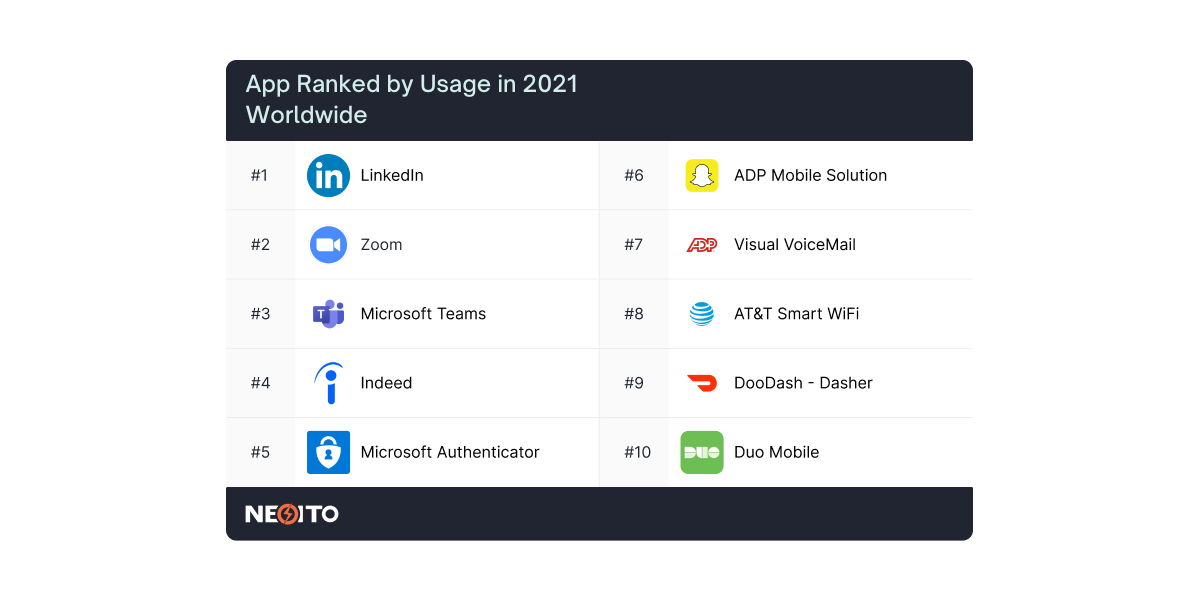 Downloading is one thing and usage is another. We already have shown you how the download statistics stand, but what about the usage? Well, our team has talked with Similar Web and found out the following.
LinkedIn
Zoom
Microsoft Teams
Indeed
Microsoft Authenticator
ADP mobile solution
Visual VoiceMail
AT&T Smart WiFi
DooDash – Dasher
Duo Mobile
Most Downloaded Apps in the First Quarter of 2022
According to the research done by our team, TikTok came as the winner with 143 million downloads in the first quarter of 2022. See the table below to know more.
| Most downloaded apps | Number of downloads (in millions) |
| --- | --- |
| Tik Tok | 143 |
| Facebook | 114 |
| Instagram | 109 |
| WhatsApp | 93 |
| Telrgram | 83 |
| Snapchat | 78 |
| Facebook Messenger | 74 |
According to Statista, in the month of February 2022 alone, Coin Master has brought in a revenue of 100 million dollars. And that's saying something.
What is retention rate?
It is the percentage of the people who are continuing their usage of a particular app within a given interval of time. The best way to calculate the retention rate of a mobile app is to divide the total number of users by total installs per month.
U – total number of users on a given month [or a time period]
I – total number of installs on a given month [or a time period]
Then, retention rate, R, will be:
R=U/I*100
Retention rate of app per industry
The table given below is yet an eye-opener of what customers really want and their behavioural traits. Thanks to Geckoboard, we were able to provide you with the following information.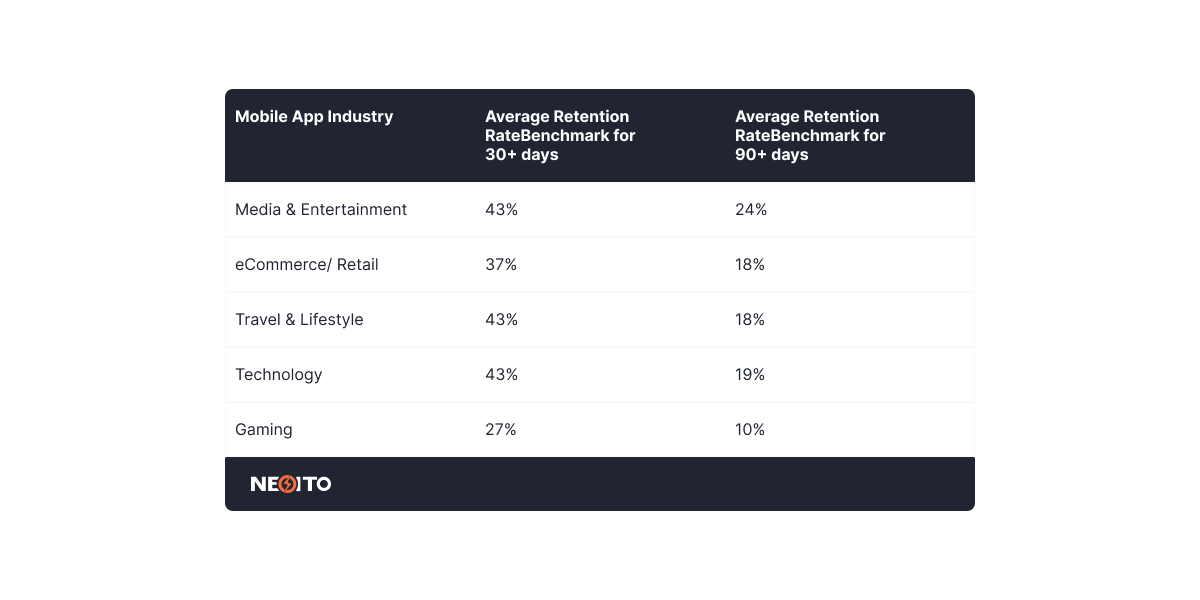 We have shown the revenue and downloads of an app, and also the mobile app usage by age criteria. With that, you might have got why you should build a mobile app for your business, the plausible revenue it can generate and how to mould the marketing strategy for the app.
Introverts couldn't have asked more. We don't need to be outside to purchase food, cloth or ornaments. We don't need to stand amidst crowded bus stops. We don't even need to go to hospitals anymore. All thanks to the on demand service apps available to us, a few taps away.
Businesses have leveraged the opportunity they had at their best and the on demand market exploded in recent years. The total revenue in the app market is set to hit $437 billion at the end of 2022. And the average annual growth rate predicted is 6.2%. This means the revenue in the app market could account for $565 billion by 2026.
So if you are someone waiting to dip your toe in the pool, now is the time to do so. New and new ideas are being tested and most of them are turning out to be effective.
Take a look at the best on demand app ideas, their statistics and more.
Video streaming app
The most celebrated one among the rest. And when we talk about streaming, the first name that comes to our mind is Netflix. They started as the video renter and climbed all the way up to building an empire of their own.
Following the path laid by Netflix, others like Warner Bros, Disney, Amazon, etc have created their own streaming service apps. In the US, Disney+ was successful in surpassing Netflix's number in the year 2021.
You could develop a more localised video streaming app and provide good content to grab your initial customers.
Best video streaming apps
Following are some of the best video streaming services in 2022:
YouTube
HBO max
Hulu
Netflix
Disney+
BBCi Player
Sling TV
Apple TV
Revenue generated by streaming apps in the year 2021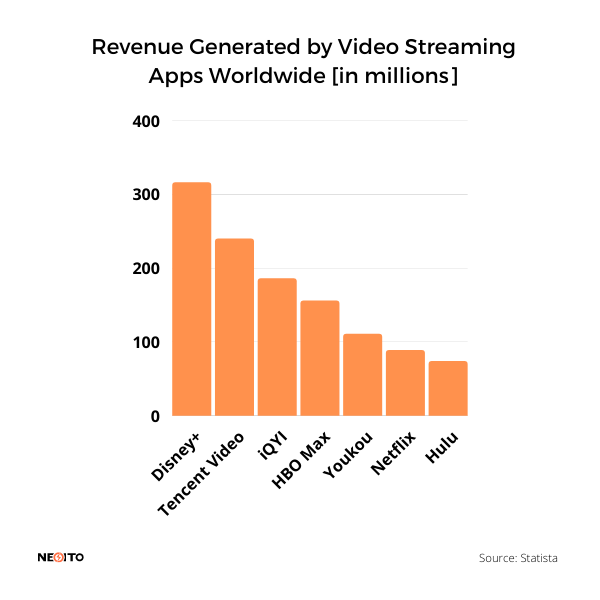 Revenue generated by streaming apps in the US alone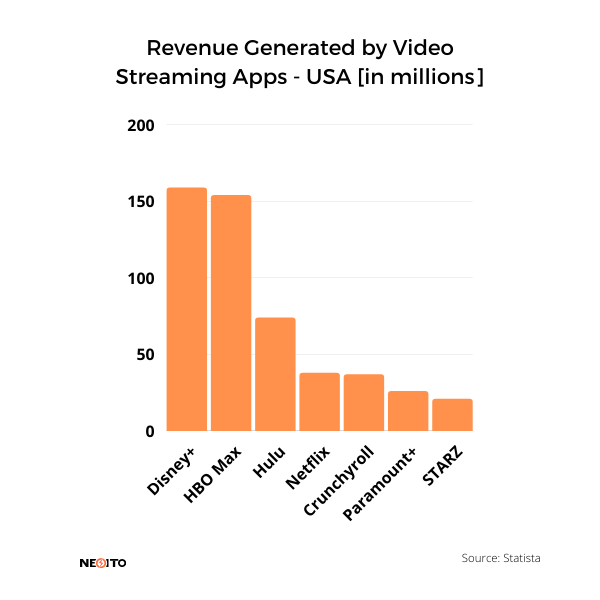 If you already have an idea in your mind to develop a video streaming service app, then I suggest you plan your budget before doing so. Here is our guide for you on how much it will cost you to develop one such video streaming service app.
Taxi app
Uber, the first name that comes to your mind when you're thinking about cabs! This, while is popular, also provides opportunities for new competition. Of course, there are many challenges in maintaining good service. Uber had their share of downfall, but they have arisen from there and did the necessary precautions and steps to come back, strong.
In a way, they have pointed out the cons and now you can develop without those cons at the first go. And if you can provide effective service and provide value to your customers, your app can make a mark faster.
Best taxi service app in 2022
| Taxi Service Apps | Key Location(s) |
| --- | --- |
| Uber | Worldwide |
| Lyft | United States |
| Curb | United States |
| Ola | India |
| DiDi | China |
| Grab Taxi | Malaysia, Indonesia, Thailand, Philipines |
| Haila | UK, Singapore, Spain |
| Line taxi | Japan |
| Blue Bird | Indonesia |
| Kakao Taxi | Korea |
Source: traveler.merriot
As you can see the best services around the world differ with the region. This means that your taxi app has a chance to rank #1 in your country.
Taxi app revenue statistics of 2022
The total revenue bagged by companies through taxi apps in the past year (2021) is around $225 billion, worldwide. And according to a recent study done by Statista, it is estimated to skyrocket to $386 billion by the end of 2026.
| Rank | Country | Revenue generated [in million USD] |
| --- | --- | --- |
| 1 | China | 101,300 |
| 2 | United States | 63,170 |
| 3 | India | 39,030 |
| 4 | United Kingdom | 11,760 |
| 5 | Indonesia | 8,876 |
Food delivery app
You are hungry, but you don't want to go out either. Nor do you want to cook, too much time. The solution? Order online!
From starters to desserts, you can order anything from the comfort of your home and all were made possible through online food delivery apps. The industry had boomed in the past two-three years. And the biggest name in this category will be Uber Eats. They have their service in more than 500 cities in 24 countries around the world.
Best food delivery service apps of 2022
| Food delivery apps | Availability |
| --- | --- |
| GrubHub | 3000+ cities in the US and London |
| DoorDash | 600+ cities in Canada and the US |
| Uber Eats | Available in 100+ cities in 24 countries sound the world. |
| Postmates | Only available in the US |
| Seamless | Across 100+ cities in both the US and UK |
| Delivery.com | Only available in the US |
| Caviar | Only available in 25 or so cities in the US |
Source: tomguide, digitaltrends.
The revenue generated by food delivery apps in 2021 was $28 billion, and that too is just in the US. And moving towards mid-2022, the trend does not seem to fail and the revenue could even be more than $30 billion.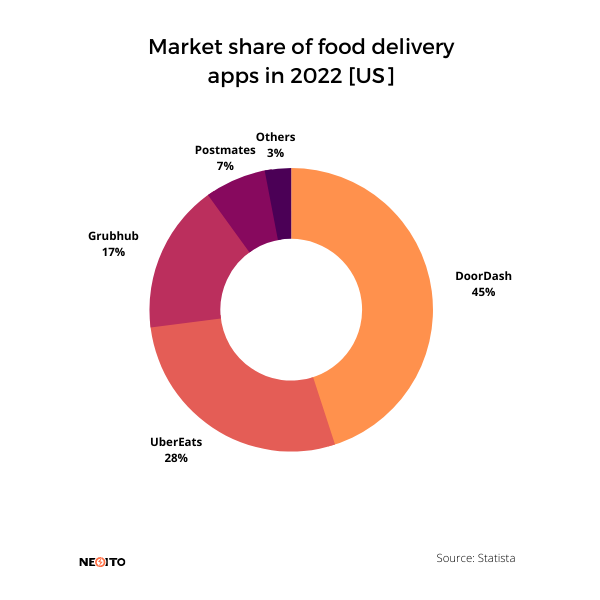 eLearning app
Learning online and upskilling is now a thing. Many top universities and colleges worldwide now provide certified courses online.
While eLearning apps can be generalised as an app that helps students  [both school & college] to learn and grow, there are apps that concentrate on specific niches. In fact, our team has compiled a list of best-performing apps and their specialised areas.
Best Online Learning Apps
Following are some of the best-performing eLearning apps around the world.
| eLearning Apps | Why it's best? |
| --- | --- |
| Coursera | Best for learning a wide variety of courses |
| Duo Lingo | Best for Learning languages |
| Khan Academy | Best for personalised learning resources |
| Udemy | Best for Niche topics |
| Udacity | Best for Career building |
| SkillShare | Best for Creative fields |
Source: Verywellfamily, AndroidAuthority
Revenue generated by eLearning apps
eLearning market is all set to reach new heights and GMInsights predict that the industry will be a trillion USD worth market by the end of the year 2028.
And in 2022, so far, China is leading among the countries that are generating considerable revenue. India came second and the United States third. The prediction done by Statista is that the revenue generated by online learning platforms will move to $57 billion or more.
Video conferencing app
Video conferencing is a  category in the app's sections which was nobody before 2019 and a rockstar from 2020. The pandemic kicked in and forced businesses to go online. Work from home [WFH] came to life.
A video conferencing app was in dire need and Zoom took the market by storm. Ever since 2020, there was a demand for a secure, well-performing video conferencing app.
Dailpad had conducted a survey in the US and found out that 83% of the respondents said they spent around one-third of a week on meetings. And most companies do use multiple video conferencing apps than just one.
Most popular video conferencing apps
Following are some of the most downloaded and popular apps of 2022.
Zoom
Google Meet
Microsoft Teams
Tauria
GoToMeeting
Cisco Webex
Source: SurveySparrow
The market value of video conferencing apps in 2021 is $4 billion and by 2028, it is expected to rise to $8 billion.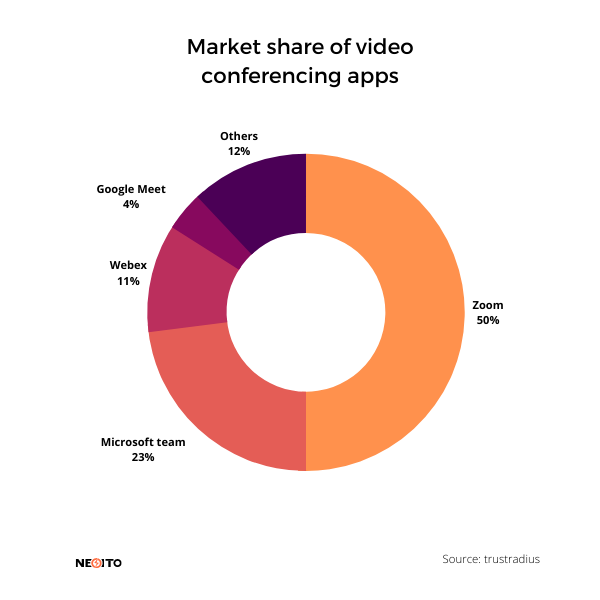 Source: trustradius
Shopping app
Shopping apps have everything you need – groceries, fashion, electronics, health supplies, the list goes on. But if you are someone in look for developing an online shopping app, then don't go generic…be specific.
Select a niche with lower competitors.
Most Popular Online Shopping Apps
The listed are the most downloaded apps in 2021 and are also the most popular online shopping app around the world.
Amazon
SHEIN
Shop
Walmart
OfferUp
Nike
Fetch Rewards
Source: Apptopia
The mobile e-commerce app revenue worldwide has struck $3.5 trillion. And among them, the US has produced $380 billion.
When considering the eCommerce market share in the US the app that beats all others was Amazon. Amazon had around 40% of the total market share in 2021.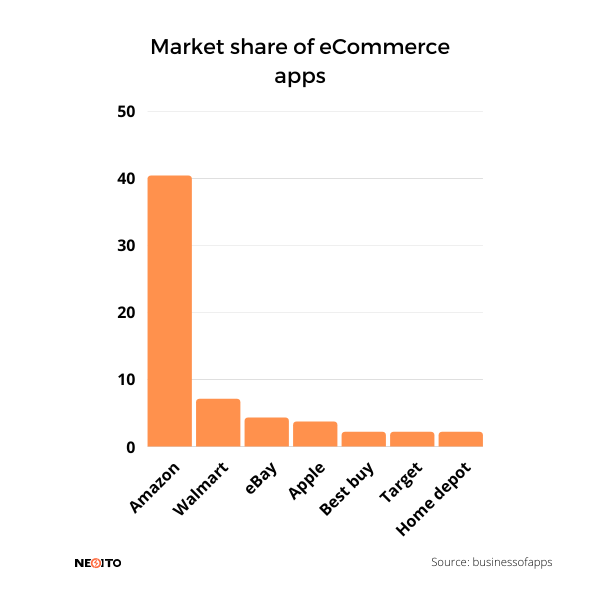 Source: BusinessofApps
1. Courier service app
There are countless companies providing courier services across the globe. And almost all the online shopping apps partner with a local courier service to deliver their products. But that's not just it.
People still do speed posts and some still get their paycheck through the mail. So wouldn't it be better for people to track the progress of the mail through a courier service app? The competition is light and if you are someone who is thinking of developing a courier service app, then this is the right time for it.
Essentially an online food delivery service app is also considered a courier service app, when you provide a more unique service like delivering groceries, parcels, etc.
Top same-day delivery service apps
Wefast
Dunzo
Saral
Pidge
Lalamove India
Swiggy Genie
Source: cashify.in
2. Travel app
Travelling is reviving from the blow of the pandemic, and it's a perfect time to launch your travel app.
Instead of just pointing out the best hotels the travellers could stay, be unique. Give them hotspots to point, guide them to the best local cuisines, point out the history behind a place, be unique and stand out from the competition.
Key Stats to look at before building a travel app
29% of travel app users abandon the apps after use.
45% of travel app users said notifications containing the status of their trips were useful.
60% of the travel app users preferred to use mobile apps when using a loyalty program.
58% of the travel app users used the app at least for a month.
Source: Thinkwithgoogle
Most downloaded travel apps in 2021
| Most downloaded travel apps | Number of downloads (in millions) |
| --- | --- |
| Google maps | 106 |
| Uber | 94 |
| Booking.com | 63 |
| Google Earth | 57 |
| Airbnb | 44 |
| DiDi | 27 |
| Bolt | 25 |
Source: Statista
3. Health and fitness app
Health is wealth and we weren't fond of it more than ever. Again, the pandemic is the reason.
A health app lets you control your diet, do proper exercises, calculate the calories burned a day and more. Health and fitness app can help a user in not only maintaining a fit body but also to build a habit of consuming healthy food in the right amount.
Leading health and fitness apps in 2022 in downloads
Home Workout – No Equipment
Six Pack in 30 days
Blood Pressure app
Mi Fit
Lose weight app for women
Healthify me – Calorie counter
Fitbit
Source: Statista
Leading health and fitness app in 2022 in revenue generated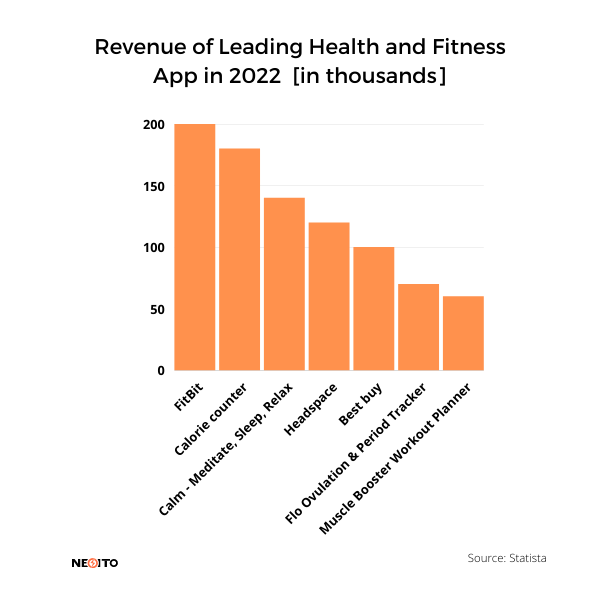 4. Waitlist app
"Uh!", The inevitable sound we all have when we are forced to stand in a long line to get into a restaurant. And the disappointment will be greater when you don't get what you wanted. Right?
But what if you don't need to stand in that line not that long? What if you are informed about the rush and estimated time you might want to stand?
That's exactly what a waitlist app is for. The apps allow users to look into the restaurant's menu and book their reservations. And additionally, the app will provide you with the time to arrive and the estimated time to stand.
The best waitlist apps in 2022 are
Qminder
Carbonara
TablesReady
Cliniconex
WaitWell
Ombori Grid
Source: GetApp
5. Consultation app
The app doesn't need to be for doctor consultations, which is the only type of consultation app present in the market. They are other areas where consultations are needed. Someone who is starting a business will need to consult with a focus group in the marketplace, others may need a consultation with lawyers, and even psychologists.
You can develop an app focusing on a particular field or develop an app and include all these services. It's totally up to you.
Some of the best on demand doctor consultation apps are
AmWell
MDLive
Dialogue
Doctor on Demand
Lemonaid
Doxy.me
Endoluxe
6. Medicine Delivery app
We are delivering food, clothes, groceries, and even electronics then why not medicine. People can save their visits to the pharmacy every month or day and purchase in the comfort of their homes.
According to Statista, the total market of mobile healthcare apps is expected to reach $50 billion by 2025. And this is considering the fact that the industry only had about $2 billion in total in the year 2015.
Top Online Medicine Delivery App
Medicine delivery apps
Remarks
Capsule Pharmacy
Company valuation around $500 million – $1 billion
Now RX
Company valuation around $100 – $500 million
CVS Pharmacy
Ranked 8th Fortune 500 companies.
Revenue – $190 Billion
NetMed
India's most Convenient Medical App
PillPack
They performed well and were acquired by Amazon in 2018.
SaydI
Largest on demand medical app in Saudi Arabia.
RiteAid
Most popularly used app in the US.
1mg
Trending pharmacy app
Source: apptunix
7. Skilled labour service app
This is something new and not a much-tried idea.
Think, your pipe is leaking or you need to redo your tiles or maybe you cleaning service for your car. And you open your phone not to call and put you on hold, but to open an app to get your necessary service. Doesn't it sound good?
We have talked about the revenue generated by apps throughout the article and it wouldn't be fair to not tell you how they have managed that. The primary two methods they all chose were in-app ads and purchases.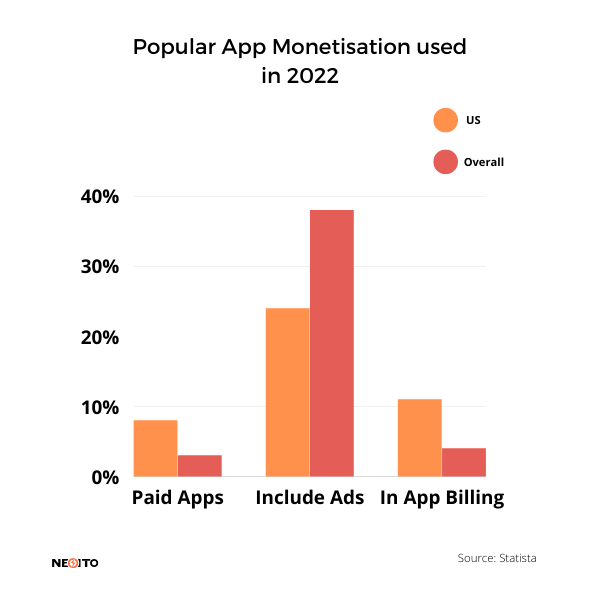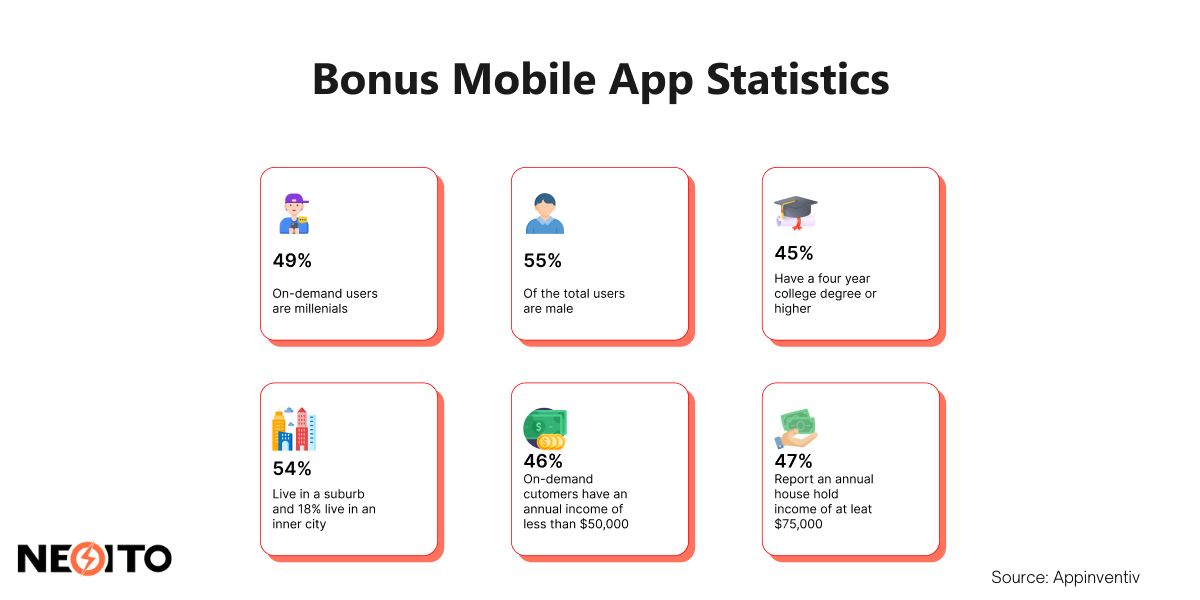 New on demand apps are entering the market and it won't be soon when the competition beats you to your idea. You have seen how much revenue businesses can bring in through mobile apps and how on demand service apps are trending as well. Your opportunity to develop a unique on demand app is ripe now.
If you are considering developing a mobile app, then I suggest you outsource it. Why? Because outsourcing companies:
Have experienced developers.
Have proper communication and time management process in place.
Are cost-effective than building your own in-house team/freelancing.
Can even help you improve the features of your app.
And when you are looking to outsource the development process, don't just go for the best instead go for the right app development company for you. Choose a company that understands your idea, vision and what you're trying to accomplish through the app.
WaitWhile is a waitlist on demand service app built by NeoITO. You can read more about how we have tackled the challenges and helped them build a scalable app of multi-million dollar valuation.
Get a free consultation with our team to know more about developing an on demand app and its cost.