Technology has driven drastic transformations in the healthcare sector. Medical and health applications have opened up new paths for healthcare and are making significant advances right now!
For both patients and healthcare professionals, healthcare applications have proved incredibly useful. Doctors are relieved of some of their jobs because these apps link them with patients in need.
Healthcare providers can learn about their patient's symptoms and offer a digital description of their condition using these devices (if required). Healthcare applications improve patient care by allowing for faster and more accurate diagnoses.
When the incorrect individual comes into touch with a patient, the difference between life and death can be a matter of seconds; healthcare providers must use intelligent, precise, cloud-connected information technology.
Healthcare organisations are increasingly looking to healthcare development companies to help them keep up with the rapid growth of AI, blockchain, and cloud-based apps.
Healthcare app development will be examined further, including what it can do and which sectors might profit from using specialised health apps. But preferably, let's look at how the healthcare app generally works.
Healthcare Market – An Overview
Patients and caregivers alike will have a variety of dynamic healthcare app alternatives to choose from in the future. The emergence of the Covid-19 epidemic has pushed the healthcare sector's market value to a new high.
Research and Markets predict that the worldwide health app market will grow from US$28.320 billion in 2018 to US$102.35 billion in 2023, representing a CAGR of 29.30 %.
In addition to the growing market, there has been a significant increase in mobile app usage. Since the start of Covid-19, global app downloads have increased by 60%.
As of the foremost quarter of 2021, there were 53,054 health applications available on Google Play. Regardless, in the first quarter of 2021, the Apple App Store has 53,979 iOS healthcare applications.
In addition, digital health investors will have invested a record-breaking $21.6 billion in the healthcare business by 2020.
These figures show that mobile health technology is becoming increasingly popular. It's hardly surprising that many firms and healthcare experts invest money into developing healthcare applications.
Check out the statistics of different on-demand apps in the market place including their revenue/market share.
The Impact of Custom Healthcare App Development
The COVID-19 pandemic is- now the healthcare industry's most significant issue.
Healthcare providers were already battling to meet federal quality care standards. They began using patient portals. Interoperability and patient involvement were significant issues for them.
The epidemic then struck and paused, adding new technologies because of the influx of patients.
For telemedicine solutions, the demand has soared. As the global crisis worsened, so did data breaches and ransomware assaults.
A lack of in-house app developers or resources meant healthcare providers had to rely on bespoke app development businesses to meet their mobile app development needs.
Meeting Critical Needs
When commercial solutions don't exist or are too expensive, providers turn to the custom app to satisfy their demands.
These crucial needs include:
Increasing the efficiency of a dwindling healthcare workforce
Adherence to government regulations aimed at improving the quality of healthcare
New interoperability criteria are critical to swiftly and securely sharing patient data.
Increasing the level of patient involvement and education.
Measuring health care quality to get the most money from the federal government
Many healthcare businesses require custom apps since few off-the-shelf options match these requirements.
Because of the interoperability issue, an organisation's medical records system must connect to other systems via a bespoke API.
Filling Niche Healthcare Needs
Additionally, custom healthcare app development aids healthcare providers in improving specialised healthcare delivery requirements for which pre-packaged app is not currently accessible.
An orthopaedic rehabilitation specialist's app for managing concussions illustrates this well. The health app provides all the tools a doctor needs to conduct a thorough physical examination of a patient and offer them high-quality treatment.
The custom application addresses the constraints of traditional rehabilitation programmes and offers sophisticated solutions for performance boosts, neuromechanical health, elder health, and orthopaedic care.
A large app business would not be interested in specialised health application development for such a small market. Custom app programs are designed to meet the specific requirements of a particular healthcare facility or organisation or to handle more general issues more effectively.
Types of Healthcare Applications
There are several healthcare applications on the market, and the number of new apps being developed and released daily is increasing. There are applications for patients, doctors, and medical institutions, depending on who would use them.
Look at some of the forms of healthcare solutions under these three classifications.
Patient-friendly medication management app
Applications for healthcare providers
For medical facilities
Major Use Cases for Healthcare Apps
The deployment of a healthcare app may attract new patients and improve hospital operations. It can assist you with various tasks, from patient registration to discharge.
Use the following healthcare app use cases to enhance your business and improve patient care:
Electronic Health Record (EHR)
Health applications may now access a patient's medical records thanks to integrating electronic health records (EHRs). Additionally, it avoids mistakes and facilitates the transfer of patient data across healthcare providers.
The Health People platform, for example, allows users to save and monitor all of their apps and devices' data in one location. Users may also look for medical carers for their pals using the app.
Telemedicine and Telehealth
Using app solutions for telemedicine and telehealth between patients and doctors is quite popular. These health applications have become increasingly popular after the breakout of COVID-19 and the associated increase in social isolation.
Remote healthcare services, internet communication, and high-quality medical treatment may all be provided by healthcare experts using this new technology.
Physicians can give consultations via video or audio conversations using the Doctor-on-demand program. Patients may also use it to schedule appointments at the most convenient time.
Built-in diagnostic systems
EHR platforms may be coupled with embedded and IoT devices to gather and process data. Remote patients can be diagnosed, tracked, and treated quickly by clinicians who access their medical records.
E-prescribing
Prescriptions may be changed or cancelled at any moment using e-prescribing applications, allowing doctors to provide their patients with the proper medications and doses at the correct times. Errors made at checkout are reduced, as is the amount of time a doctor and a patient have to waste.
For example, one such app is Medscape, which enables doctors to post prescriptions directly into the app based on the needs of their patients.
Healthcare Application Development Step-by-Step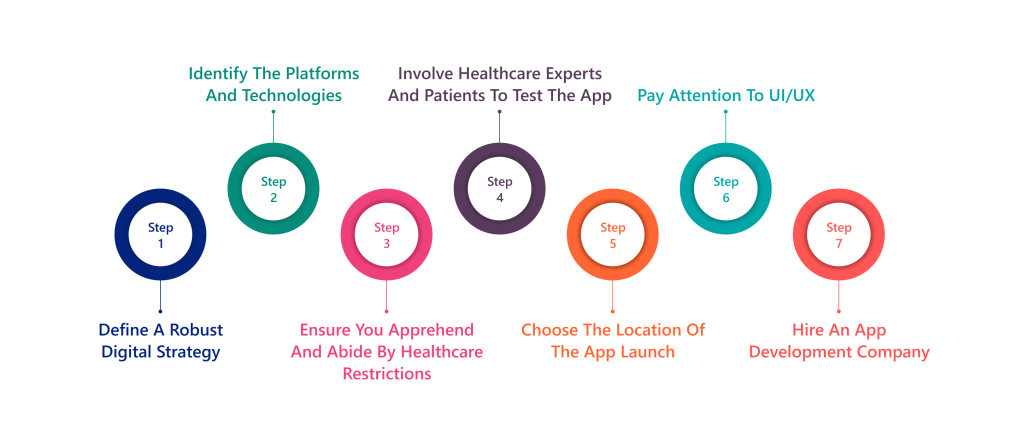 For a healthcare app to succeed, it must have defined goals, features, functions, and a detailed plan.
1. Define a robust digital strategy
An app should be well defined. Why so?
Give yourself some leeway. First and foremost, you must identify the precise purpose of your first health applications. Consider who the app is meant to serve as well.
Using a mobile app, the user links it with a particular use case. It's like – I go to Facebook to relax, Linkedin for business news and network updates, MyFitnessPal for diet information, etc.
Creating a new healthcare app for your company should be based on an issue customers genuinely desire or need to be solved.
For instance, just 11% of health systems give people unique applications that function with at least one of the three functionalities consumers desire: internet access to medical records, appointment scheduling flexibility, and requesting medication refills.
Developing an app for the hospital addresses at least one of the above-mentioned issues.
As the Rural Health Information Hub demonstrates, health care can be challenging when you live far away. People living in rural locations face unique challenges when accessing healthcare, which your app might help alleviate. They will be able to get a great deal of information on the go thanks to a mobile app.
Ultimately, don't develop an app just to build an app. Your ideal target audience should be able to immediately profit from and utilise any new product or service that you create.
2. Identify the Platforms and Technologies
Android, iOS, or web platforms for your application's deployment is another critical step in health app development. Consider integrating a home assistant device into the mix to guarantee that your application is always at your fingertips.
Here, it is essential to highlight that senior patients are more likely to prefer visiting a website, whilst younger patients are more likely to use apps and voice devices. When determining which platforms your application should be available on, your market analysis will come in helpful.
Healthcare apps must be interoperable to be successful. This is the underlying principle.
3. Ensure you apprehend and abide by healthcare restrictions
The American healthcare industry is highly regulated, making it one of the most severely regulated globally. Your software will be banned from the app store, shut down permanently, have you punished by the FDA, or users could even prosecute you if it violates any of the rules.
Even if new applications are subject to a technical assessment by Apple or Android, they are not subject to a review of their medicinal value. This means that health tech companies must do their research and ensure that their app conforms to all applicable laws.
4. Involve healthcare experts and patients to test the App
Focus groups and surveys can be used to test your app's suitability for the target market once it has met all of its standards, rules, and best practices.
Observe how your app responds to the first set of queries from the previous step:
In other words, does the software address a real issue?
What is the scope of the problem?
Would your app's users be prepared to pay for the privilege of using it?
At this point, it doesn't matter if healthcare professionals or patients like your app. What matters is whether or not they'll use it.
Concerns about market research slowing down the company are expressed by app development, not just in the health industry but also in other sectors. The polar opposite is true.
If you undertake a lot of market research, you'll be able to publish your app sooner. Failure to do enough market research results in companies wasting time and resources to tailor their product to meet the market's needs.
You won't have to spend time implementing new features or eliminating them. In the end, you'll come out on top. Invest your money wisely. Improve the mobile healthcare offering.
5. Choose the Location of the App Launch
When releasing a new app, entrepreneurs, business leaders, and IT advocate design it for their countrymen and women. If you want to launch your app worldwide, you or your board members know about the country-specific difficulties, user personas, and relevant medical app development and deployment legislation.
6. Pay Attention to UI/UX
UI/UX design is critical when creating a mobile or web health application. While most older users favour a clean interface with large letters and straightforward navigation, most younger users prefer a more vibrant interface with more advanced features.
In addition to the visual aspect, it's crucial to consider how the app will look on various devices. In addition, the design will be influenced by your intended target: healthcare providers, patients, or the general public. As an ordinance, this stands a matter of personal preference.
Your product's UI/UX design will make or ruin it, so invest time and resources accordingly.
You can read more about UX design best practices here.
7. Hire an App Development Company
Hiring a reputable healthcare app developer may guarantee that your health application has all the latest features and functionality.
UI/UX designers, skilled app developers, engineers, project managers, and marketing specialists are part of a healthcare app development agency. Their comments and ideas are constantly taken into account. The app developers also provide access to cutting-edge technology and industrial know-how.
How Can NeoITO Help You Build a Custom Healthcare App?
As a mobile app development company, we can enhance particular care objectives and remove the time-consuming manual procedures of the past through custom app development.
Over 100+ successful projects and a wide array of clients across every sector have exposed us to almost every type of app and website. Based on our years of experience, we believe there are a few health care app features that you cannot turn a blind eye to. (For example, the security of the user's data)
In addition, we are the web app development company that gives you full ownership of your app so you can use or resell the finished product. This is a more attractive option for many companies than paying periodic seat licencing fees to use shoddy commercial app that doesn't match their needs.
If you want to build a high-converting healthcare app, contact us now and our experts at NeoITO will help you figure out the right way to approach, build and scale your app.
FAQs on Healthcare App Development
What are the top 5 benefits of having mobile apps in HealthCare?
With the right development team, you can create an app that can help society in the most promising way. The benefits of a good healthcare app are:
Patients in remote areas can get professional advice
The risk of diagnostic errors will be reduced
Medical staff can address cases easily
People can self-monitor their health status
You can even streamline clinical operations
How does a healthcare app work?
HealthCare apps help you store prescriptions, medical history and other sensitive patient data so physicians can gather them easily. Cloud-based integrations increase data storage more convenient.
Do healthcare apps actually work?
16 out of 20 studies reported a positive impact on the targeted health outcomes. The higher satisfaction level of people is a positive stat. The number of health app users in the US increased from 68.7 million in 2019 to 87.4 million in 2020.