A successful business requires an ever-growing customer base. With more and more businesses popping up by the day, your business would face ruthless competition in the market. This escalates the necessity for your business to be well-equipped with all the help you can acquire to increase your customer orientation.
One such medium is the development of a mobile app for your business to support this cause.
Mobile phones and the prominence of their usage is known to all of us. We spend the majority of time switching from one app to another. The more engaging and relatable the content of the app, the more time we tend to spend on it.
This logic can also be applied for increased marketing of your brand and its products and services via mobile apps. That said, we shall discover how branded apps developed by professionals from top app development companies in the USA play a significant role in the growth of your business.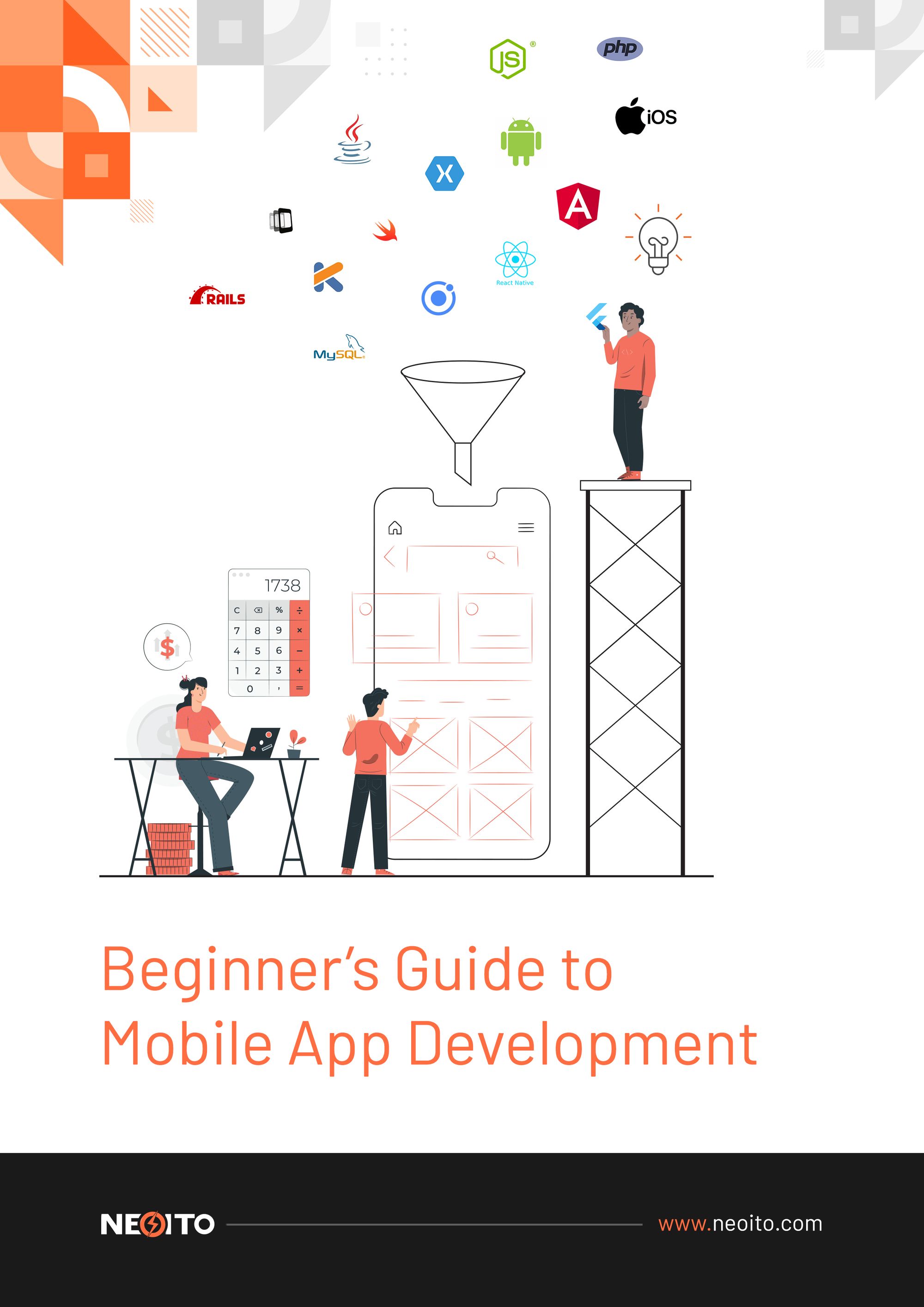 Free Download
A Complete Guide to Mobile App Development
1. Promote Brand Recognition
When you launch a new business, you would want customers to recognise the brand just by hearing its name followed by its associated product or service. The expectation was the same for brands that launched before the prominence of technology.
Having an app for your brand increases the possibility of driving customers who rely on the convenience of mobile apps to meet their needs. For example, a customer who is clueless about which app to purchase cosmetic products online would use keywords such as 'makeup', 'cosmetics, etc., on the App Store or Google Play Store to gain appropriate recommendations. The search engine of these digital distribution platforms would automatically match the keywords to your business and lead the customer to your app.
After your business's app is downloaded on a customer's mobile device, there will be multiple opportunities in between a day wherein the individual notices the presence of the app on their mobile screen. This helps customers to recognise the brand just by its logo in the future, leading to effective brand recognition.
Read about How to Determine The Right Time For Your Product Launch?
2. Boost your Sales
You must be familiar with the fact that an increase in sales is directly proportional to the growth of your business. So your main goal must be to find and implement ways to boost your sales.
Consumers these days prefer gaining access to resources and services from the comfort of their homes. Let it be shopping for goods, booking movie tickets, subscribing to a content platform- the convenience of experiencing these services within a few clicks is remarkable.
Since an average individual spends the majority of his time in a day with his mobile phone, business-specific apps have a greater chance of catching more attention from online customers. Mobile apps can play a robust role in connecting your business to more customers within a minimal amount of time.
An advantage of using a mobile app to invite more traffic to your page would be the features to enable push notifications. These facilities work as mechanisms to remind customers about the existence of your business app and guide them to its usage.
Pop-up messages that appear once an app is launched by a user also attract individuals to browse through the specific sales details. Such methods of broadcasting news related to recent trends, promotions, sales, and discounts in your business app could subsequently motivate customers to proceed with making purchases from your brand.
Also take a look at the reasons Why Mobile Apps Fail to Make a Mark in the Market.
3. Inclusion of Loyalty Programs
Once a customer, always a customer- Your business is on the right path if this motto plays a crucial role in your business development strategies.
Retaining customers and giving them a reason to return to your business is essential to creating customer loyalty as well as brand loyalty. A mobile app version of your business would allow the facilitation and management of this.
Systems such as allotting reward points to your customers after every purchase through your app build a sense of achievement in them. This would inspire them to make future purchases through the same app to receive more points and use it to unlock other services. These unlockable services could include discounted prices, free delivery service, coupon codes, etc., that can be retrieved for their next purchase.
In addition to that, apps can also be used to influence customers to invite their friends and family to download the app by luring both parties with desirable benefits. Thereby, a rapid increase in your customer base shall be observed.
Similarly, offers and additional benefits can be placed within your business for customers who approach via the mobile app. Top app developer USA claims that customers will subsequently be impelled to access your business through the respective app.
The key takeaway is that branded apps will assist you to maintain a give-and-take relationship with your customers.
Want to know How Mobile Apps will Boost the Hospitality Industry.
4. Minimised Expenses
Mobile apps will essentially help cut down the costs your business would normally incur for the promotion of your brand.
It would eliminate the need for your business to set an extra budget for the printing of billboards, posters, brochures, flyers, and newsletters to be distributed to potential customers. The need to hire agencies for the effective distribution of these physical materials will be an additional expenditure for your business.
Push-notifications, chatbots, keyword assistance, pop-up messages, update notifications as emails, etc., are alternatives that the best mobile app development company in USA incorporate in the branded apps to spread promotional news.
Check out the Average App Development Cost in 2021.
5. Gain User Analytics
A personalised mobile app for your business brand would help you obtain access to your customer's interests. Apps can track your customer's search results through which you can gain information similar as What are their favourite products? What category of products interests them the most? How much time do they take to make purchases?… And so on.
Apps are designed to track such customer behaviour and provide them with apt recommendations of more related products that interest them. Overall, your customers will be exposed to receiving guidance not only on the product they intend to buy but also product information of those that they might consider purchasing. This increases awareness amongst customers about the additional products and services that your business is equipped to provide.
Analytics derived from your users can also help you analyse your business's growth as well as qualities that define your merits and demerits.  Besides, you can also obtain an articulated report on categories that require improvement within your business and invest towards extending it up to the mark.
Here are the 11 Productive Mobile App Development Tips for Startups & Small-Scale Businesses.
6. Secured Payment Channels
We are all aware of news related to customers falling prey to online payment frauds. This creates a high amount of fear and suspicion amongst the public to engage in the purchase of products and services online.
Having a mobile app for your brand establishes a secured and assured platform for customers to make online payments without fear.
Your effort towards developing and preserving your brand image by establishing a mobile app serves as a testimony to the professionalism your business wishes to maintain. It increases the trust customers have towards your business, above the doubts they have while availing services and products from other developing or undeveloped businesses.
To increase the credibility of the payment channel you set in your app, it is key that your business seeks the guidance of a top mobile app development company in USA.
7. Surpass Competition
Currently, not all brands and businesses can develop a personalised mobile app to promote their sales.
Several reasons could hold them back, for instance, monetary disadvantage, lack of time, lack of knowledge about the benefits of a business mobile app, or other similar issues. Either way, this is where you can establish a competitive advantage over other businesses.
Acknowledging the positive effect mobile apps bring to improve the sales and marketing of your brand, your business could grow to unreachable heights due to its adopted technical advancements.
Without any doubt, your competitor's unawareness of the benefits of having a business mobile app would create a huge gap in profit margin between you both. Wherein, you will make ample sales and profit because of the use of mobile apps to support your business by providing your products and services readily accessible to all.
8. Customised App Features
Mobile apps can be customised to fit the personalised aspects of your business to improve user experience.
For example, if your brand is a clothing business, having an AI feature in your app to scan your customers' body type to let them gain an approximate visible illustration on how the dress they wish to purchase would fit their body type, will increase convenience.
Similar features can be personalised according to the brand's needs and the nature of the business. We can note that such features are difficult or almost impossible to incorporate into websites and social media-based businesses. This is because of the incapacity or limitations within current technologies to make it possible.
9. From Automation to Profits
Mobile apps for your business app can automate several processes behind your product or service delivery to customers. It can assist with functions such as:
Tracking the inventory
Providing smooth customer service
Improved marketing
A business without a mobile app is susceptible to lose customers due to an incapability  of being able to cater to the customer's needs and queries on time.
For example, a potential customer might want to know if your business provides expedited product shipping services and how much that would cost. Since your business does not have a mobile app to look for such details and is based on a social networking platform, the customer decides to send you a personal message about the same.
However, the message gets lost in your inbox and the customer eventually loses interest in purchasing your product due to poor customer service. Mobile apps are programmed to synthesise such common queries related to your business and provide automatic assistance to customers when doubts arise within them.
You can also use your business app to automatically alert you when your inventory is about to run out of particular product stock.  This relieves you of the pressure of manually checking your inventory to be aware of stock updates. You can also gain an understanding of the products  and services that run out of stock quicker than others and make arrangements to ensure their availability throughout.
Take a look at the 13 App Marketing Strategies That Startups Must Know.
10. Advantage over Websites
Designing a website for customers to access your business is a great choice. But complementing the existence of a website with a mobile app would create added benefits.
When a customer decides to approach your business via your website, he or she has to take the trouble to open a search engine first and then search for the URL that leads them to your business. This requires your customer to devote more time and effort to avail of your services.
On the other hand, a customer who has your mobile app downloaded on his device can easily access your business with a click or two, as it is made readily available to them. Mobile apps also make it easy for customers to browse through your business during intervals in the flow of their daily activities, like when they commute to work using public transport or while advertisements interrupt their movie time, etc.
A website has the potential and provisions to provide detailed information about the brand to new customers. On the contrary, the mobile app creates the tendency in customers to continuously opt for your business in the future.
Also Read: Mobile App or Website: Which is Better For Your Startup?
Conclusion
Based on the advantages discussed in this article, we can understand that having a branded app would surely open more doors to expand the potential of your business. Best mobile app development company in USA endorse that a single investment made towards creating a business app would guarantee you multiple opportunities to gain benefits from it.
Now, it is up to you to decide whether you would like to embark on this journey towards technological advancements.
Talk to our tech experts for more information.