So there they were two college students trying their best to revolutionise the world with their idea, that too in the 1990s.
They worked day and night, struggled to balance their studies and the startup they started together.
At one point, the young duo found it far more challenging to maintain their company that they decided to sell it for 1 million dollars, but they couldn't.
This is the true story of Sergey Brin and Larry Page, who surpassed all hardship and challenges to achieve what they desired. Revolutionise. Those two names might already make you think of which company I am referring to.
Yes – Google!
They had a vision and goal, unique and powerful, and they didn't wait for anyone, not even time. They acted on it and they've achieved it. They are one among the many entrepreneurs who started young and found success. Netflix, Airbnb, Yahoo!, WordPress, etc., are some other examples.
Are you passionate about walking the entrepreneurial journey? Are you someone with a vision who believes in making a difference? Then this guide is for you.
So, what will you learn from this?
A brief history of startup cultures and how to build them
Why you should/shouldn't startup
Dos & Donts of starting up
Networking and its importance
Building startup experience
How to create your unique idea & Trending startup ideas to work on
About building your startup and team
Funding your startup
Developing your product and acquiring customers
How to find investors to scale your startup
How to face failures
And, finally an extra something from our C-suites
You might already know some part of it, like having a good work environment, appreciating their work and so on. But it's more than that.
You will have to provide a space for your initial employees to feel like they are there to provide value to your startup. An open space for their voices to be heard and their passion for working out the way they want.
Having a unique goal to work together and forward. And above it all, the way you treat them and help them as a founder.
We can take an example for better understanding.
It was 2017. Faiz, CEO and Founder of NeoITO, was sitting opposite a potential hiree behind his small desk. The company has endured three years of hardship and was finally getting traction.
He leaned forward and asked, "80% of our employees are currently busy with work, and you have received another client. Apparently, the client's work would require the attention and support of 100%. What will you do?"
The hiree shifted in his chair, contemplated the scenario, and said, "Will work with the remaining 20% workforce."
Faiz, premeditating the answer, smiled and answered, "No. Even if the new client can bring us heavy capital, we shouldn't do that. Clients will come, but dedicated employees won't."
He continued with the interview, made the candidate at ease and finally hired him.
Do you see what he did there? Passing on the positive vibes, giving them an overview of what he and his company stand for. Because Faiz knew in the future, employees would have to pass on the same to the new hirees.
Provide value to your employees and nurture them; they will become the pillars for your startup's growth. That should be the startup culture you should be aiming for. Here is something to help you understand how to build a startup team.
The United States vs other countries
Though the startup ecosystem is similar worldwide, some unique factors make the United States stand out from the rest.
Factors
US
Other countries
Funding Opportunities

Active participation of venture capitalists and angel investors, helping raise money enough to launch a startup.

Though funding options are present, it's difficult to get funded.

Talent pool

Presence of top-ranking universities and startup hubs like Silicon Valley helps access talents easily.

The talent pool is more expansive, but the skillsets are limited.

Risk-Taking

Even when the survey showed about 90% of startups failing, new entrepreneurs take risks and try out new ideas.
The possibility of taking risks is higher.

Always try to be on the safe side. Therefore, they usually don't try out new ideas.
Since getting seed funding is difficult, most businesses are built on shared equity. So lower the possibility to take risks.

Revenue vs Growth

Concentrates more on marketing their product and acquiring customers.
The startups don't rush but wait a minimum of 3 years before they look for ROI.
This is because of the readily available funding sources.

The difference in the funding option itself is a barrier for a company to function the way it is supposed to be.
The quick look for ROI stalls the growth of the startups.
Starting a business is herculean, managing it is much more. So, you have to know whether you are ready to build your startup or not. And the question is how?
Signs you are ready to start a business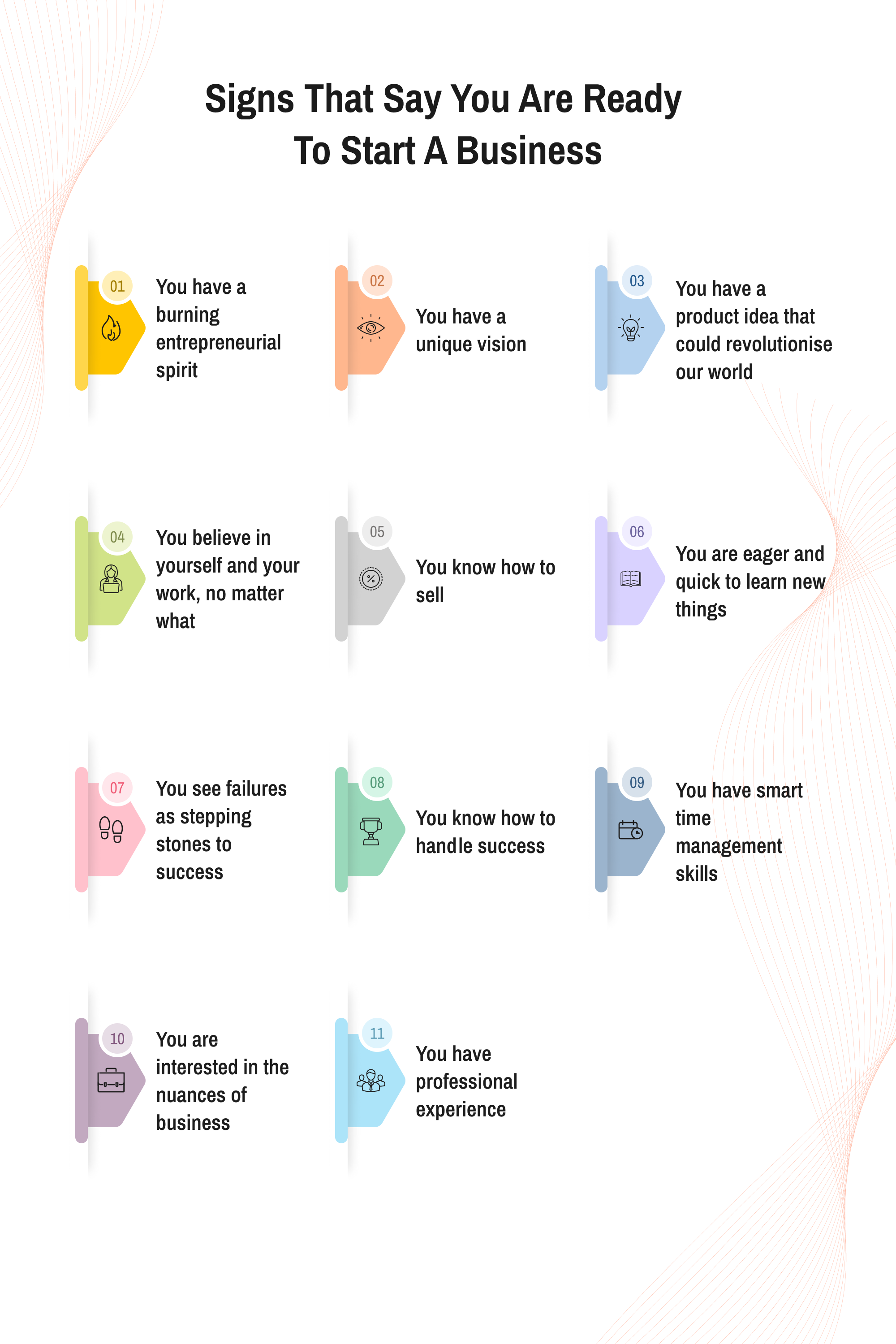 Signs you are not ready to start a business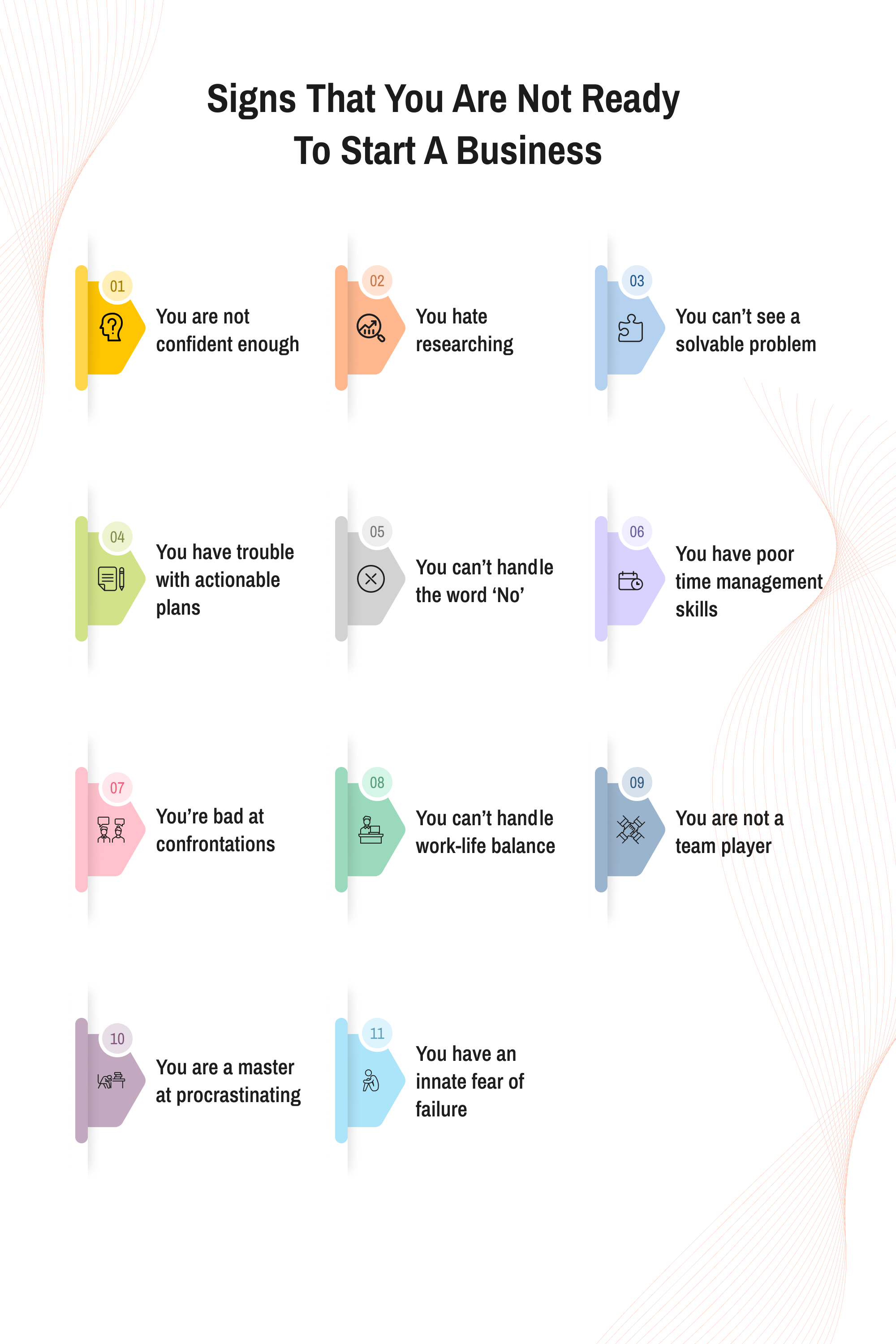 Dos and Don'ts while starting up
Dos
Entertaining your prospects and customers: Build a rapport with them and build trust and credibility. Tell them about your passion, vision, etc., and entice them.
Contact customers and get feedback: Nothing is perfect. So, when starting, there will be many imperfections, and you can know about them clearly through your customers. Improve your business according to the feedback you get.
Solve problems that people experience: Your startup must always solve an existing problem in the marketplace. This way, there will be a target audience you can concentrate on who might be willing to pay.
Active networking: An important part of being an entrepreneur is active networking. Connections can help you in many ways, which we will discuss further down the road.
Increase marketing leverage: This is to make your brand more visible. Concentrate on marketing and achieving customers before looking at ROI.
Seek new revenue streams: Revenue streams differ with the business, but that doesn't mean you can try different methods. Have an appropriate business model in place and scout new areas for growth.
Building a startup culture: Lead from the front and create a startup culture that makes your employees think over salary.
Explore your passion: Entrepreneurship is a cutthroat environment, and you will be competing with persons who will be waking up every day energised and with new ideas.
Don'ts
Disagree with customers: You should always provide value to your customers. Unsatisfied customers can't bring you business. And a review from such customers can break your business.
Following a predetermined and predesigned path: It's good that you have planned every step of the entrepreneurship journey, but hurdles might come along. You have to be flexible enough to alter your plan.
Unclear & unrealistic objectives: Having such objectives could drive employees from achieving your business's end goal.
Carried away by positive feedback: Unless the positive feedback you get is converted to sales/funds, all you have is words.
Scaling: Don't be hasty. Pick the right time to scale your business.
Want some startup advice?
A coach guides a team and brings the best out of players. So how can you bring the best out of yourself? Where can you go to clarify your doubts?
There are typically 5 types of people who can help you with this. They are:
Lawyers
Recruiters
Accountants
Other business owners
Family and friends
Yes, family and friends are a viable medium. They can help you manage your finances, guide you through hard times and even help you with some decisions as well.
Now for the rest, you can find them from the following list we have compiled for you.
Quora
LinkedIn
SCORE
Live Person
Ideaswatch
Meetup
Bussinessadvising.org
Growthmentor
Clarity
Cofounders Lab
Micro mentor
Startup Weekend
Founders Network
Startup Nation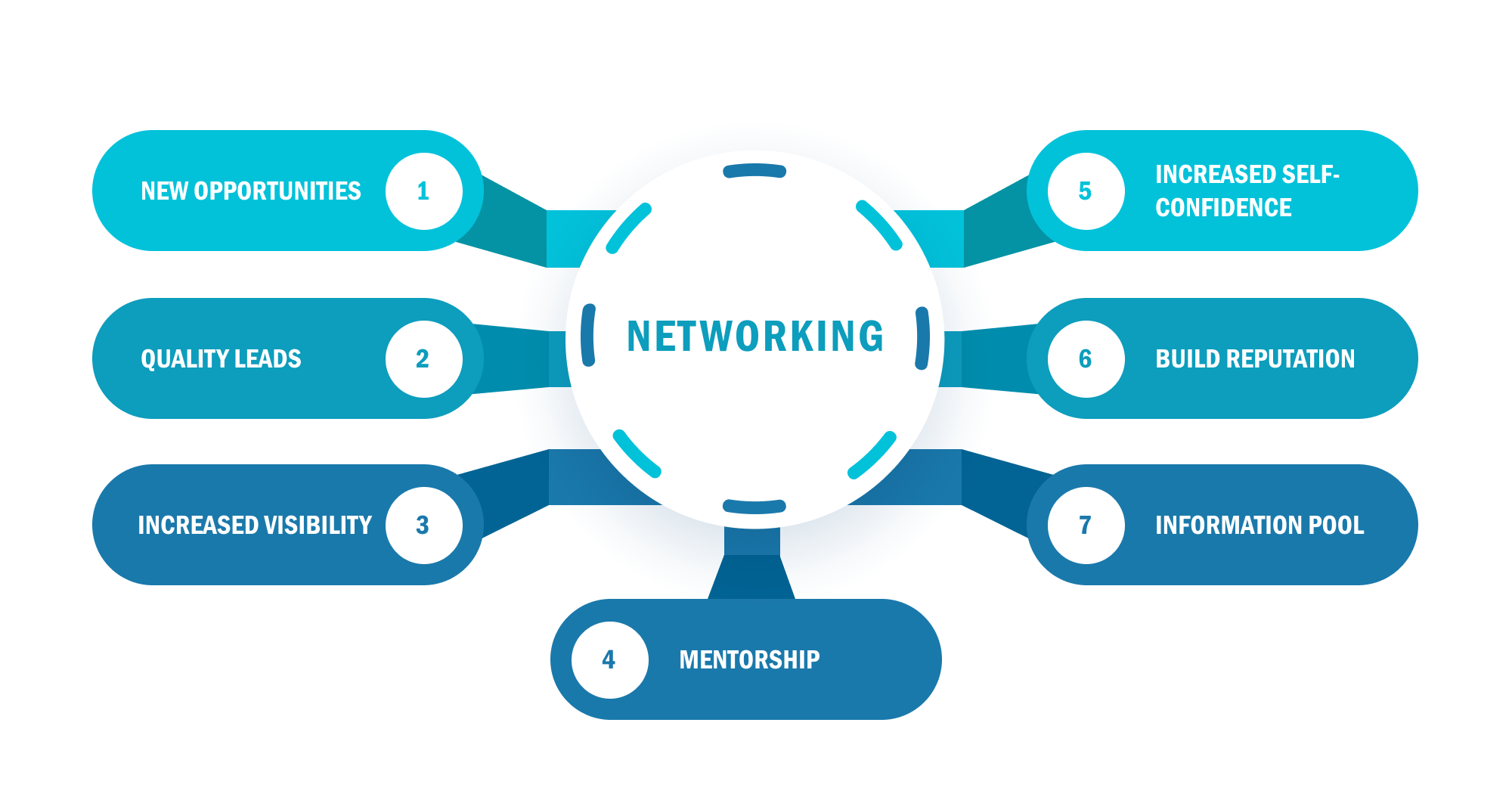 This is the vital part one can't ignore when walking the entrepreneurial path.
Networking, as you may already know, is the process of contacting and sharing information with a person, group, or organisation to provide mutual benefits. The purpose here is to build healthy relationships. Through business networking, you will meet different entrepreneurs from across the world.
This is a personal skill an entrepreneur must-have. If you shies away from such activities, you must force yourself into such situations. Mould yourselves and use social media and business events to network actively.
Why you should network?
Opportunities: It can bring in new opportunities to improve your sales, marketing, finding prospects and maybe some joint ventures with other like-minded entrepreneurs.
Quality leads: You will be able to generate referrals and consequently higher quality leads than one can get through marketing initiatives.
Increased visibility of your company and brand.
Building reputation: You can build a reputation among the others if you can convert some referrals.
Mentorship: You will find other like-minded people to guide along the way.
Build confidence: Attending meetings and events will strengthen your personal skills.
Information: You will be in the pool where you can get hold of all the latest news happening in the entrepreneurial world and much more.
How to network effectively?
Research: Understand what kind of people you want to network with and research the communities where they are active.
Join communities: Startup communities are all around you. Reddit, LinkedIn, Quora are a few platforms that offer great networking opportunities.
Give and take: Once you have joined, it's time for you to share your knowledge with those in need and ask others about your doubts. Be quick to follow up and have healthy communication.
Actively attend events: Business events are yet another medium for networking. Not just talk with others, express and hook them with your vision. Best if you can start an event and bring everyone together.
Seek and find: Opportunities seldom come our way. You have to seek and find them. So don't wait for things to happen; make it happen. If there is an opportunity where you can help, not just with words, then make a move.
Imagine swallowing the red pill, and there is no one like Morpheus to make you understand what matrix really is. It will be the same case if you start a business without any experience. And that's why working at a startup is essential for every young student entrepreneur.
You can either sign up for a job in a startup or perhaps an internship. Why? Because you have to learn about the following and bring all the positives to your business when you launch a startup.
Responsibilities of each team member. Working within a startup means everything you do will directly impact the company.
The passion and energy of the employees.
The work culture; observe how the founder or CEO treats the employees to ensure they are happy and productive.
Time management: Learn how to effectively manage time and prioritise work.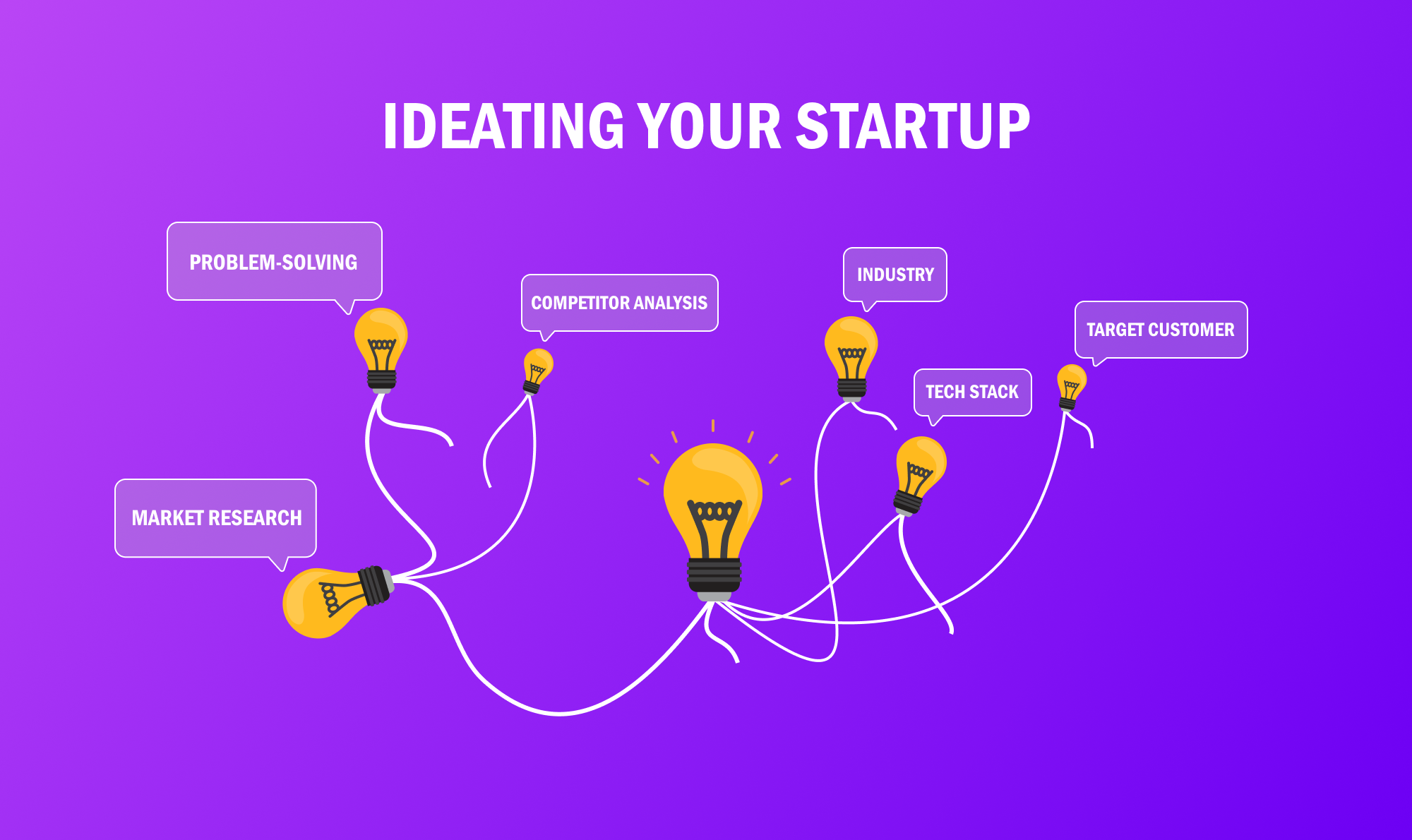 Ideation, while seems like an easy task, is the hardest of all. Your idea is the seed that should root deeper, giving strength for the upward growth of your startup. So your startup idea must have such potential.
As a student entrepreneur, you will be full of energy and can shoot out ideas like bullets out of Arnold Schwarzenegger's minigun.
Your job will be to pinpoint that one idea you want to build your startup on, which will be harder when the list of ideas is long. So how can you choose the right startup idea for starting your startup?
Well, that's exactly what this startup guide is about.
Check out This Ted Talk by Jan bednar where he talks about his experience building an idea and the core essence that helped his business grow.
Ideation stages
1. Focus on the problem
Yes, it's all about identifying the problem and solving it. And it's always easier to find a solution to an existing problem than to create an idea and then search for the problem. By doing so, you will already have a cluster of target customers and markets.
2. Your idea should be doable
Your business idea, while maybe unique, should be doable with the current technologies. Otherwise, your idea will only be good in the papers.
3. Market research
This is the crucial part and you must dedicate a sizeable amount of your time here, for improper market research can break your startup.
Competitor research: Make sure the idea you have in mind is unique, or the competition is low. It is hard to rise when so many competitors are already towering over you.
Your niche: Research in-depth about your business niche, especially the future statistics. Because every business has to have the potential to grow.
Narrow down your customer base: Find out your customers, including where they come from, their occupation, age, gender, earnings, etc.
Our team at NeoITO has lately created a template to help startup founders generate an effective idea to build their business/product. You can read about the ideation guide here. Or you can download the guide and template given below.

For college startups, whether it be for a tech startup or a small business startup, good ideas are hard to come by. In this startup guide, we have gone the extra mile to help you with best performing startup ideas, both tech and small business.
Tech Startup Ideas
Artificial intelligence company
Edtech
Digital marketing agency
Fintech
Cybersecurity service provider
Get more tech startup ideas here.
Small business ideas
Dropshipping
Translation services
Freelance writing
Graphic design
Business consultant
Transcriptional services
Travel consultant
Podcasting
Social media marketing (SMM)
Car detailing specialists
Get more small business ideas here.
Your startup journey from a student to a full-time entrepreneur will be a rollercoaster ride. It will have its ups and downs. So you'll need a strong team to back up your startup when you face challenges. After all, isn't it good to have someone to weather the storm with you?
The question is:
"Should you go solo or create an in-house team from scratch?"
The short answer to this question depends on what you plan to build.
As an aspiring entrepreneur, you should look at the long-term benefits of your business. Because entrepreneurship is too competitive for impulsive decisions.
What happens when you become a solopreneur?
Pros
Being a solopreneur is suited for small businesses that you can handle comfortably.
You will have to learn every aspect of the business, from marketing to managing inventory.
Lesser risk on the investment and costs side.
Cons
Your growth will be slower.
Unless you don't have an insanely productive system in place, it will be difficult to scale.
Lack of varied talent in your team.
You're likely to lose your focus while doing many things simultaneously.
Your work-life balance could take a nosedive.
What happens when you build a team?
Pros
You can easily delegate tasks and keep your productivity intact.
You can focus on important aspects of your business.
You can seamlessly handle repetitive tasks.
With the right set of talents in your team, you can quickly scale your startup.
You can brainstorm any ideas with your team members.
Cons
Your expenses will increase in line with the salaries of your employees.
It may create unnecessary competition within the team.
Conflicts may happen between your team members if you don't manage them well.
There can be delays in the process, which might even affect your bottom line.
Launching your startup and being at its helm may sound exciting. But it takes months and years of hard work and perseverance to scale your startup. So, you need to be cautious while dipping your feet in the aggressively competitive startup world.
Now we can discuss the different startup scenarios and their impact on your business.
Starting up with a co-founder
Ideally, it's good to have a co-founder by your side when you get things rolling for your startup. Roping in a co-founder has several advantages:
A co-founder helps share the responsibilities.
Your potential investors will favour companies with co-founders.
With a co-founder by your side, you can take a break if you feel your energy is draining.
A co-founder offers you a fresh perspective on your startup.
You can brainstorm new ideas and assess their feasibility with your co-founder.
Your co-founder supports you throughout your startup journey.
On the flip side, a co-founder by your side also means:
Disagreements.
Limited creative freedom.
Contractual obligations.
Starting up without your co-founder
While it's not impossible to launch your business without a co-founder, you may face hiccups such as:
Lack of guidance and feedback.
Task pileup.
Challenging product development.
Limited networking opportunities and talent.
Lack of a proper structure in terms of decision making.
But launching your startup without a co-founder also gives you:
Creative freedom.
More control over your decisions.
Starting up with adequate funds
Businesses need money to sustain in the fierce competition. Before you roll up your sleeves to realise your startup plans, ensure that you've enough money in your wallet. Lack of funds is one of the most significant reasons startups fail.
If you have enough money to feed your startup, you can:
Set up all the necessary resources for your startup.
Hire the right people.
Get started with your product development.
Cover recurring expenses.
It takes at least a year for a startup to be profitable. Until you're profitable, you have to run expenses by yourself.
Starting up without funds
We have no plans to discourage you, but launching your startup without adequate funds is a Herculean task. Because 29% of startups fail due to insufficient funds.
If you don't have enough funds to support your startup, you can work on it as a part-time project. Many startup founders do it.
Your best bet here is joining a full-time job and focusing on your startup after work hours. Moreover, you can save for your startup from your salary and become a full-time founder when you have adequate funds.
Friends and family:Turning to your closest people is your easiest option to raise funds. You can approach your friends and family with your business idea and ask them to invest in your startup. However, ensure that you treat them like actual investors.
Crowdfunding:Another reliable source to raise investment for your startup is crowdfunding. You can easily launch your crowdfunding campaign on platforms like Kickstarter, Patreon etc. It's best to have a prototype designed before launching your crowdfunding campaign.
Angel Investors:They are individual investors who invest in small and promising startups. Anger investors are called so because they take a big risk by investing in new startups. You can approach angel investors through your network, events, or the internet.
Startup Incubators:These are collaborative programs to nurture young startups. Startup incubators offer mentorship, resources, connections and investment to build promising startups. Usually, you have to apply to incubator programs to get selected.
Startup Accelerators:If you have an MVP ready, a startup accelerator is an idea worth giving a shot. Startup accelerators provide mentorship and resources to scale for early-stage startups.
Venture capitalists:They are high-profile investors who provide capital to companies with high-growth potential in exchange for equities. A venture capitalist usually favours well-performing startups looking to scale their business. And so, raising funds from them is pretty difficult for early-stage startups unless they have steady traction or high-growth potential.
Read More: Top 10 Sources of Funding for Your Startup
Getting started with an MVP will surely give you a headstart. An MVP helps you validate your product idea and earn some early adopters for your product.
Here are the main advantages of launching your MVP:
Of course, it takes great courage to launch your startup without an MVP and just based on an idea. But courage alone won't be enough to thrive. When you don't have an MVP ready, put all your plans on hold and focus on building one as soon as possible.
Without an MVP:
You can't validate your product idea.
You end up spending a lot of money and resources on the development.
You will find it difficult to convince investors.
You fail to prioritise the necessary features of your product.
You don't get a chance to understand the needs of your customers.
Launching a small business from scratch requires insightful thinking. Product development is an important stage of your startup. But if mismanaged, it can pull your startup dreams down.
Developing an MVP instead of going for full-fledged product development will save you costs and resources. When you plan your MVP development, consider the following factors:
Your goal should be to launch your MVP faster to the market and validate your idea with minimum risks.
Read: A Beginner's Guide to MVP Software Development: Benefits, Challenges, Examples, and more
Many startups exhaust in their journey to find early traction.
Getting people to pay for your service or product isn't a Herculean task, but it's no piece of cake either.
Once you launch your MVP, you will receive feedback from your early adopters. You can revamp your product accordingly. You should focus on offering a seamless user experience. Clearly define your product and how it solves customer pain points.
Some strategies that can get you the first paying customer are:
Pitching your product to a select audience.
Tapping into your network.
Attending industry events.
Running audience-centric ads on social media.
Creating videos that clearly explain your product and its benefits.
Approaching investors
Now, you've built your MVP and got some early traction. The next step is to scale your startup.
And you need financial backing to scale faster. Investors usually hold an objective approach towards startups.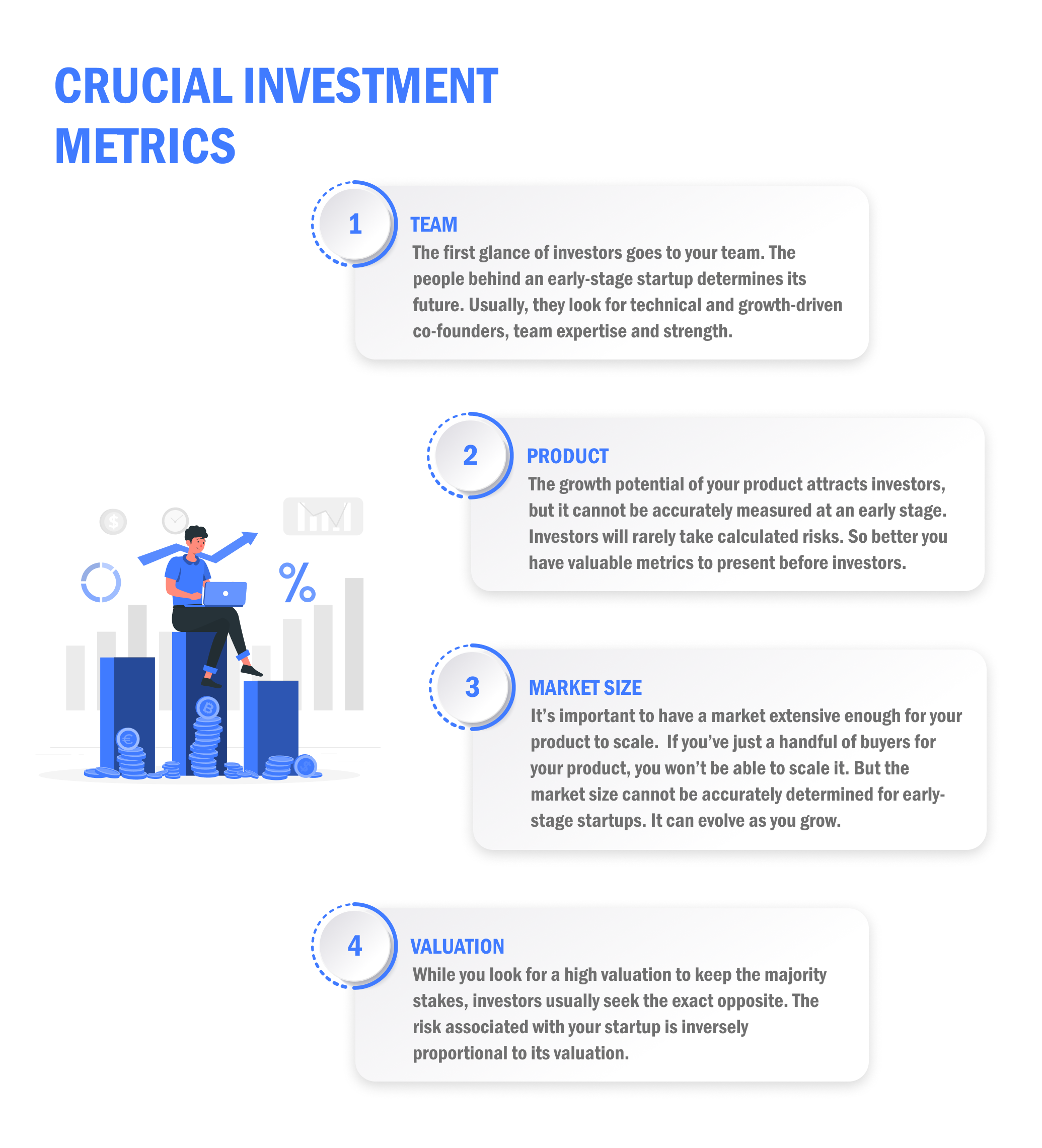 A contingency plan outlines the course of action you need to take in case of a business failure to reduce risks and associated impact.
Getting things off the ground as a studentpreneur is challenging. That's why many startup experts advise against starting up.
Running a startup also means you should be ready to encounter many risks – from market crashes to natural calamities. The latest example of a contingency case is the covid pandemic.
Your contingency plan should centre around:
Your available resources
Key risks
Funds in your account
You can simply write down a contingency plan with five critical elements:
Risk
Likelihood of the risk
Impact of the risk on your business
Your preparation to face the risk
Your response to the risk
You can create a table like this for better understanding:

Many gigantically successful companies that you see today are started by students like you.
Here's a list of top companies founded and scaled by students.
Facebook
Uber
Yahoo
Airbnb
Snapchat
Fedex
Microsoft
WhatsApp
Doordash
Squarespace
1.How do I convince my family before starting up?
Be completely honest and transparent with your family. Discuss your idea so they can understand and tell them the practical steps you're going to take to launch your business.
2. Should I drop out of college to launch my own business?
It entirely depends on you. While dropping out is better for some, it's not the case for everyone. You can decide based on your priorities.
3. How do I choose a tech partner for my startup?
Choosing a tech partner for your startup can be tricky. Look for your requirements and the expertise of your tech partner in meeting them.
4. Where do I get legal advice for my startup?
Launching your startup also means tons of documentation and legalities. Your best bet here is to approach legal business consultants through referrals or use legal directories.
5. What are some accelerator programs supporting student startups?
Startup accelerators are a good choice if your startup has growth potential. Some of the most popular accelerator programs include Y Combinator, Techstars Seattle Accelerator, AngelPad, Google Launchpad Accelerator, Founder Friendly Labs, etc. You can also explore flexible tech equity programs like NEEP.
6. How much does it cost to build my product?
Again, the cost of your product development completely depends on your requirements and the features of your product. Get in touch with our experts now to get an estimate.
7. Is it necessary to build an MVP?
While there's no rule that you should build an MVP before creating your final product, an MVP will help you validate your product at an affordable cost.
8. What happens if my MVP fails?
If your MVP fails, the immediate step to follow is to tweak its features to suit customer needs. Prioritise your MVP features and ensure you're targeting the right people before revamping your MVP. You can seek the help of our MVP experts to decrease your chances of failure.
9. Should I start up early or after gaining experience?
It depends on what you want. If you're dipping your feet in a new domain, you can first build your experience rather than starting up early. On the other hand, you can start up early if you have an in-depth understanding of your business and its revenue streams.
10. Is launching my startup a safe choice?
Startups are not for the faint of heart. Statistically speaking, over 90% of startups fail. So starting up doesn't give you the safety of a full-time job at the initial stages.