Recession is one of the most feared terms of startups founders and businesses alike. The massive dip in business driven by many factors isn't something you want if you're running a startup. But with the right steps taken prudently, you can run your startup smooth even during a recession.
This guide will help you prepare your startup for recession by sharing a few actionable strategies that actually work.
Let's get started.
Key Takeaways
Doing research prior to the downturn can give you recession-proof ideas.
Implying a new business approach can take you to the target customers.
Diversifying the revenue can boost your business during times of crisis.
What is recession?
The term 'recession' is assumed as a serious economic downturn that results in rising unemployment and business failure, but the fact is that it is a period that deflects the economic escalation.
Can economists predict recession?
The longest economic downturn, Great Recession, happened in 1929 and lasted till 1939 turning several million Americans unemployed and 1000s bankrupt.
Recession is quite a natural phenomenon that is unavoidable, where it has occurred off and on.
The good news is that modern economists have learned to foresee recessions with great precision, as well as the risk of their existence in the economy.
Though the likelihood of a slowdown is predictable, its duration and consequences are uncertain. So, it is highly recommended that you have a recession plan for your business.
Is there a plan B?
Recessions occur unexpectedly. So plan and keep aside recession-proof business ideas to save you from hard times.
Having a secondary source of income can help you get through the recession.
During the recession, some products/goods or services may be worth thriving. Assess the risks, conduct extensive research, and select the best recession-proof idea.
What is Recession Planning?
In order to overcome the economic uncertainty that occurs during a recession, the majority of businesses commonly employ a variety of strategies to prevent failure.
Recession planning is the process of preparing for a downturn by establishing strategies for your company's survival, such as keeping cash, hiring less employees, and more.
How recession affects startup businesses
A recession would have a greater impact on startups and other small businesses than on established businesses.
Other firms would not risk investing in startups at these periods of increased risk, and managing a business with less cash flow would be more complex.
Startup businesses often create single items/services and rely on a single revenue stream. Startups suffer when their single product fails to capture the market's sales pitch.
Over this lack of size, the great majority of small firms have less financial flexibility, market strength, and influence within their market to weather the storms of a recession.
Take a sneak peek at the Ideas to make your startup business successful and develop a recession-proof business plan.
How to financially plan for a recession
To keep your firm afloat during the recession, you must arrange your finances beforehand. Here are some suggestions to help your business thrive even during a downturn.
Evaluate your monthly expenses
Focus on maintaining an emergency fund
Have an alternate revenue plan
Analyse your investment and cash flow
Pay off your highest debt at the earliest
How to survive recession
When you are a startup in the midst of a serious economic crisis, you are at a crossroads in terms of saving your company and money.
If you are a business planning for a recession, then a strategic plan is required to mitigate the effects of recession on your business. Here are eight proven strategies to make your business recession-proof.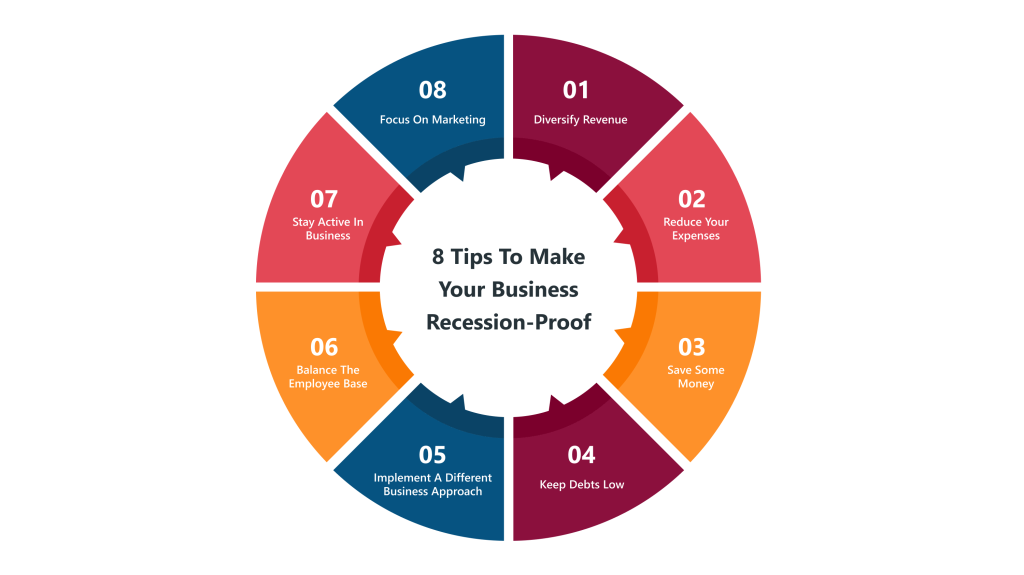 1. Diversify revenue
Diverse revenue will stem from a diverse business plan.
It would be beneficial to have a recession-proof product or service on hand during difficult economic times. This would give you a steady income.
If you have a number of services, your cash flow will be stable even if some do not make income.
2. Reduce your expenses
Reduce expenses that you believe are unnecessary for the organisation. Avoid activities that do not contribute significantly to the company's growth.
Keep an eye on your purchasing and selling ranges and the profit scale. Cut the expenses that are chewing up much of your capital.
Instead of recruiting additional staff, consider outsourcing your services.
Take a quick look at the different sources of funding to grow your startup if you are looking for cool ways to raise capital for your business firm.
3. Save some money
Keep some money in your account to avoid becoming cash strapped. In an emergency, this would come in handy.
Make a cash reserve to keep your business intact. This would allow you to meet your company's purchasing needs while also consistently paying your employees.
4. Keep debts low
Maintaining debts is not a risky activity when the economy is doing well, but it can be difficult during a crisis.
Keeping track of your bills can save you a lot of headaches in the long run. Inadequate cash flow management can have a negative impact on your company's growth.
Taking additional capital through new loans may be a bad option during these times. This could put you in a lot of debt.
Suggested read: How to Optimise Your Team for Business Growth
5. Implement a different business approach
Continue to try out fresh business approaches. Talk to your employees and focus on exploring innovative business strategies.
If you believe you know how to make your business stand out, check trying several marketing techniques.
If you own a restaurant, consider selling your treats through door delivery. If you are a courier service, offer to pick up and deliver to your customers at their convenience.
6. Balance the employee base
Your employees are the backbone and soul of your company. Deal with the recession wisely and choose not to lose them.
Your employees will rely on the income you provide, so set aside funds to pay them even in times of crisis.
Uphold your employees and battle the recession together. The good times are not far away.
7. Stay active in business
You would have had a solid consumer base prior to the downturn. Connect with your customers to keep your business alive.
Regardless of the recession, loyal customers will always choose you. Having exchanges with suppliers and customers will help your business grow significantly.
8. Focus on marketing
When businesses are struggling during a recession, it is natural that you would lose focus and stop marketing activities.
Stopping your marketing operations can put your business on hold and slow down your progress, taking you off your customer's radar.
The key to pushing your business again is marketing. Keep branding strategy consistent to promote your business and reach out to your customers.
You can also take a look at how your business can acquire your first 20 customers here.
Conclusion
Preparing for the recession helps protect your tech startup company from potential threats and failures. Planning ahead of time is crucial for your company's survival throughout the recession.
Simple recession planning in advance will prevent you from potential risks and mark your brand popularity even during downturns. If you have a perfect plan in place to establish during a recession, you can avoid the odds.
Want to boost your team's productivity and efficiency during recession with customised tech solutions? Get in touch with our experts now.
Bonus FAQs
Which industry is recession-proof?
Here are few top industries that are recession-proof:
Healthcare industry
Consumer essentials
Technology and IT
Accounting and tax service
Education
What is a recession plan?
These are some steps you can consider before a recession:
Keep your costs down
Create an emergency fund
Pay off your debts
Make smart investments
What do businesses do best in a recession?
During recession it is natural that customers cut their expenditure. When sales begin to decline, firms frequently cut costs, drop prices, and postpone new investment in order to survive the crisis and preserve stability throughout the economic slump