e-Commerce is the future of commerce. And, e-commerce apps are no longer luxuries, they're necessities.
If you don't believe us, just take a look at the massive number of businesses that have taken their products and services online in the last couple of years!
So, if you're a business with a vision to stay relevant in the current marketplace, then you need to do two things, pronto!
One, take your business online. Two, go mobile!
In this blog, we'll show you how to build an e-commerce mobile app in 15 simple steps.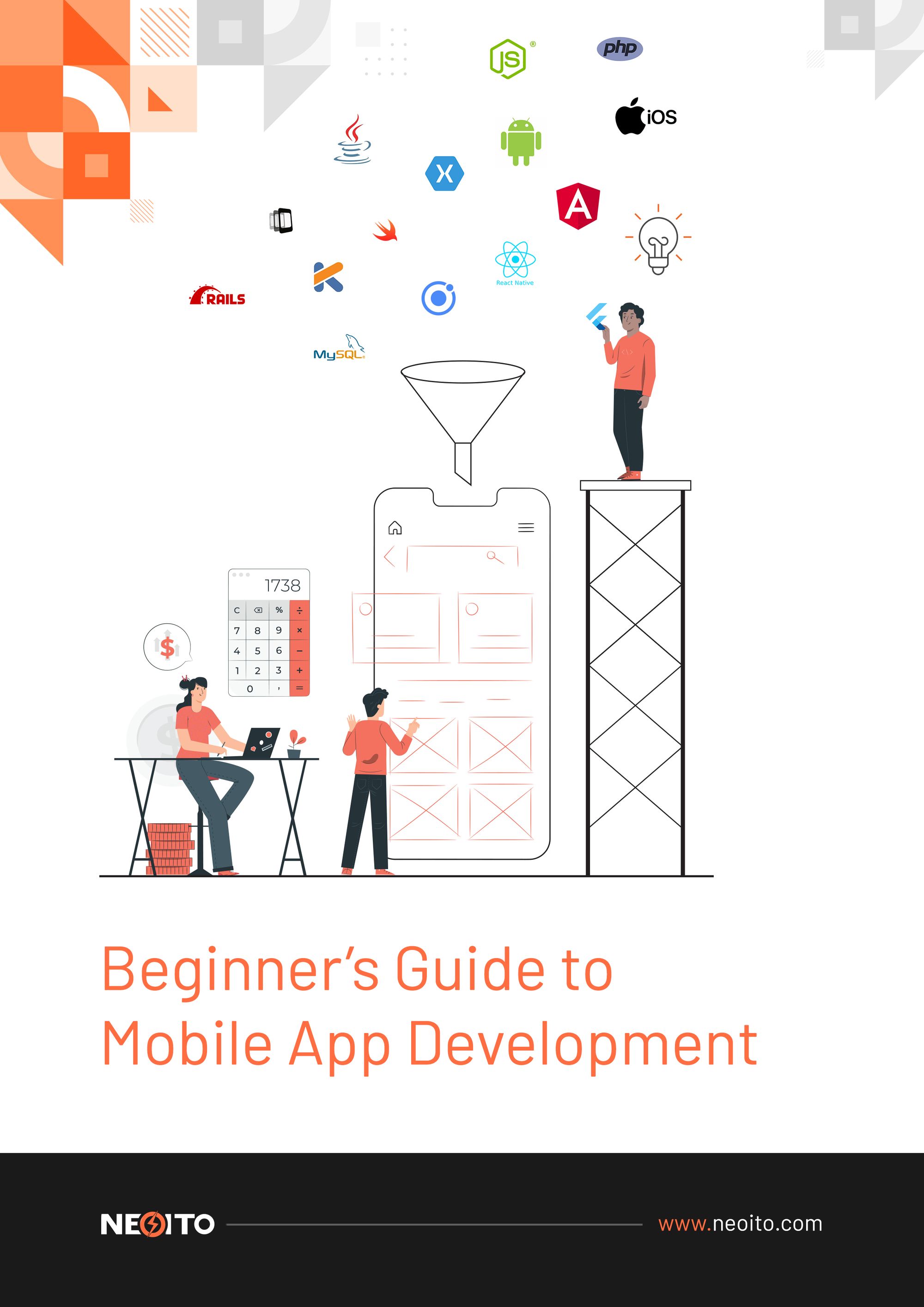 Free Download
A Complete Guide to Mobile App Development
1. Identify Your Requirements

If you want to sell better and get more online visibility, then you need to place your faith in mobile devices. After all, they're an integral part of our lives.
The first step in mobile app development is to take a deep breath and get your requirements together.
What do you want to achieve with your mobile app?
Will your app require access to device-specific features? If so, which all features will you add to the list?
Do you want an app that can handle large loads or one that is more aesthetically appealing?
These are only a few of the many questions you should consider before you move on to the next step.
Suggested Read: 11 Productive Mobile App Development Tips for Startups & Small-Scale Businesses.
2. Research e-Commerce App Development
Once you have an idea of what you want out of your finished product, you need to set about doing the due diligence! Here, that means research your heart out!
The right background research helps you glean a wealth of information that will shape how your product evolves. You'll get an understanding of how receptive the marketplace is, what your target audience's expectations are, and how good (or bad) your competition is.
If you want to get an idea of the types of research you'll need to do, take a detour and get back to this blog.
Don't know How to do Market Research?
3. Set a Feasible Budget
You need to fix a budget for your mobile app development. And don't be too stingy here, because an e-commerce app is a great investment for your business in the long run.
Since mobile business apps are no longer novelties, you can find plenty of tech teams that will help you develop a great app within your budget.
If you want an idea about how to budget your e-commerce app development project, why don't you take a look at the average e-commerce mobile app development cost in 2021?
4. Create an Achievable Roadmap

With a good budget in hand, you now need to come up with a good roadmap for your potential app development project.
e-Commerce applications require a lot of careful planning and coordination for proper execution. So, you'll need a good business plan with achievable milestones outlined clearly in it.
Be sure to leave some buffer room for contingency situations while setting deadlines.
5. Put Together a Reliable Tech Team
Next, you'll need a team of talented UI/UX designers to make your dream app a reality. Be careful with your choices when it comes to choosing a tech team because the fate of your final product depends on them.
Do you need more front-end developers or back-end developers? Or, should you hire a team of full stack developers? The answers to these questions will depend upon the requirements you outlined in the first step.
Take a look at how to find the best web developers and where to look for them.
Since you're trying to build an e-commerce app, it is a good idea to include at least one e-commerce developer in your team. e-Commerce developers come equipped with additional skills that are necessary to handle the tools and platforms pertinent to online  stores.
6. Plan the Essential Features/Capabilities
Now, you can sit with your team and figure out the essential features and capabilities you want in your app.
Always keep your target audience in mind, because your ultimate aim is to curate delightful online shopping experiences for your customers. Consider questions such as:
What are the features most sought after by your target audience?
How can you innovate your app to be more desirable to your end users?
7. Design a User-Friendly App

Online stores are all about user convenience.
And no, it's not really about the no-touch restrictions put in place by the recent pandemic either.
Trends show that most businesses were also slowly but steadily inching towards a complete digital transformation. The coronavirus just gave businesses worldwide that little extra nudge in the digital direction!
So, make sure your e-commerce app is user-friendly and easy to navigate. Also, don't forget to select a development platform that is most suitable to your target demographic's needs.
8. Develop Your Mobile App
Ah, finally! We get to the crux of the project.
Your product development is the most decisive stage of your app development process. If you execute the product development badly, then all the other careful planning and research you did will be for nought.
Take a look at the different stages of an ecommerce mobile app development project to familiarise yourself with the process. You might also find it helpful to go through our compilation of tips for successful product development.
9. Test Your App for Bugs/Defects
First impressions are the best impressions. So, make sure your product is defect-free before you give your target users their first sneak peek at what you've put together for them.
Test your e-commerce app thoroughly for any bugs and fix them as soon as possible. Ideally, product development and bug-texting should go hand in hand.
If you procrastinate your QA testing, you might end up with a tonne of technical debt, and you certainly don't want that!
10. Start Your Promotional Activities

You need to start marketing your product as soon as you have a minimum viable product in your hands. This will help you get a headstart before the actual launch of your product.
These days, digital marketing on social media is the best way to market your brand and your e-commerce app.
You can market your e-commerce mobile app across multiple social media platforms such as Facebook, Instagram, and Twitter, to name a few. This way, you can reach a wider and more diverse audience.
11. Engage Your Audience with Prototypes
Shopping apps are not uncommon. But, great shopping experiences are.
Once your prototype is ready, connect with your target users and help them get accustomed to your user flows.
Show them what you have to offer that gives you an advantage over your competition. Perhaps your e-commerce app design is clutter-free and easy to use? Maybe your numerous payment options give your users more purchasing power?
Make sure to highlight your USPs (Unique Selling Points) when you engage your audience.
12. Take Feedback and Implement It
Real time feedback is something that is crucial to the outcome of your e-commerce app development.
If you involve all your stakeholders in your feedback loops, you'll be able to get valuable inputs from them regarding your app and it's features and functionalities.
Your team and end users can help you innovate your app and guide your final product in the right direction.
13. Launch Your App to the Marketplace

Your final product is ready for public scrutiny! Great, now it's time to hit the app store!
Do not forget to give your app good visibility on the app store of your choice. You do not want it to drown in a sea of faceless apps, right?
In order to improve the visibility of your app, you must ensure that you do proper ASO (App Store Optimisation).
14. Market Your App Well
It's time to launch a full-fledged marketing strategy!
Let the world know what you have to offer and why they need to use your e-commerce app to shop online!
The right marketing can make or break an online store, so don't forget to engage the services of a good marketing team.
15. Keep Honing Your Final Product
There is no end to the polishing you can do for your product. Make sure that your product keeps evolving over time. A stagnant product quickly loses market popularity and stops being relevant.
Ask your users how you can improve their overall online shopping experience on your e-commerce app.
Perhaps you can add a feature for push notifications? Maybe they prefer having more choices when it comes to payment gateways?
The customer is always right, so listen to their needs.
Conclusion
Developing an e-commerce mobile app is not easy, but it's not that complicated either!
With the right tech partner, you'll be able to develop a unique and engaging mobile application for your business within a few months.
And the mobile app development can be seamless too, if you choose to outsource your project to reliable agencies. Here are some of the types of IT outsourcing models you can choose from.
The key is to ensure that you hit all the e-commerce software development milestones we've mentioned above and soon you'll have a brand new mobile app that will put your business on the digital map!
So, you're ready to invest in mobile commerce for your business! What next?
Are you wondering how much it would cost to develop a mobile app? Or perhaps you want to know where to find the best web developers? Maybe, you need answers to the most frequently asked questions relating to mobile app development?
Check our services and contact us if you are ready to build your ecommerce app.