Building an eCommerce store is so commonplace that there are hundreds of templated website builders and hosting companies that could get you up and running in no time.
But building a website is only part of the story; running an eCommerce website requires serious capital, just like a brick-and-mortar business. In this blog, we'll take you through the cost estimates while building and running an eCommerce website from scratch.
Key Takeaways
eCommerce website development cost

stores greatly depend on the size and complexity of your business
Expenses can be classified into design, development, marketing, and maintenance costs
Stores can either be templated through service providers or can be custom built for more complex products and features
Building custom online stores requires a lot of moving parts which can be outsourced for better results
Average Costs of eCommerce websites [Including maintenance]
Let's look at ballpark figures first. Based on the type of offering and the stage your business is in, an eCommerce website can roughly cost around a couple of hundred dollars using platforms like Wix or tens of thousands of dollars if you go for custom software development.
Building your store should also take into account the level of returns you expect in subsequent quarters. Ecommerce websites usually start small and scale up as users return for more. This is why your website development costs depend heavily on your business trajectory.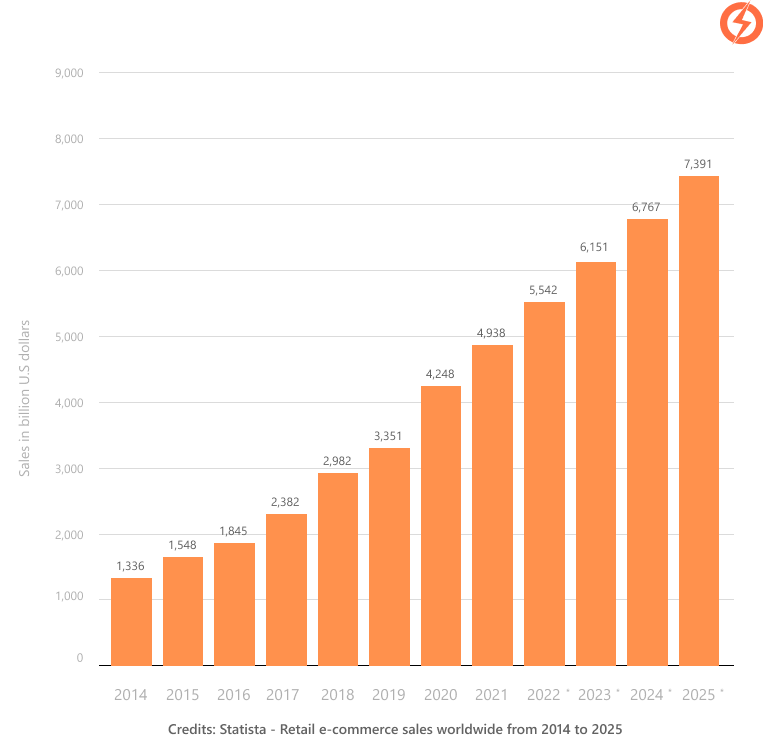 Being a $7.4k billion industry, retail eCommerce is the modern way of doing business with people across the globe. But you may have already guessed how these websites may have started small and scaled up to become the beacons of revenue generation and customer happiness.
Here is a sample breakdown of common website costs and subsequent expenses to maintain a successful online business. As the numbers vary widely, let's see each of these factors in detail and try to gauge an estimated figure that fits within your budget.
Factors that determine the cost of development
Let's divide the total costs of building eCommerce websites into design, development, marketing, maintenance, and other expenses.
Each of these can have different spending based on the customer base and the type of business you run. For example, a luxury clothing store may showcase lesser items with intricate UI, while a wholesale website might show the best offers and a wider range of products.
| | Small | Medium | Large |
| --- | --- | --- | --- |
| Design | < $,1000 | $1,000 – $5,000 | $10,000 – $80,000 |
| Functionality | < $2,000 | $5,000 – $10,000 | $20,000 – $100,000 |
| Maintenance | $0 – $500 | $500 – $2,000 | $5,000 |
| Marketing | $0 – $500 | $500 – $1,200 | $3000 – $12,000 |
| Essentials | $300 | $6000 | $10,000 |
| Fulfillment | Free | $30 – $400 | $5,000 |
Design
If you are planning to run a fully online business, your website's design and responsiveness are two things that will significantly affect sales. This is also where user experience takes up the central stage, deciding on the best way to present your product to prospective customers.
The cost of building your eCommerce website will largely vary depending on whether you choose templated websites or custom options. Platforms like Wix, SquareSpace, Adobe Express make it easy for developing simple eCommerce stores within days. All these platforms are limited by the functionalities they can offer and the types of templates they can suggest.
UI/UX design
Before anything, you need to know what your website should do for your customers. Deciding on your product lineup, placing them on the website for easy access, and designing a simple checkout process are critical for healthy sales figures.
This is where good UX comes into the picture. With the right User Experience and User Interface designers, you can create a mockup of what your final website will look like. This will further help developers to work on subsequent development processes.
For the most part, UI/UX charges can range from $100/h to $250/h or $2000 to >$35000 based on the complexity of the app or website you're building.
Suggested read: UX Design Best Practices 2022: The Ultimate Beginner's Guide to User Experience
Front-end web design
Anything your customers interact with on your website comes under the website's front-end design. Placing the right content, buttons, and dropdown menus on landing pages requires careful consideration for clear messaging and reduced bounce rates.
On average, a website's front-end costs can range between $1000 and >$12500.
Mobile app design
It's no surprise that the majority of online shopping happens via mobile apps. Being the most comfortable mode of browsing and buying things online, businesses should focus more on having mobile responsive websites and applications.
UI/UX designers contribute here as well, and it's important for designers and developers to reach a balance between form and function to build useful websites that work on all kinds of devices.
Average costs to develop mobile apps are estimated to be a few hundred dollars to more than >$10,000. This figure can go up to $300k for really complex websites, including their maintenance, server costs, and more.
Development
We will be looking at development costs from a custom software development perspective. Setting up databases, developing APIs for third party integrations, and everything in between comes under development costs.
On average, you could expect $20k to $30k to develop your application from a custom software development company.
Plugins and integrations
Much of all third party integrations follow subscription models that can be easily be renewed and upgraded as your website grows. If you are developing your eCommerce website on platforms like WordPress, there are plenty of free and paid plugins to equip your website without paying much on monthly fees.
On average, plugin and third-party integrations could cost you around $500 to $20k, depending on the complexity of the website. While you can choose free plugins for small businesses, things can get quite expensive when you are building an enterprise level product.
Data imports
Importing data wouldn't cost you much if you are starting out. As you grow in sales and users, you may require migrating data to or from another platform to your new application.
For online stores that require purchase data and other related user data to be analysed for streamlining product sales, it's necessary to have a regularly updated database. Database costs can cost you from few hundred dollars to $10,000 for enterprise grade products. But it is usually not an upfront cost, as database management costs aill be negligible at the start of the website.
Marketing
Everything from social media promotions to influencer marketing comes under the marketing category of your eCommerce store. Out of the many modes of campaigning for your business, email marketing seems to be the most obvious as it is still considered one of the most conversion-worthy mode of marketing out there.
In addition to being present on all mediums your customers might be scrolling through, you must also consider the widespread visibility that good SEO and PPC campaigns can offer.
SEO and PPC
SEO drives search results and it's critical for any business to stay a click away and front and centre in google searches. This is why SEO is almost always an ongoing process and bettering your SEO score becomes a traffic improvment metric for most eCommerce websites.
Driving organic traffic is one thing, but staying ahead of the competition and targeting specific user groups may require investing in pay-per-click campaigns that bring in customers with a buying intent. You might want to use a combination of the two as you grow in scale.
Although in the beginning of your business, SEO would suffice as you will then know the kind of traffic you generally get from the copy and products you display on your website.
In tofal, digital marketing efforts could cost you around $500 to $2000 for small eCommerce stores and can be anywhere from $4000 to $5000 for a scaled-up eCommerce platform.
Maintenance
After you set up a successful eCommerce website, the only costs apart from upgrading your platform would be the obvious maintenance costs. This includes any glitches on the landing page or buttons, unforeseen 404 errors, and even increased time to load pages.
Having said that, monthly maintenance costs depend significantly on the scale of your website. If you run your store on service providers like WordPress or Shopify, you wouldn't be spending much in maintenance as it will be covered under subscription costs.
For custom websites, it may become important to have customer service professionals to help out customers and continuously check the effectiveness of eCommerce stores. Thus, for small stores, your estimated maintenance costs will fall somewhere around $500 and $1000 annually, while this might be your monthly maintenance expenses if you run a complex online store.
Conclusion
Apart from what we've discussed so far, you will incur hosting charges and other upfront costs, which have been greatly been simplified by most of the hosting companies. Expect to spend around $20 to $300 per month on these services, but that's just about it for small businesses.
As you grow in size, data security may take a majority share of your business requirements and may incur additional costs. SSL certificates, self-hosting, and domain names can cost you less if you plan for them wisely.
If you are confused about which way to carry your online business, talk to us today to get an idea on the best way to start and scale your online business.
As websites are required to load quicker and quicker, the website development industry is constantly evolving by the minute.
Find out more about our range of services to supercharge your website-building process.