Learning via mobile apps is not the future. It is the present. Byju's-the learning app's success in India has set a mark that has disrupted the entire educational system.
Apart from making an app that's engaging and interactive, this elearning app focuses and assures a comprehensive standard of education with simplicity, ease and effectiveness.
Elearning mobile apps are the third most frequently installed apps on mobile phones and are expected to show significant growth in the next five years. According to statistics, the global market of elearning apps was $165.36 billion in 2016 and is expected to go beyond $243 by 2022.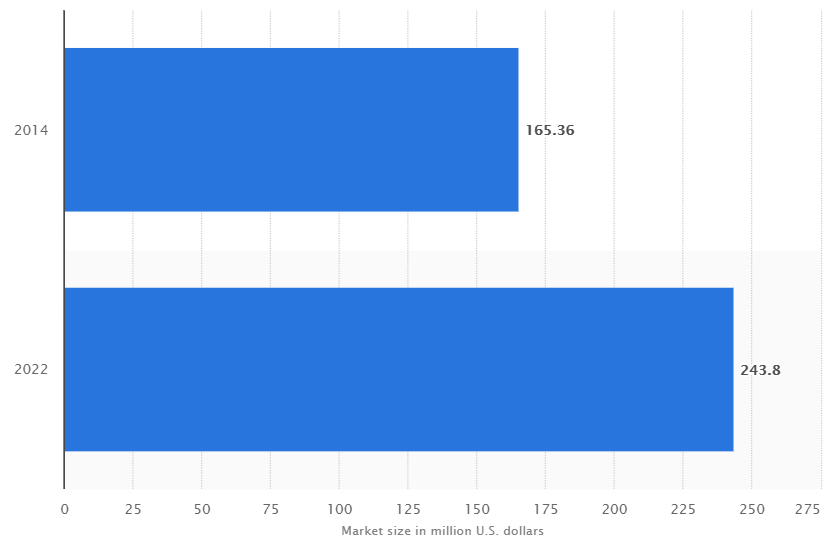 BYJU's is the world's most valuable ed-tech company with over 50 million registered students, 3.5 million paid subscribers and has more than $244 million funding.  Launched in 2015, the BYJU'S app offers highly personalised and effective learning programs for classes 1 – 12 as well as test preps for competitive exams like JEE, IAS etc.
Used across 1701 cities worldwide.
Average time spent daily is 71 minutes.
3rd-most valued Indian startup at $8 billion.
Witnessed 150 percent increase in the number of new students after March 2020.
Features of BYJU'S App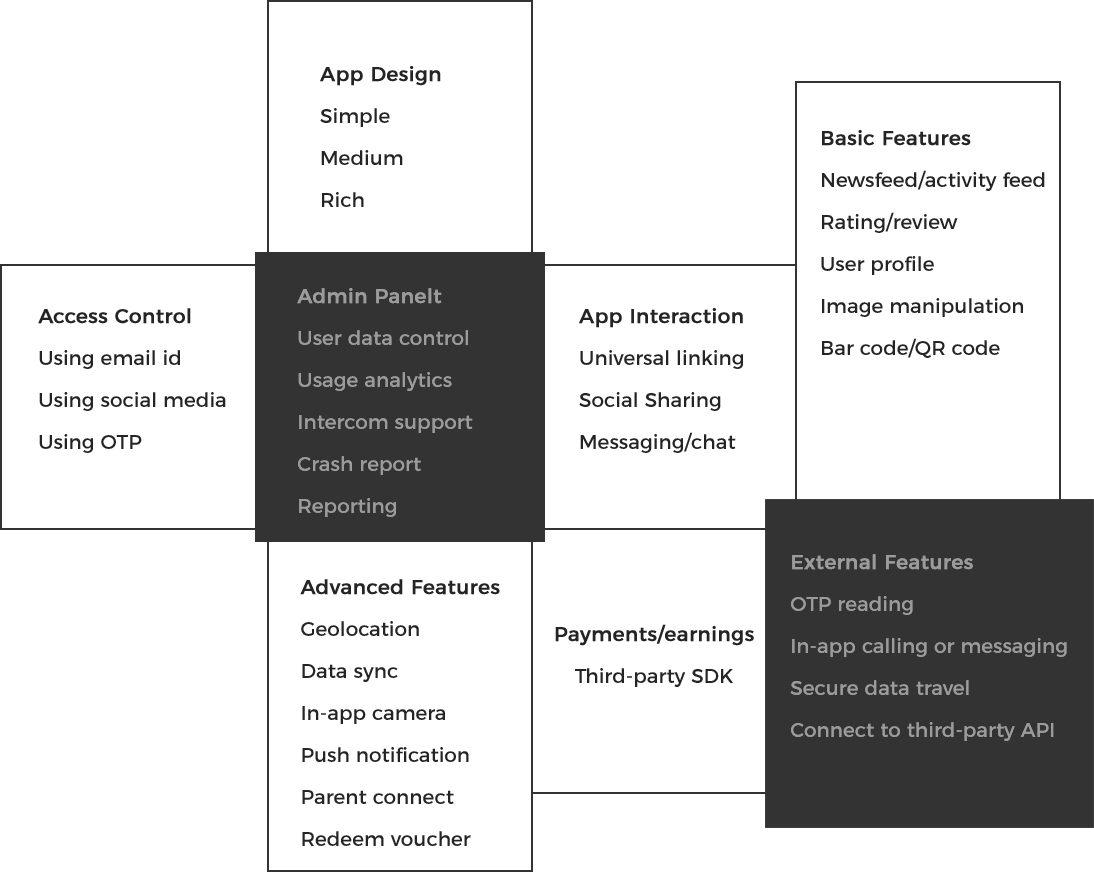 Engaging video lessons
Personalised learning journeys
Adaptive & interactive tests
Easy on the budget
24 × 7 access
Engaging interactive questions
Measurable results and reporting
Convenient and flexible access
Serves different learning styles
Self-driven and self-paced
Transparency to parents and teachers
Learning journeys are mapped according to a student's grade & syllabus
SUGGESTED READ: eLearning App Trends & Statistics to Know in 2022
Functionalities to be included in an E- Learning App Portal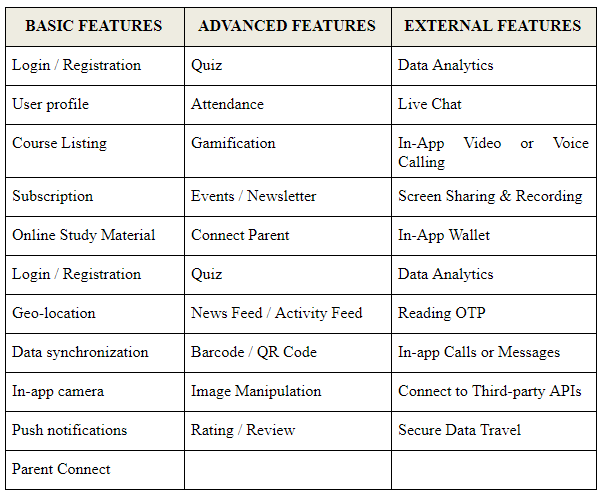 Are you Thinking of Executing an Elearning App in the Market?
To start with, first, you need to understand the concept of Elearning and also know the factors that decide the app development costs.
The key factors that affect the cost of an elearning app like Byju's are as follows:
1. Research and idea
When you have a product plan in mind, make sure you visualise the future of the end product in different dimensions like publicity, identity, multiplicity, communication, time, and price. You need to broadly understand what your product should be, like whether it's an individual software product or broader educational system software. Either way, the concept has to be viable.
Performing significant research, brainstorming sessions, analyzing your niche and your target audience before getting into the next stage will help you stay ahead of market competition.
2. Find the Team
To develop an elearning mobile app, you would require the following set of professionals:
UX/UI Designers
Android/iOS Developers
Back-end Developers
QA Testers
Project Manager
Delivery Manager
If you don't want to opt for an all-in-one solution, the best option is to hire qualified developers or a team.
Read the blog to know how you can find app developers to develop your startup idea.
3. App Design
With the exploding popularity of elearning apps, eLearning services must keep their customers (students), engaged and a good UX design is at the forefront of that focus.
An interactive design on an easy-to-use interface is one of the major reasons behind the success story of the Byju's app. So, go with a decent design that can capture the audience's interest with bite-sized elements. A good design needs more investment, but in the long run, it offers several benefits.
Here are 7 things you should remember while designing your product.
4. Mobile Platform (Android/iOS)
Determine which platform would work best based on your app idea and your target audience.
How do you want people to access the content- smartphones or tablets?
Android or iPhone?
Comparatively, cross-platform app development might be a better option because you need not worry about the diversity of the supporting devices, or the availability of ready-made solutions and UI frameworks.
Read: Flutter Vs. React Native: Which To Choose For Cross-Platform Development?
5. Development
Once the design is ready and the platform is decided, it's time for the development process. The process starts with a conceptual phase followed by several stages of improvement, updates, testing, fixing of bugs, and additions of key functionalities.
Read more: Complete Product Development Process: 7 Strategies Startup Founders Need to Know
6. Features and Functionality
Byju's app consists of three different panels:
Student's panel
Teachers panel
Admin Dashboard
For each of these panels, you'd need to have a different set of features and functionalities depending on your app requirement.
Student Panel: The most accessed panel that is designed for students. Student panel features of Byju's app are as follow:
Simple Registration
Video, Text chatting
Advanced Search Filter
Selection of Subscription Plan
Posting Questions
Quizzes and Online Exams
Download or Read online
Detail Profile Creation
Course Detail on Click
Shipment Status
Purchase History Dashboard
Forgot Password
2. Teachers Panel: A panel for teachers to sign-in and navigate easily. Here are the main features:
Register account
View Questions and answer
Console Statistics
Account setting
Detail Professional Profile
Edit Account details
Video and Text chatting
Forgot Password
3. Admin Panel: A place to manage the users, the content etc. The main features of an admin panel are as follows: Badge Management
Location Support
Maintain the accounts
User management
Subjects Management
Premium subscription control
Transaction History
Content and multiple filters
Statistics & Ticketing
Customer Complaint Management
Discount and Promotional Offer Management
7. Technology Stack
An eLearning app like Byju's will require various technology stacks to make the app functioning smoother and easier. For back-end & front-end development, there are several frameworks and programming languages that can be considered to make an app that works in both web and mobile platforms.
Here's a quick sneak-peek of technologies used in the development of the eLearning app:
Front-end development: Angular, React, Vue.js, Next.js, Plotly. JavaScript (cross-platform).
Back-end Development: Node js, Python, .Net, Mongo (cross-platform).
For Android Development: Kotlin, Java (programming languages).
For iOS: Swift.
Cost of Developing an App like Byju's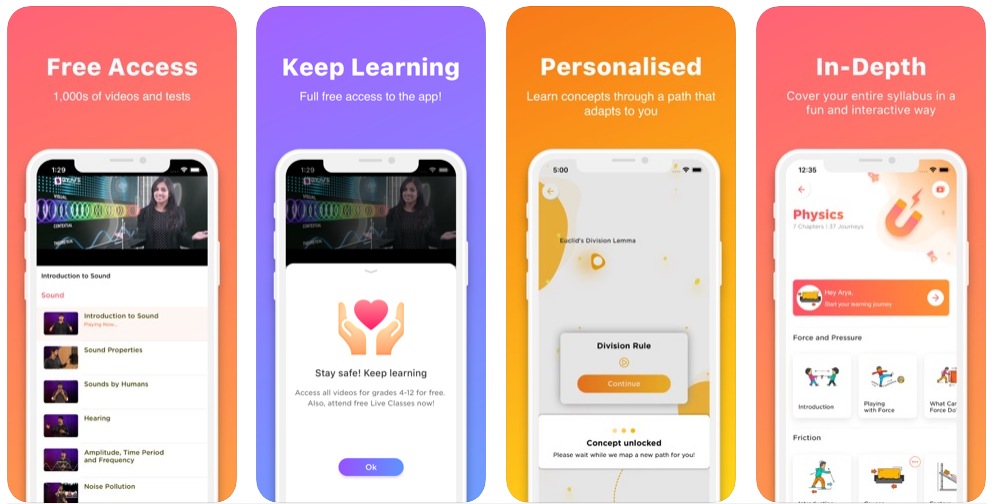 The average development cost of an app like Byju's per hour differs from region to region.
India – $18 to $60/hour
USA – $150 to $ 250/hour
Eastern Europe – $90 to $200/hour
Costs according to the processes involved are as follows:
Technical documentation- 42- 50 hours (average cost of $850 to $1800)
UI and UX design –70-80 hours (average cost $1,200 to $2,700)
Front and Back-end development –450 hours (average cost of $8000- $18,000)
Testing—80-85 hours (average cost of $1500 – $2800)
A reasonable app or a simple replica of Byju's app with limited number features may cost up to $10,000 to $30,000 (if submitted to an Indian app development company) and the charges can extend up to $45,000 in case the app developed is feature-rich, complex and is driven by high-quality standards. The ultimate cost, however, may vary depending on the additional premium features.
Conclusion
Today, edtech platforms are waking up to a market that has accelerated so much to transform regular classes to digital platforms. Teachers are moving classrooms online and students are adapting the learning process via smartphones, tablets and computers.
By associating with the NeoITO, one of the leading Mobile and Web App Development Company in India, you can launch high-quality cross-platform mobile & web app solutions that make learning more engaging & addictive.
Along with ideation, development, and deployment, we make sure to provide comprehensive round-the-clock app support and maintenance services to our clients.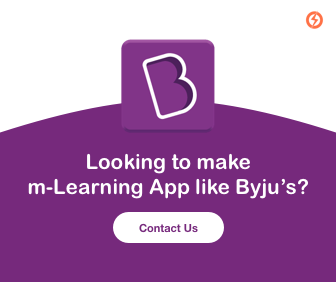 Our top-notch cross-platform app development services create robust, interactive apps with a multi-platform based user-experience. As a top-rated app development company, our expertise on the latest technology & frameworks enables us to deliver fast, tailored and cost-effective cross-platform app solutions.
So, book a free consultation with us to elevate your business idea to the next level!