With advancements in digital technology in the last decade, mobile apps have started influencing even the smallest aspect of our daily lives. The advent of the use of mobile apps has totally changed the way people used to book travel, shop, transfer money, buy food and groceries, or meet their day-to-day requirements.
And for all this, technology has played a significant role in modernising app development companies to expand their services & deliver the best user experiences.
With each passing day, mobile app development technology is changing, and therefore, it's necessary for businesses to update or upgrade their existing or upcoming apps.
Mobile is the way to the future and if you are not primarily focusing on the process of development following the latest mobile app development trends, then that could affect your business in a negative way. As 2021 is around the corner, developers are trying their best to bring in the essence of the latest technology to create revolutionary mobile apps.
If you are someone who wants to update the existing app or build an all-new app using the latest trending technologies in the mobile app development world, then this blog is just for you. Here, we have listed the top 11 technologies that will revolutionize the mobile app market.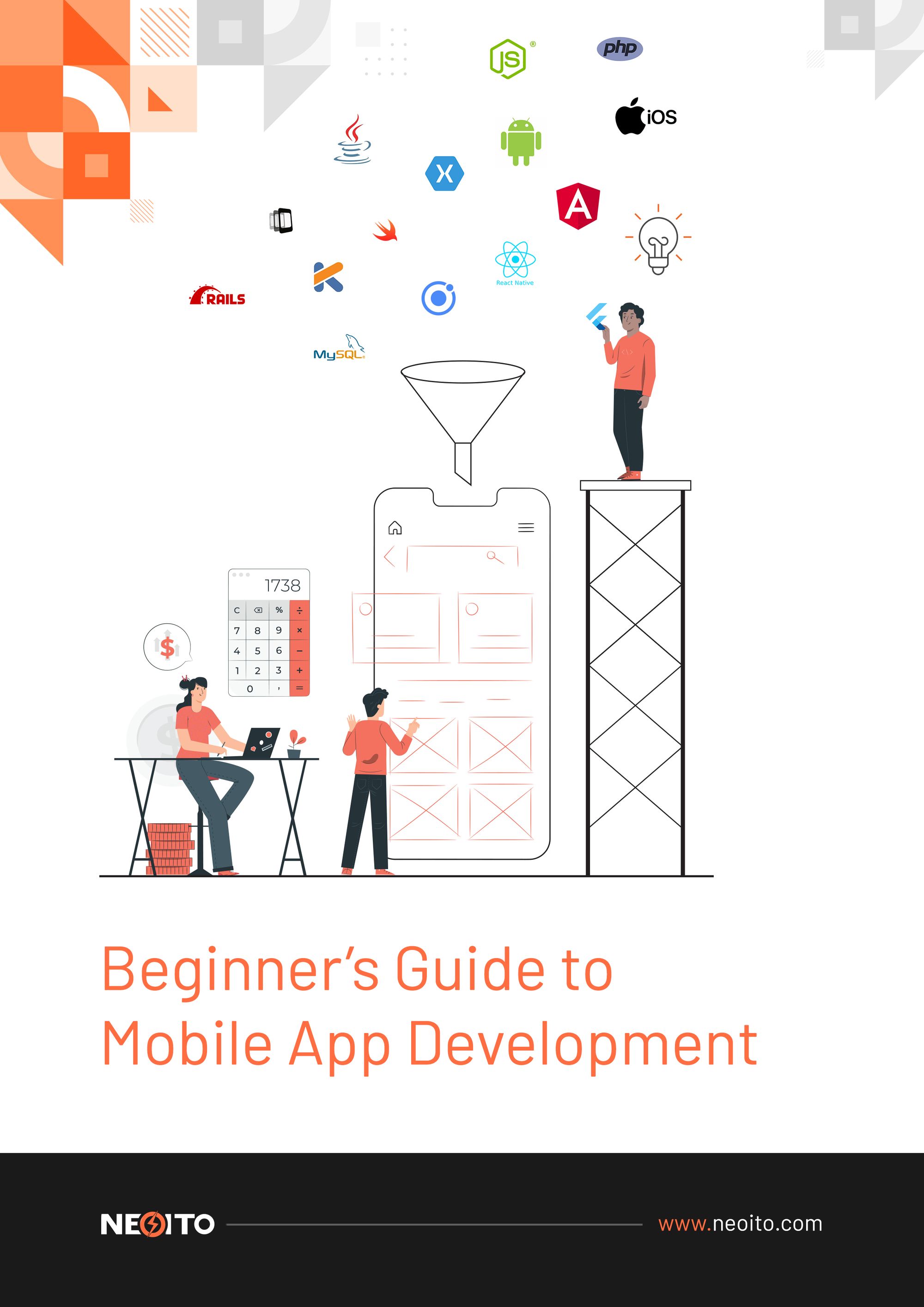 Free Download
A Complete Guide to Mobile App Development
1. 5G Technology
5G technology known to be the 5th generation mobile network is the latest technology that will redefine the use of smartphones creating new opportunities for people and businesses in different sectors.
Being the next-generation mobile connection, 5G has significantly higher speeds, extremely low latency, and the ability to connect multiple devices simultaneously.
From cutting-edge ways of improving safety and sustainability to transforming industries, engaging education, immersive entertainment, and more, 5G brings in the enormous potential for app developers to explore technology at its best.
2. AI & Machine Learning
The rapid growth of AI & Machine Learning have made these technologies integral for mobile app development, to change the way people use devices and conduct business. From writing powerful algorithms to creating intelligent apps that can identify human behavior, AI and machine learning have so much to do with the mobile app development landscape.
Chatbots, face recognition robotics, etc., are expected to bring in more abilities across mobile apps, which means that the users tend to get more privileges out of AI and ML to maintain, gather, and handle real-time pieces of information.
Check out the Top 10 Advantages of Artificial Intelligence in Mobile App Development.
3. Wearable Technology
The pandemic has prompted an explosion of interest in wearable technologies to do everything right from detecting oxygen to contact tracing and collecting user fitness data. These devices are increasingly becoming the future of consumer technology as it is very much handy and has multiple applications based on your needs.
From the basic fitness trackers to highly advanced smartwatches, head mounted displays, smart clothing and smart jewelry,  the benefits of wearables are too many to walk away from.
Literally, wearable technologies have gone beyond fancy prototypes and offer ground-breaking services to fulfil various business, customer, and enterprise purposes.
4. AMP Technology
AMP or Accelerated Mobile Pages is a lean version of HTML which is developed by Google. By incorporating AMP, even content-heavy websites can accelerate its speed across different mobile operating systems.
High performance, low bounce rates, and quick loading speed are the main highlights of AMP that will make it to the future.
5. M-Commerce
As the demand for online shopping mobile applications is increasing day-by-day, this technology is becoming essential for online marketers.
According to stats, in 2021 the m-commerce sales will account for more than half of the total e-commerce sales. Therefore, it's for sure, that m-commerce is going to continue growing in 2021, attracting more users and generating more sales.
Here are the 15 Easy Steps to Build a Successful E-Commerce Mobile App.
6. Augmented Reality (AR) and Virtual Reality (VR)
AR & VR are two technological aspects that have changed the perception of looking at things in this digital world.
These technologies not only create resonating apps that can interact with the real-world but also deliver interacting and engaging customer experiences that in turn help you increase brand loyalty & drive sales.
7. Blockchain Technology
After showing lots of promises to work across industries in many practical scenarios, Blockchain has now come so far to manifest a possibility of being adopted for mobile app development. Its ability to protect the most intricate data with encrypted security makes Blockchain a great option for safe online transactions.
Lately, the mobile app development world has started leveraging Blockchain power significantly and in a long run, it also can create a competitive advantage for businesses looking to integrate the technology.
Take a look at the Complete Checklist To Build a Secure Mobile App in 2021.
8. Cloud Computing
The global cloud computing market size is expected to expand at a CAGR of 14.9% from 2020 to 2027 making it one of the industry buzzwords and potential technology for mobile services.
From providing developers to choose the platform of their choice to reduce development time, seamless database integration, higher accessibility cloud-based mobile application development comes with lots of valuable benefits.
Also read the Top 15 Mobile App Development Frameworks for 2021.
9. Internet of Things (IoT)
Business owners consider this technology as the future of mobile app development as it can drive process efficiencies, save money, and create better user experiences.
From open source development to hybrid app development, creating new platforms, the emergence of innovative businesses the increased adoption of the IoT will definitely pave the way for increased utilization of artificial intelligence algorithms, taking data analysis to a new level.
10. Foldable Devices
As technology is undergoing a twist, foldable smartphones are the current hot topic that is raising eyebrows. Their flexible display technology that incorporates electronic visual presentation allows developers to create great apps giving qualitative visual experiences across diverse platforms of multi-window.
Responsive design, extended UI/UX, easy interaction and multi-screen multi-functional facilities are a few exciting features of the foldable smartphones that is going to increase competition amongst the developers.
11. Beacons & Location-Based Services
As the global beacon technology is expected to witness notable growth between 2020 to 2030, it's no doubt that it would take a rise in smartphones, IoT technology, and sensor-based electronics.
While mobile app technology has helped us to stay connected from anywhere, location-based services are also gaining importance. Staying connected and easy transmission of information to smart devices makes location-based searching and interaction more accurate and easier.
From improved offline attribution to out-of-store marketing, advanced data gathering, Google My Business listing, the possibilities of beacon technology in proximity marketing and location-based technology are just numerous.
Final Thoughts
As we have discussed all the major mobile app development trends expected to rule in 2021, now it's time to realize that current technology trends have redefined mobile app development in the terms we used to know.
The emerging mobile app technologies like microservices, backend platforms, and the latest hardware capabilities will continue to change, and for developers and app development companies, the battleground will always remain competitive like before.
Change is the real constant and therefore, it's important to embrace the new tools and technologies for your products and services which will rather help you grow and stay ahead in the competition.
Do you have any thoughts regarding the mobile app development trends for the upcoming year? Comment below and tell us!