Just because someone runs a business or multiple businesses doesn't mean they're a growth strategist, and the sad reality is that 90% of startup founders aren't growth-minded; they're just unintentional entrepreneurs. It's no surprise that 20% of companies fail within the first year, and a shocking 50% fail by the fifth year.
Spoiler Alert: Growth hacking has immense ability to save your company from such a setback.
Entrepreneurs must effectively market their products in order to expand their businesses. There will be many difficulties along the way, but with the best growth hacking techniques we are going to explore in this tutorial, scalability can be made simple.
What is Growth Hacking?
Growth hacking is a method of determining the most effective ways to develop a company through experimentation. Marketing, development, design, engineering, data, and analytics are all incorporated into the process.
Instead of following traditional methods,in growth hacking, marketers think like a hacker to discover fast, cost-effective, and innovative ways to grow their business and thus came the name "Growth Hacking".
Sean Ellis, the CEO and founder of GrowthHackers, invented the phrase after seeing that traditional marketers lacked the growth focus he required.
Growth hackers usually experiment to-and-forth with different marketing strategies, advertising tactics, and other activities and find out the ones that will quickly convert leads and generate sales.
Growth hacking isn't a marketing perspective that needs your attention, rather it is results-oriented and solution-focused.
Growth hacking tactics may be divided into three categories:
Product marketing (by promoting the product as it is)
Content marketing (business promotion using wide variety of contents)
Advertising (paid promotion)
Implementation of the above tactic will improve the following stages of the growth hacking funnel:
Acquisition
Activation
Retention
Revenue
Referral
Keys to Growth Hacking Success
Growth hacking is said to be in its true glory if a marketer discovers and exploits details that other marketers have not yet. Growth hacking is only effective if your business is willing to try out new things.
It's important to understand that growth hacking comes with no guarantee. To identify potential shortcuts, you must be willing to take some risks and the possibility of significant growth will be waiting for you on the other side of that risk. However, it's crucial that you ensure if it's the preferred technique for your business.
Here's what the companies usually follow to create their own growth hacking strategy. The following five are considered to be the major growth hacking pillars.
Here's what you need to do:
Evaluate your current marketing initiatives like leads, traffic, and page views
Identify where your company's process can be improved
Find out and try new approaches in achieving your objectives
Experiment and test your theories until you reach your goals
Document the whole process of your winning strategies and share it with multiple teams in your company
The goal of growth hacking is to make the most of what you already have. This level of testing may appear exhausting or even unfamiliar to traditional marketers. However, if you're already experimenting with different marketing elements and learning from its results, you're practising "growth hacking" without realising it.
Also Read: Growth Hacking Process Made Simple: A Step-by-Step Guide For Your Startup.
8 Key Growth Hacking Strategies to Follow for Any Business
As we've already discussed, Growth Hacking is not about the tools that we use, but a series of action based techniques with no particular order to follow.
Let's begin this session by talking about some of the basic techniques within Growth Hacking:
Understand your core customers – find everything about your customer: who they are, what their problems are, how they want a solution and how your product or service can bring value to them.
Add Value in the Market – Teach your customers something that's extremely powerful that will get them results.
Build a solid strategy that will allow your potential customers to discover you, because they are searching for a solution they have a problem on and you should be their problem solver.
Build Brand Awareness by delivering part of your product features as free. Eg: you'll get a tone of awareness by providing a free browser extension with some cool features of your core solution. This way you will be able to attract top of funnel awareness for your actual product.
On the other hand brand awareness can be raised by building resourceful content around the actual problem that your product is trying to solve.
A great example for that is Unbounce. They serve their customers and their market with plenty of content around their product, which is basically a landing page creation platform for non-developers.
Unbounce's content revolves around customer conversion strategies and they keep educating for free until their customers are ready to buy their solution. This content-based marketing strategy helped Unbounce grow exponentially.
With that being said, let's jump on to the advanced Growth Hacking techniques to pave a way for your startup to quickly acquire the first 100K users.
1. Create a pre-launch email list
When it comes to generating leads and conversions for a company, email marketing still comes out on top.
One of the most effective methods to interact with your users and motivate them to become subscribers and customers is through email marketing. Plus, the return on investment is incredible. According to Smart Insights ,every dollar spent generates $40 in return.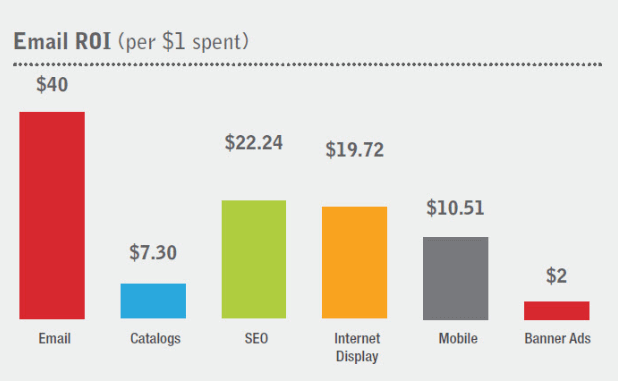 Best of all, email marketing is cost-effective. If you use MailChimp, for example, you may email your first 2000 subscribers for free. Following that, you can always look into other email marketing options.
Initially, it's crucial that you focus your efforts on growing the email list. It will be easier to reach your target audience this way.
Furthermore, email marketing helps businesses in establishing pre-launch buzz for any product or brand. This strategy will help you to acquire potential consumers prior to the launch of your product.
However, building an email list takes time.
So don't just make a list of email addresses and then do nothing with it. Take a few weeks to build some curiosity and get your audience excited for your release.
You should be using email services like MailChimp to create email lists since it helps you to send emails effectively. Considering interaction with the potential customers is so important in conversions, reach out to them at least a week before your launch can.
We recommend setting up an exit intent campaign with a lead magnet on your website to get the most out of this campaign.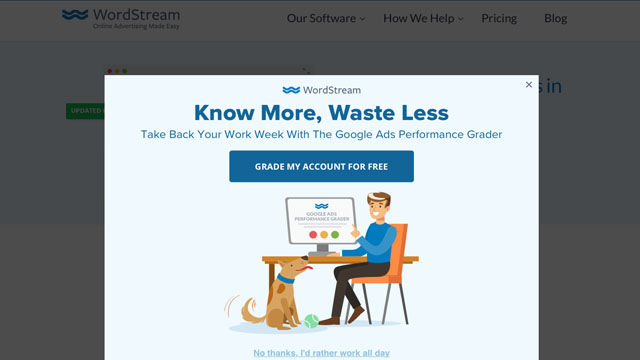 A lead magnet is a free gift given to potential customers in return for their email address or other contact information.
In most cases, lead magnets include a piece of digital, downloadable material, such as a free PDF checklist, report, or eBook, that can convince them to trade their email ID.
Exit Intent monitors user activity and sends them a personalised ad just before they're about to depart.
2. Optimise your online presence
Online presence is critical for business to get recognised, but it involves more than simply providing a platform for customers to visit. You must do things the right way in order to grow your business online.
So, what does it take to stand out on the internet? Obviously, things get different from one company to the next and from one industry to the other.
Some businesses may wish to focus on direct conversions, whereas others want to provide value in the form of knowledge and information. It doesn't matter how unique and great your product/service is if no one can find you online.
Here are some helpful tips for establishing a solid online presence for your business:
Build an attractive website for your business. You need to find the best web developers to achieve that.
Perform search engine optimisation to improve your site ranking.
Create a solid content strategy for both website and social media platforms.
Master the art of Paid Ads and leverage it to build your brand awareness.
Be more active wherever your audience hang out and engage with them.
Develop relationships across your industry and explore influencer marketing.
In order to make some fuzz around the internet amongst your potential customers, business alliances and partnerships are one of the strongest growth hacking strategies.
Many companies have discovered that product collaborations and co-marketing are excellent growth marketing strategies.
In many instances, businesses with multi-million audience online tend to collaborate with other brands in similar industries to that of them to double their audience.
You aren't searching for a direct rival here. Rather, put your effort in finding someone that compliments your own. For example, if you are in the business of selling handmade pet food, there's a good chance to partner up with a company that offers pet toys or custom collars.
So, what's the ideal approach to collaborate with the other company?
You could come up with strategies for organic ways to blend your followers, such as mentioning each other on social media platforms, offering product packages that include your items, or perhaps even cross-posting on each other's websites.
Not only will it create lots of attention among your audience on the internet, but will also drive relevant organic traffic to your website. This will increase the exposure of your products or services globally and provide opportunities for media coverage.
4. Utilise the power of referral marketing
One of the foundations of growth hacking is referral marketing, which significantly increases your other marketing efforts. Consumers are up to four times more likely to purchase after receiving a reference.
Referrals from friends, family, and industry influencers convert leads much more quickly than any other methods. Referral clients have a lower CPA (Cost Per Action or Acquisition), helping you to decrease your marketing expense as well.
Implementing the right kind of referral program is one approach to achieve your overall marketing goal. Have a simple yet attractive landing page with details about the referral marketing campaign and an impressive call to action for capturing emails. Then ask your existing newsletter readers and customers to forward it to their friends and family.
Uber began off as a ride-sharing service. Referral marketing was utilised to improve brand recognition and user reach. The approach was simple: when other customers used their referral code, they received a $5 credit. This strategy was so effective that it has subsequently been copied by every other business ever since.
So don't think of referral marketing as a low-hanging fruit if you are looking to grow your business in 2021. Consider it  rocket fuel which could propel your business into new terrain.
5. Social media growth hack: build a community for your brand
For businesses, social media has become an important factor of their marketing mix. You could use social media platforms to showcase yourself, get opinions from the community, and connect with potential clients.
Content creation and audience growth take time. To do this, you must try to match your social media efforts with your entire growth strategy.
Find platforms that your competitors aren't leveraging to help you build your social media networks. You have unlocked immense potential to your target audience, if you have dominated social media over your competition.
You could also direct visitors from your website to the social network and vice versa, building a positive experience for maximising your audience's potential.
Moreover, you can begin by creating a Facebook group exclusive for your company, where your target audience could hang out. However, you must guarantee that you are contributing value to them through it. This could not only engage the current audience, but could also work as brand awareness for those who are unfamiliar with your business.
Posting challenges, addressing customer pain points etc, is another effective social growth hacking technique. This will help you motivate your audience to use your product or services and share that along to interested people within their network.
Another great benefit that you are about to gain from this technique is improving your online visibility through new followers, likes, and more shares on your posts.
6. Develop a bold content marketing strategy
One among the key components of effective growth marketing strategies is having a solid content marketing plan in hand.
Create a content marketing plan for your business that helps your audience to understand the value of your product. Your content marketing strategy should always focus on attracting the proper audience, regardless of what sort of business you have.
Always keep the goal of producing shareable content in mind while building content marketing initiatives. For example, video material has become a key component of many content marketing initiatives. Mostly because you can fit a lot of information into a small space.
It is indeed a difficult task for content creators since there is no defined method for determining the virality of a piece of content. But the best part is that you can create highly shareable content irrespective of the size of your team or the amount of resources at your control.
You just have to add the right emotion, value, and, of course, the right hooks for enticing potential consumers to your landing pages.
7. Get Listed in Relevant Marketplaces
With more and more new products and services getting released each day, it's vital to have yours listed where it belongs. Product Hunt, one of the go-to destinations for anybody looking for launching new services or products of their likings. These platforms help you reach your voice to a new target audience, thus helping you to grow exponentially.
Product Hunt has remained a market leader in terms of exposing your business to a wider audience worldwide. It's your "magic key" to receive the complete attention of several other entrepreneurs and innovators. Use this opportunity wisely to unlock new possibilities for your startup growth.
Some basic steps to get your product listed:
Signup on Product Hunt and set an elegant profile there.
Give back to the community by commenting and upvoting.
Network with people on the site.
Add and promote your product with news press releases.
8.Content Repurposing
Re-purposing content or "content recycling" is a process of reusing all or part of the already existing piece of content in order to expand the content's reach.
Existing material can be adapted to meet a range of new requirements. Content that has been repurposed is usually marketed in a new format (for example, turning a blog post into an infographic).
A marketer, for example, could insist on creating a podcast, a blog, and a video for social media. But a real growth hacker does the other way to achieve all three in one go. He films and records the podcast interview, then transcribes the audio to generate three formats for a single content.
Content re-purposing at its finest is converting old blog pieces into redesigned email newsletters, e-books, or guest posts. The idea is to save time, resources, and money by doing more with less.
The most key benefit of reusing material is that it makes scaling content much easier.
To put it another way, you don't have to create every blog post, video, or infographic from scratch. Instead, a fresh piece of content may serve as the foundation for articles, videos, social media postings, webinars, and more.
Bonus Growth Hacking Tips Worth Trying in 2021
9.Host and Attend Community Events and Conferences
Make new contacts, learn more about your domain, and be inspired. You don't stand to lose anything. Exposing your company at relevant business events and conferences will help you achieve success with little effort.
10. Leverage Adjacent Markets
Growing into markets in near vicinity to your business is a powerful approach for tapping new revenues. The key to get successful in adjacent markets is by exporting your skills and capabilities, it shouldn't be your products and services. Understand that it's all about taking your core strengths and applying them to new clients to create new value.
11. Follow Your Biggest Competitors
After you've identified your competition landscape, you'll need to show why your firm has a competitive advantage in each market.
A regular and detailed analysis of rival blogs (and the keywords used in those blogs) might assist you in customising your material for maximum impact. Similarly, you should monitor their backlinks to get a good sense of how they promote their products and services.
12. Do Guest Posting
Guest posting is a fantastic growth hack that many bloggers adopt to increase organic website traffic and reach out to new audiences while also increasing their search engine results.
13. Work with Influencers
There's a reason why businesses pay influencers to promote their products when it comes to brand building. Collaboration with well-known influencers is an effective approach to reach a larger audience.
14. Connect with Your Community
Narrow down your ideal customer to their natural "online" habitat, which is the easier way to connect with them and engage with their product queries. It's a wonderful approach to nurture leads who are interested in your products or services.
15. Use Interactive Content
Quizzes, webinars, and videos are all examples of interactive content that are becoming increasingly popular in marketing strategies. In growth hacking, getting someone to pause and connect with your content over your competitor's is considered a major win.
16. Build a free, useful tool
Free tools are proving to be quite beneficial to growth marketers. You might have heard about Ubersuggest which is giving out some features of the tool to the public for free.
This helps them achieve a huge spike in the number of users utilising the tool. Later in the timeline some good percentage among the free users self-willingly converts without having to run them through yet another marketing campaign.
17. Don't Target Everybody
Focus your efforts on the small percentage of people who benefit the most from your product. You may add layers to your acquisition metrics while generating an Ad, such as all visitors who viewed at least two pages or remained for at least ten seconds. This indicates that these folks are interested in what you have to offer.
Best Growth Hacking Examples
If you look closely, there are examples of growth hacking all around us. Companies are always looking for new methods to innovate in the marketing sector relevant to their industry, and the sales funnel is built right into their products or services.
The key is to concentrate on what Gary Vee refers to as "chasing attention." As he says, attention is the most valuable asset. It's considered more worthy than mere impressions, it's time to go deeper to how things are sold and consumed.
To help you become inspired, we've assembled the most effective growth hacking examples of businesses that have successfully implemented low-cost promotion techniques to generate fascinating growth.
While each brand is different, these growth hack ideas will help you get creative so you can extend your client base and increase income.
1. Airbnb
Did you realise that Airbnb got its start on Craigslist? This is what I meant when I mentioned Gary Vee-style chasing attention. Airbnb discovered that the majority of its target audience was using Craigslist to find somewhere to stay.
Airbnb got its start by sending automated emails to people who posted rental ads on Craigslist.
They had previously proved its capacity to be innovative, particularly during the Obama-McCain election, but it really took off when it started posting its ads on Craigslist. After one tipping point, when they gave free photographic services to deliver authentic photos to every listing in NYC, this strategy absolutely shined.
Looking back today, AirBnb concentrated its efforts on improving one crucial aspect: the appeal of its listings. Other reasons as well have contributed to their early success, including:
Meet-ups and events to promote community building and engagement.
Versatile content marketing within travel niche.
Other growth marketing hacks like referral programs, traffic hacks, etc.
In today's digital ecosystem, the world's most popular social networking platform is without a question one of the finest growth hack examples. With over 2 billion members, Facebook has become a part of our daily lives. This Quora question " What are some decision taken by the "Growth Team" at Facebook that helped Facebook reach 500 million users?" exposes two successful methods employed by the social media behemoth to scale.
To begin, they encouraged users to connect their friends and family to Facebook so that they could share material with those in their circle. Second, Facebook sent emails to their friends and relatives encouraging them to sign up for a Facebook account.
Many people were intrigued by this growth hack because they wanted to know who had tagged or referenced them on Facebook. They were curious about what others were saying about them on Facebook. People also wanted to see what they would get after signup.
A creative development strategy that has worked successfully for Hubspot is to provide a free tool. Hubspot is recognised for providing free resources to its users, and their website grader tool is one of them.
The application assists users in evaluating their websites for SEO, mobile friendliness, and speed in order to optimise them. Additionally, because you must sign up to receive your site report, it aids in the growth of Hubspot's email list.
Dharmesh Shah, the business's founder and CTO, attributed the website grader tool with helping the company expand to 15,000 customers and a $1.6 billion market value in 2015.
Since its founding, Tesla has manufactured over 600,000 vehicles. Those are some very high figures for a luxury vehicle brand, right? How did they achieve such fantastic results with a marketing plan that cost them nothing?
Tesla does not promote in the typical way that other vehicle companies do, such as through television commercials and billboards. Instead, they turned their clients into salespeople.
They leveraged a couple of tactics:
Scarcity
Exclusivity
Personal approach
Referral programs
Selling a lifestyle, not a product
Tesla's clever and low-cost marketing strategy has a lot to teach us. Tesla's marketing strategy became centred on the customer experience. They made their greatest (free) marketers out of their consumers. And, once again, promoting a way of life rather than a commodity appears to be a winner.
Uber has been quite clever in their strategy to enter new markets, tailoring their tactics with each new location they visit.
They included  nightlife, events, weather, and taxi service availability as the key factors within their location-based strategy. This helped them in ensuring the market demand, such as in San Francisco and Chicago, where hailing a cab late at night can be a major hassle.
They also focused their whole marketing approach on bringing lots of changes within the traditional/local taxi services, such as making payment simple, decreasing rates, and improving customer satisfaction.
They immediately began to give $20 to new customers to take their first trips when they realised that the customers tend to use their services regularly once they take their first ride. In fact, they anticipated that their client lifetime value will significantly exceed that figure in the future.
This incentive reduced many of the hurdles that new Uber users encountered, increasing their chances of becoming long-term clients.
They promoted the ease of their service above regular taxi services almost entirely via word-of-mouth publicity. Plus, Uber made excellent use of public relations by utilising their legal battles as free exposure to increase consumer loyalty and advocacy.
Traditional channels with pricey promotion aren't necessarily the most efficient method to advertise your products. Uber has demonstrated that unorthodox routes, even negative publicity, may be extremely beneficial to a company's growth.
We cannot complete the growth hacking example without mentioning Netflix. Netflix, which began as a DVD rental service in 1997, is one of the most revolutionary growth hacking examples.
Netflix's USP was the ability to watch whatever customers wanted, whenever they wanted, and it's still a key component of the company's success.
The corporation utilised a number of strategies, including splitting into two businesses, one selling DVDs and the other for internet streaming, and using the earnings from one to support the growth of the other.
Other growth hacking strategies employed by Netflix include:
Acquiring and streaming popular TV shows in order to get viewers to subscribe to watch them
Developing a strong social media presence to engage with entertainment fans
Hiring the greatest talent to generate amazing content that would entice people to subscribe
It's worth mentioning that Netflix now has more than 117 million active subscribers across the globe.
Trust the Growth Hacking Process
Conversion marketing and lead generation are sometimes mistaken for growth hacking. It is, in fact, quite different. All of the little metrics are irrelevant to a growth hacker. He or she aims to accomplish accelerated growth in the fastest period feasible.
Advertisement, freebies, promotions, and special offers are all examples of methods to spend money on consumers. While there is no wrong in trying new ideas (in fact, all experts agree), businesses should concentrate on implementing tried-and-true growth tactics.
There isn't a single hack that will fix all of your problems. Don't be afraid to experiment with new growth hacking techniques in the long term. Only you know what works best for your business.
That's it! With these 17 growth hacking strategies and getting inspired from the 6 growth hacking examples, your business is poised for growth.
Next, check out the best growth hacking tools for startups for more inspiration. And don't forget to follow us on Twitter and LinkedIn for more tips and guides related to startup growth.