What? How? Why?
The startup product development stage stumps entrepreneurs with a billion questions. Searching for the right answers can pause your progress momentarily.
In a world where Elon Musk makes around $375 per second, time is minting money.
We've asked our experts and curated these frequently asked questions to make it a one-stop solution that saves you potential millions.
Check it out.
1. What are the 7 stages of product development?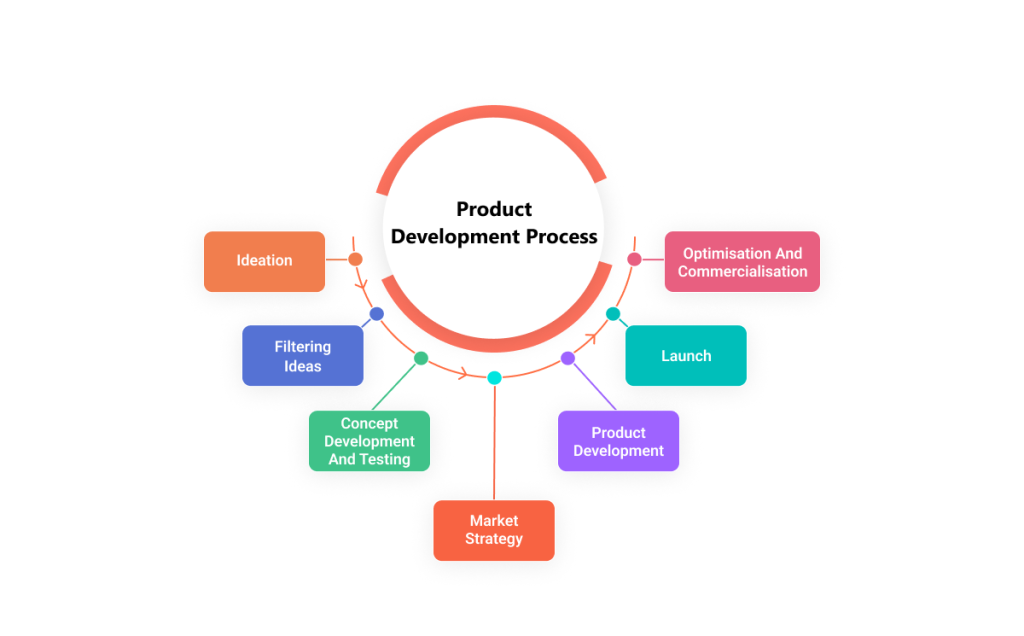 Like every process out there, startup development has 7 crucial stages.
Ideation
Filtering ideas
Concept development and testing
Market strategy
Product development
Launch
Optimisation and commercialisation
2. What are the strategic elements of product development?
Strategic elements of a startup development process have 4 key elements.
Launch
Life cycle extension
End of life
3. What is the role of product developers?
Product developers are people who help you to create your own products or change the ones you have to effectively meet your company's needs. They can be your in-house team or offshore.
4. How effective is product development?
We cannot completely predict the effectiveness of the product in the development stage. For that, the actual launch will determine the customer reactions. But we can improve the customer experience in the development stage.
Building an adaptive product with UI/UX design that initiates customer interaction will be a huge advantage in creating traction in the market. Choose your startup product development team will be a game-changer here.
5. What is the product development cycle?
Like the life cycle of a human from birth, a product also has different stages from its ideation. The life cycle is broken down into 5 stages.
New product development
Introduction
Growth
Maturity
Decline
The decline is where you reinvent the product to increase its life cycle.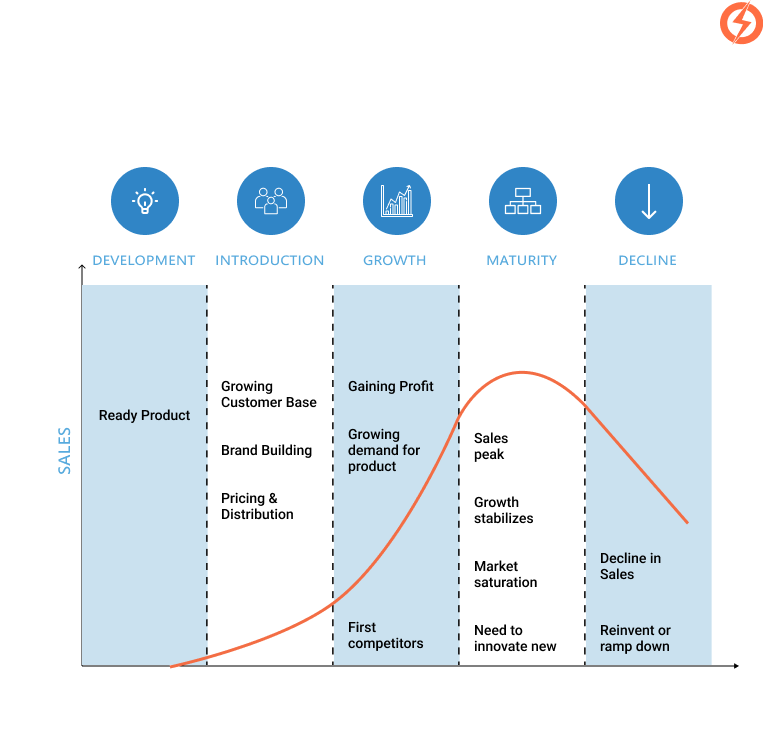 Suggested resource: Product Ideation Template
6. How does product development achieve company growth?
New product development aims to create an advantage for the business in the market by providing a unique solution to a common problem. If the product is successful, the company can leverage its success for its future.
For startups, product development is an opportunity to search for more funding options. They can include the progress achieved in these pitches and catch investors' eyes easily.
7. What are the strategic elements of product development?
Strategic elements of product development are the main factors that should be considered while developing your product.
Market need
Capabilities available to you ( technical, manufacturing and reputation)
The company's reputation
An effective product development strategy has all these elements.
8. What questions do you need to ask yourself before developing a product?
There are 7 questions you cannot miss while building your product.
Does the market need this product?
What will be the growth rate of the market?
Who are your competitors, and how can you do better?
Who is your target audience?
Do you have the technical expertise to build your product?
What will be your marketing strategy?
How fast can you get ROI for your product?
Make these questions into a checklist because these are unavoidable.
9. Who should be involved in new product development?
Even though your tech team is the main part of your product development process, you must include people from different areas of your business. This helps to ensure that the product is what the customers want, whether it is feasible and if you have the necessary tech to build it.
Hiring external consultants with the skill and experience is a great way to proceed with the product development process if you are in a pickle. Surveys from key customers will also prove to be fruitful.
10. What are the signs that your product idea might fail?
It's always nice to have a dreamer with you, but in the case of product development, over-ambitious projects may fail. This is not because they dreamed too far but because they took more than they could chew.
Complex projects need teams who are experts in those fields, or you will see people running for that panic button very soon.
That's the product development scenario. When it comes to the business aspect of the project, it needs to be profitable. The problems you might face include.
Competitors copying the product
Customers reluctant to buy the premium product
Small customer base
These are just a few things which show signs of failure. Team selection is also where things could take a turn for the worst.
If you want to know how to avoid that, check out our blog.
11. What is the main risk of product development?
The main risk of startup product development is that there is a high chance you start away from what the customers want and becomes what you want.
Products or services that are focused on new technologies or your passion projects are more likely to be products that are not customer-led.
The love story of technical hurdles and product development is stronger than Jack and Rose's. Most of the time, technical hurdles are bound to happen, and how you deal with them will determine the result of your product development process.
Insufficient demand for the product is another thing that could go wrong in product development. You always need to make a profit that covers the product development cost; otherwise, you would fail the product development mission successfully.
12. How can the risk of product development be reduced?
Identify the risks that can take place
Frontload testing these risks
Always be customer-centric
Identify your competition and keep an eye out
Learn and adapt fast.
These are some ways that you can mitigate risks in product development.
13. How can you improve product development?
Improving product development means you must take a few harsh steps, including killing a few new ideas. If it's not viable, it's better to let it go. The important notes to improve product development include:
Find the pain points.
Adjust the prices according to your customer.
Get customers involved early in the MVP phase.
Empower a team to work freely
Always remember that a product has a life after launch and work with that vision.
14. How to speed up the development process?
First of all, speeding up a process shouldn't affect your quality. We have to find the middle ground where efficiency meets pace.
A well-defined product development strategy and you stick by it.
Agile methodology is an excellent method you could try.
Periodically test your progress.
Documentation is essential.
Remove unused code.
These will help you speed up your development process. One more thing you have to remember is the technology your development partner chooses. The right software can save you time and money 10X.
15. Is product development speed important?
In this dog-eat-dog market, your startup product development speed can make all the difference. The fast-changing business environments can surprise you with more competition for your product than you predicted.
A product which is set to disrupt the market launched too late will only cause a ripple, and that's a loss of millions for you. Teams that provide customer-centric digital solutions would be the ones you need.
16. How can you increase product development efficiency?
Effective ways to improve efficiency in product development include:
A proper workflow
Leave no backlogs
Try to complete the work as perfectly as possible. ( improper coding structures will become a game of Jenga fast)
Regulate your works in progress
Make your progress visible so your team can see the goal clearly.
17. Is outsourcing a good idea for product development?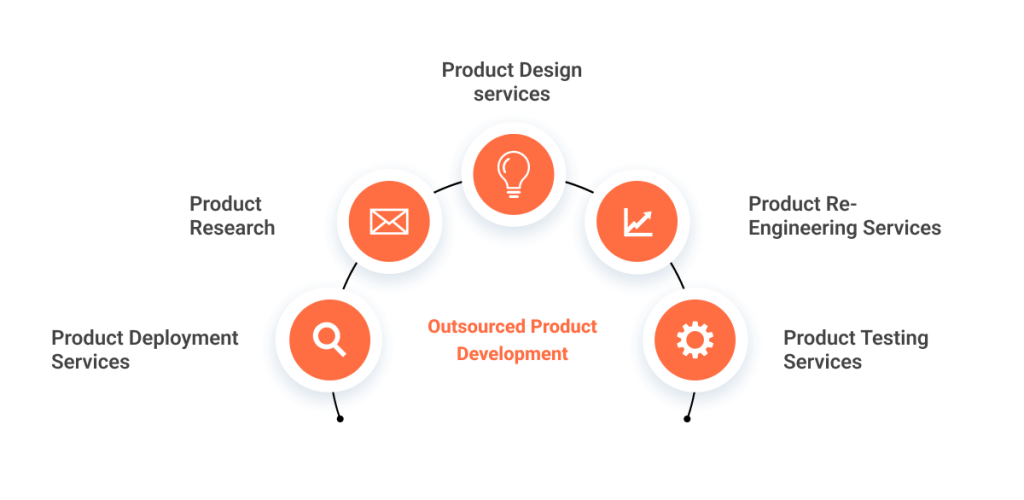 Outsourcing your product development is solely based on your circumstances. If you lack the technical expertise to build an awesome product, outsourcing can be the answer to your prayers.
Before you choose your outsourcing partner, there are a few things you have to consider, like NDA and all. Check out this blog to learn more about choosing your outsourcing partner.
18. How do you manage a remote product development team?
Managing a remote team might feel like a strenuous task for some. Here are a few ways to tackle that:
Communicate clearly what you want, how you want it, and why you want it.
Make them a part of your team rather than a separate entity.
Show your entrepreneurial spirit.
Do not micromanage and hinder their smooth workflow.
Optimize your meetings; have scrum meetings.
Provide access to information and sights
This all works only if the team you choose shares your values, so I'm again stressing the importance of hiring right.
19. What is good product development?
A good product results from extensive market research, thorough testing and careful concept planning. Whether a new or existing product, the above 3 elements are crucial in creating the best outcome possible.
20. What are the characteristics of successful product development?
An active customer base.
Reliable team members who work well together.
Clear objectives.
Solid research.
A clear product roadmap.
Thorough testing.
Adaptable and flexible.
Takeaway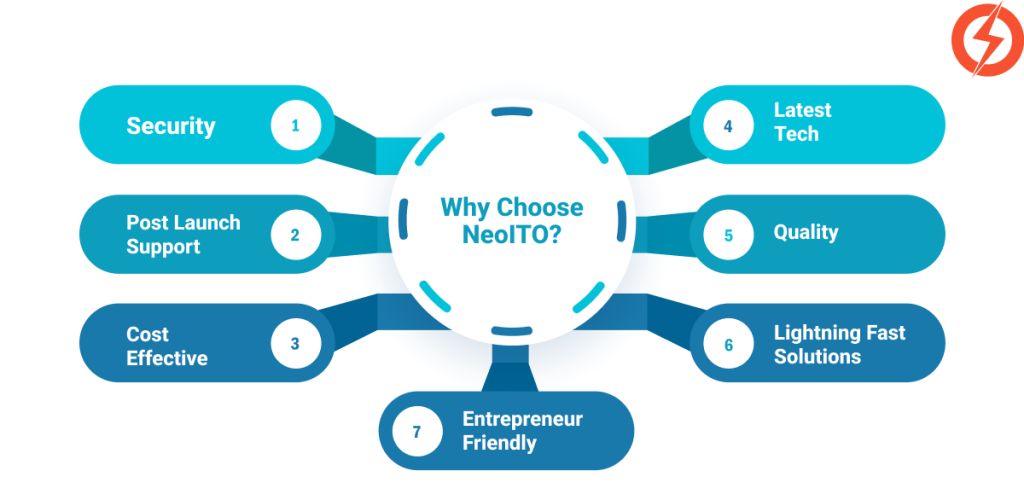 This is just a collection of some questions we encountered in our 8-year startup product development journey. We had to find answers the hard way by filtering through a lot of trash online.
We curated that experiences and came up with the response to these frequently asked questions.
If you still have questions that need expert insights, give us a call. Our team would be happy to help you.