Building an MVP is a crucial stage in your startup's journey to success. It helps you validate your ideas, get feedback from customers and reach product-market fit. So it's critical to get it running asap without burning through your resources. It's why you need to choose only the key features that your customers need.
Did you know?
The biggest reason why 70% of all startups fail is because there is no market need for the product. It contributes to a whopping 42% of all failures, followed by running out of money at 29%. It just goes to show the importance of picking only the most crucial features of MVP.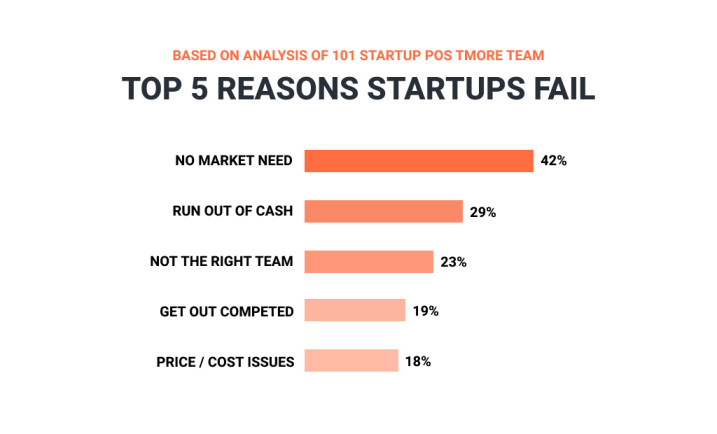 Now let's take a look at how we can prioritise features of MVP that corresponds to our business goals.
Set Your Business Goals and Product Vision
Before you move on to the product development process, you need to set the business goals for your startup. You need to set a plan regarding your product vision and the objectives for your business. It includes your unique value proposition (UVP), identifying target customers, the problem your product will solve, etc.
Having a good vision for your business will help you understand which features you need to prioritise for your product initially and which ones to add later on.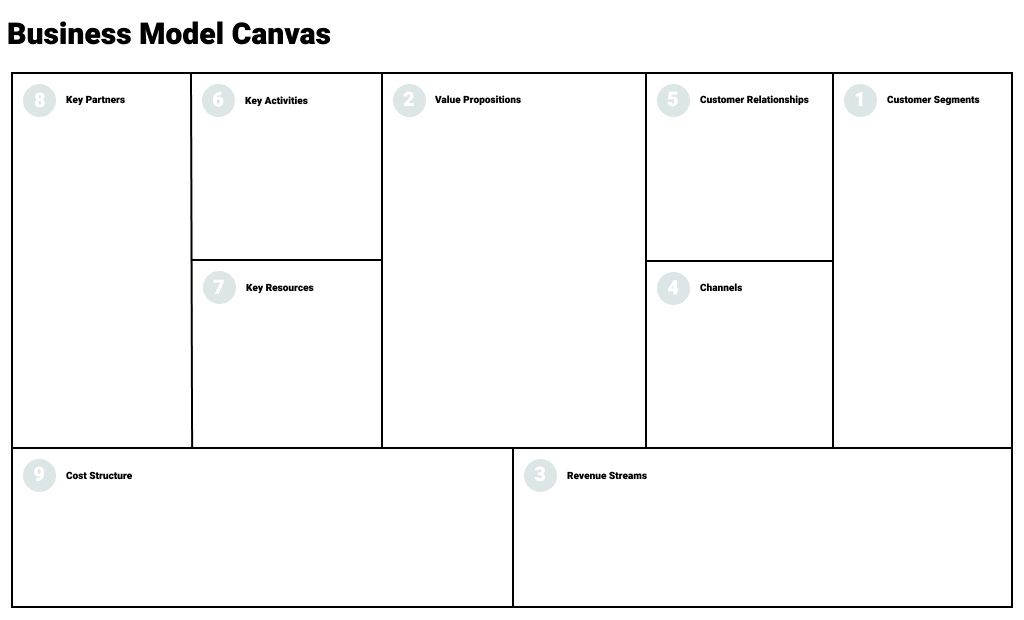 Creating a business model canvas is a great way to understand your business goals. It will allow you to create and tweak your business model. It can help you understand how to create, deliver and capture value.
Take a look at the 15 Different Business Model Ideas for Your Startup.
Why Customers Need Your Product?
As a startup founder, you need to be able to explain why your product deserves to be in the market before you begin the product development process.  You need to have a clear vision for your product and the goals you are looking to achieve. It's a key part of your product development strategy which will help you stand out from the competition.
Here is a tip to Acquire the First 20 Customers for Your Startup.
What Problem Will Your Product Solve?
Make sure that your MVP solves a problem customers are facing and is providing a unique solution to that problem. You may not even need to be the most original, but you have to be the best at solving that particular problem.
Is the Product Vital for Your Customers?
Just having a product that solves a problem doesn't mean you have a product that sells. Your product should solve a critical pain point that users face so that they will consistently use your product.
To understand that you need to conduct in-depth market research to find out the demand for a solution to the problem and if people are even willing to pay for it.
Who's Your Target Audience?
Your target audience is the person who's pain point you'll be relieving with the solution. Do not jump into product development without identifying your customer persona. Build a detailed user persona with details like gender, age, job profile, interests, location, etc.
It's not feasible for you to create features that will satisfy everyone, especially when you are trying to hit the market with your MVP. So focus on narrowing down your target market as much as possible.
How Are the Customers Solving the Problem Now?
You need to understand how your target customers are currently dealing with the problem and is it crucial enough to warrant a solution immediately or should you concentrate on more important problems.
It will also help you uncover existing products that solve the problem so that you can concentrate your efforts on improving your solution to take over market share from your competitors.
What Is Your Unique Value Proposition?
For your MVP and the future final product to be successful, you need to define your unique value proposition (UVP). Your UVP should help your product stand out from the competition.
Creating a unique product requires focusing on the key functionalities that make it stand out to convince customers to adopt your product and investors to back it.
So now that we know the purpose of your product and the value it provides your potential customers, it's time to find out how you can choose and prioritise the features for your MVP.
Choose Your Features Wisely
Research and analyse your market before picking any feature or functionality for your MVP. It's not a good idea to base your decisions on vague assumptions which do not have any backing to support it.
Keep in mind that the MVP should satisfy the immediate needs of your customers, so the features you work on should be able to achieve that first, the rest can come later.
Also,
You may have a list of features you want to incorporate in your app, but most of don't have a place in your MVP. The necessary features are the ones that will showcase your USP and optimise it based on market feedback. So your MVP should be the most minimal version of your app with only the key features that will help prove market value with minimal risk.
Let's see how we can prioritise them.
Wants vs Needs
It's important to distinguish between your users' wants and needs. Research and deliberate over which features are crucial and the ones that are not. Create a list of all the features you plan to offer with your product.
Then list out the ones that are essential to your potential customers and the ones which are just nice-to-haves. The essential features are the ones that will help you stand out from the competition and make customers jump ship to your product.
You'll again come back to this scenario once you have received feedback from your initial MVP release. Be careful while incorporating customer feedback in your MVP. Try not to ruin the experience by adding too many features that will ruin the user experience.
Features That Demand a Large User Base Can Come Later
As a startup, you know that during the initial product development, you won't have a significant user base. So, some features won't make sense until you are further along in your product journey when you have thousands of users. Implement those features when you have enough users to take advantage of it.
User-Experience Should Support Key Features
Building an MVP doesn't mean you have to slack-off on user experience. It is a critical part, especially when you are trying to capture the attention of new users. The design and architecture should complement the key features of your MVP and help grab the attention of your target customers and keep them interested.
Check out the 7 Things to Remember When Designing Your Product.
Consider the Long-Term Value of Features
Don't be afraid of investing your time and resources into a complex feature if you believe that it will propel your product forward and contribute to its growth. So the resources you invest in it now will be worth it in the long run.
Customer Feedback Support
One of the goals of building an MVP is to learn how customers feel about it. You must implement a feedback channel to communicate with your customers not only to understand how each feature is performing but also to build a bond with your users and letting them know that their feedback is important.
Keeping customers informed will help boost customer loyalty and tolerance level even if things are not working out quite as expected.
Build Your MVP
Once you have prioritised all your features, you can then move on to your MVP development. Don't be fooled into think that your MVP is going to be a runaway success cause more often than not it won't. You'll have to iterate over and over—improving, removing and adding new features.
Validation is the goal of your MVP. It will give you the opportunity to understand your audience better, unearth new problems and so on. It will improve your chances of building a product that resonates with your audience rather than investing in a complete product only to find out its not needed.
We, here at NeoITO, have worked with some amazing startups and built products with more than 1.5 million users and have achieved millions in funding. Our extensive experience with founders and entrepreneurs has helped us to understand business needs and contribute positively to a products success. We would love to help transform your amazing product idea into a great product!
Now that you are ready, read on to learn the Step-by-Step Guide to Build a Minimum Viable Product (MVP).