You see the signs of digitalisation everywhere you look, and you want a piece of the action.
Technology is creeping, nay, sprinting through almost every field you can think of, making us all slaves to our smart devices. Think about how dependent you are on your mobile phone to perform your daily tasks. From your morning alarm that you snooze indefinitely to the GPS guiding you to your destination, you'll realise that the technology you were used to ten years ago is now bordering on obsolete.
The number of innovations coming up in the tech field regularly to make your life easier, if used correctly, is heartening. It gives you hope that someday, in the near future, you might just be able to relax in the backseat while running errands as your driverless car zooms around town.
However, there is a major drawback of having so many technological options to choose. If you don't onboard the digital train right away with the rest of your counterparts, there's a chance you'll get left behind.
So, you've done your research and you are convinced that brick-and-mortar stores simply don't make the cut anymore if you wish to stay relevant in today's marketplace. After all, how can a street-side vendor hope to stay relevant in a market where people can buy anything from groceries to gold without even having to step outside their front doors?
Once you understood the importance of making a digital shift for your business, you decided to take the plunge and undergo a digital transformation to help your business keep up with the competition.
To start with, you want your very own mobile app to take your business online with the rest of the world. Even if you're not directly selling your products using your app, you can use it to engage with your audience and further your brand name. Now, how do you go about developing a futuristic mobile-friendly app that will surprise and amaze your users without prompting you to declare bankruptcy?
Read on as we touch on a few of the important tips and tricks you need to keep in mind before embarking on your journey to build a mobile application for your startup or small-scale business.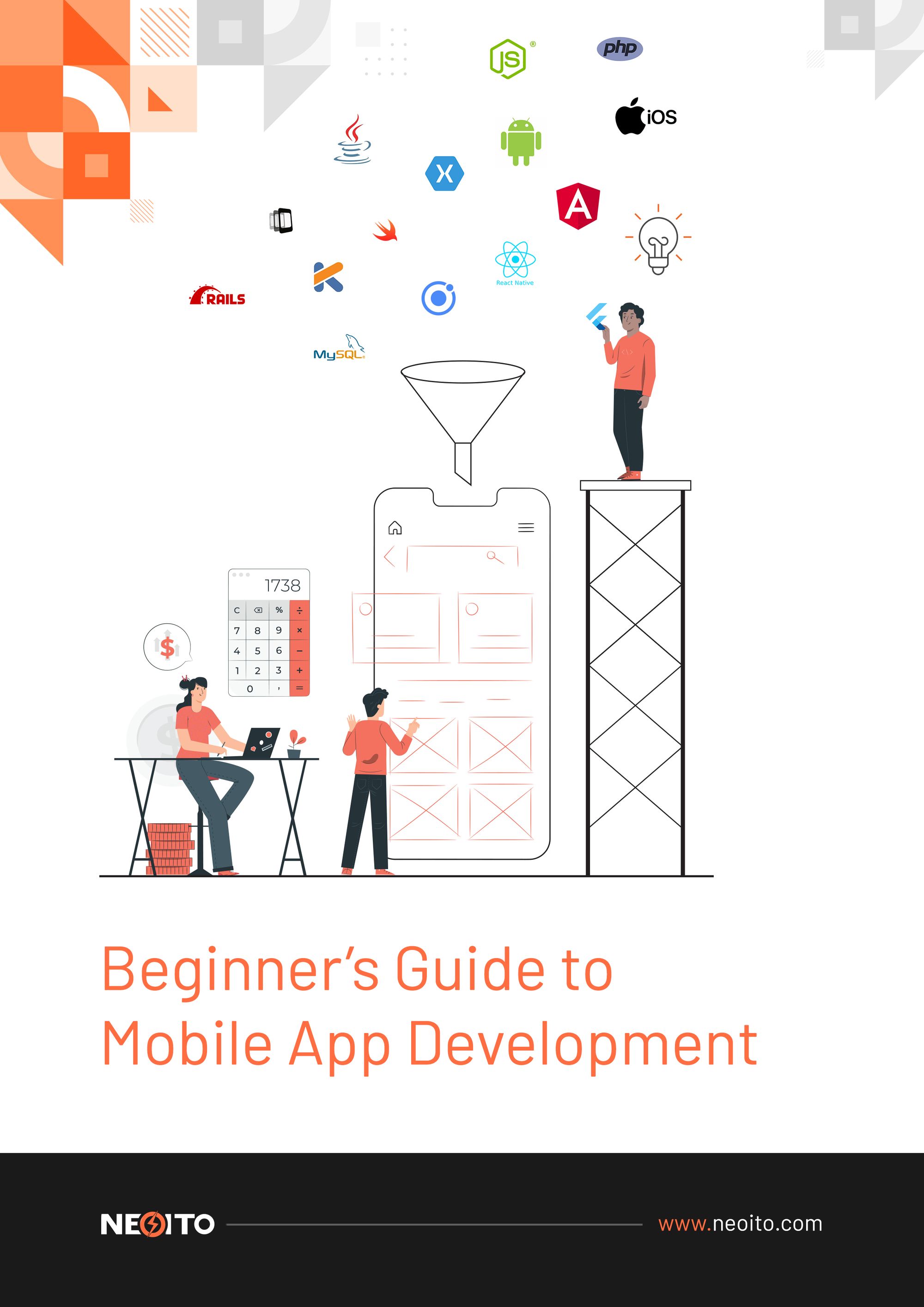 Free Download
A Complete Guide to Mobile App Development
1. Research Some More

Whatever research you think you've done, it's not enough. This statement should be the base on which you rest your mobile application development aspirations. You might have done enough research to understand the relevance of creating a mobile app for your business to give yourself a competitive edge. But that's not nearly enough research.
Extensive research will help you identify the mistakes made by those before you. It enables you to keep yourself from repeating the same mistakes while developing your own mobile app.
First, understand your business down to the dot. Who are you? What do you wish to contribute to the marketplace? Are you ready to scale up and make the transition from offline to online?
Once you know your business properly, do an in-depth analysis of your marketplace to identify if your mobile app will indeed boost your business.
Then analyse your competitors to understand where they stand and how far you have to go to catch up. It will help you understand their offerings better and help you figure out how to come up with unique selling points that will make your offerings more desirable. Finally, leave no stone unturned when you start researching your target audience to understand what exactly makes them tick when it comes to online shopping.
Read on to learn about the 13 App Marketing Strategies that startups must know.
2. Figure Out Your Requirements
Know your product and requirements well in advance. Based on your research, you should be able to get an idea of what you expect out of your final product. Why exactly are you developing a mobile app for your business? What capabilities do you expect your app to have? How will your app benefit your patrons?
Knowing your exact requirements beforehand can save you a lot of hassle when you're trying to convey your app idea to your development team. Lay the groundwork and explain your business vision in concise terms so that your developers get a clear picture of your business needs and can work accordingly.
Painting a clear picture not only helps avoid unnecessary confusion down the lane, it will also aid you in sticking to your budget in case you're hiring an external team to do the app development for you. The developers will analyse the app's complexity based on your needs and give you a clear quote on the money you will need to spend on your app.
Which is Better For Your Startup: Mobile App or Website?
3. Get a Clear Idea of Your Final Product

Your final product should be a delightful surprise to your users, not to you. Having a clear idea of your product will help you in the product development process in numerous ways. You can use your extensive research on user profiling to figure out if you need a native app, a web app, or a hybrid one to align the functionality of your app with the needs of your target audience.
Having a final draft of your product idea will also help you tweak and change your app as the project progresses to optimise your final product to the best version it can be. After all, there is always room for improvement. If you can make your team understand your product vision, your development team can streamline your product development cycle to achieve your target in the minimal possible time.
Which to choose for your next mobile app development project, Flutter Vs. Ionic?
4. Find the Right Team

Your final app will only be as good as your team. Find yourself a team of skilled industry experts who have experience working with different clients. If you are outsourcing your app development project, make sure you find a reputed service provider who can work well with your core team. Alternatively, if you don't want to outsource your app development and decide to train your own team, you can hire a consultant with niche expertise to guide them on their way.
Either way, you must not start your development process until you are satisfied with your team. See your final mobile app as a beautifully cooked steak. Your team members bring the ingredients and spices that go into making your final dish. Even a small mistake in the recipe can change the flavour and texture of the dish drastically.
Start your project only after making sure your team can back you up any time.
Learn how to optimise your team for Business Growth.
5. Know When to Outsource
An excellent tip to keep in mind while developing your mobile app is to outsource judiciously. Outsourcing is a great way to get your tasks done, especially when it's a short-term task and would not require you to make a permanent hire. You'll also get access to a much larger talent pool, which is good for product innovation. But, it is important to know when you should outsource and when you shouldn't.
If you're in the middle of your product development process, it's okay to outsource small tasks that don't affect continuity, but it would be risky to involve external stakeholders for huge tasks late in the development process. It's a good idea to outsource if you have a lot of pending tasks, or if your team is bogged down with more tasks than they can handle with tight deadlines.
Suggested Read: 10 Reasons Why You Should Outsource Your Mobile App Development.
6. Make Communication a Priority

Interactive communication is a prerequisite to developing a successful app. In the midst of the hundreds of hours spent on planning and strategising and optimising your product, do not forget the most important glue that is holding your project together: Communication.
Without proper communication, everything that can go wrong with your project development will most likely go wrong, so make sure you are connected to your team members at all times.
Good communication will bring your team closer, which will further enhance the exchange of ideas in your workplace and facilitate innovation in your mobile app development. Lucidly communicating your thoughts will also help you avoid costly mistakes in the long run and keep your workplace from engaging in a grown-up version of the Chinese whispers.
7. Plan Ahead to Stay Ahead
It is said that "if you fail to plan, then you plan to fail". Planning has always been an integral part of every journey ever undertaken in the history of the world, and your product development process is quite the journey. So, it needs to be planned well so as to ensure impeccable execution within the stipulated time frame and under the set guidelines and industry standards for quality.
Your app is a big investment for your business, your golden goose if you will; hence, it doesn't make sense for the development process to be unnecessarily rushed because of poor planning.
Start with a simple plan and work on it till it develops into a feasible one. Make your plan according to the agile methodology of working. So that all your team members are engaged at all times
Set goals and outline clear milestones that are achievable in the timelines you set. And don't forget to get regular progress updates from the team to ensure you're on track once the project is underway.
Check out the 15 Easy Steps to Build a Successful E-Commerce Mobile App.
8. Make Sure Your ASO is Done
If you're unsure what ASO is, you are not ready to start your app development yet. Go back to the first tip and research some more. ASO or App Store Optimisation is a crucial part of developing a mobile app. Think about this: once your app is ready to be launched to the world, how exactly can you ensure that it is discoverable by your target audience?
ASO makes your app visible to users on the app store by combining the right written and visual content. A unique and easy-to-spell app name, the right keywords for visibility, and an app icon so your mobile app is easily identifiable from its counterparts are all it takes to kick start your ASO process.
Throw in some screenshots to give a sneak peak into the functionalities of your app, a detailed description of your app services, and perhaps a crisp introductory and onboarding video, and you're good to go!
9. Start Planning Your App's Launch Well in Advance
While your development team is busy whipping up your app, there are things you can do on the side to prepare the marketplace for when your product is ready. If you start planning your app's launch in advance, you can get traction on your app's success as soon as it's completed.
Knowing the approximate timeline of completion of your app will help you start with the required marketing and networking strategies to create the right mood for your app's release.
Don't go overboard with the marketing, though. You want to create anticipation in your users, not bore them till they lose interest.
10. Play it Safe

Data security is a major concern for users of mobile applications, and the reasons are obvious. There are always people with malicious intent who will be more than happy to misuse the personal data of app users for their own benefit if the data is not properly secured.
It's always better to be safe than sorry, so take the proper security measures for your users' data privacy and take care of the legal aspects of releasing your app to the market such as privacy policies and non-disclosure agreements.
11. Implement Continuous Feedback Loops
Continuous assessment is a necessity when it comes to developing an app for your business. Without a frequent assessment of your project progress, it would be hard to be sure that you're heading in the right direction and sticking to the original plan. Your team also needs to be aware of the importance of continuous learning and assessment for successful product delivery.
The feedback loop you implement will allow your team to voice any concerns they have regarding the product development. You'll know if there are any delays in any of the development stages and, if so, why such a delay has occurred, giving you ample time to rectify it before proceeding to the next stage. In essence, a feedback loop mechanism will help you keep checks on all parts of the project development.
Have further doubts? Look up the 21 Mobile App Development FAQs Every Startup Founder Must Know – A Detailed Guide.
Conclusion
As a startup or a small-scale business, there are numerous little hacks you can keep in mind while developing your own mobile app, and sticking to the ones mentioned above would be a solid start. It's okay to feel a little overwhelmed as you start your app development journey. A reliable mobile app development company like NeoITO can help you overcome the hiccups you face when trying to launch your own app.
Contact us and get a free consultation now!