Building a startup from the ground up is a Herculean task. It's a mission that very few embark on.
And those who have embarked on it know how crucial mobile app development is to the success of your startup.
You can't entrust the mobile app development for your startup with just any run-of-the-mill mobile app development company. Your mobile app could literally be your brand's biggest ambassador!
As a startup founder, we're sure you know the pressures associated even with simple tasks such as just figuring things out. There are so many different ways of doing each task, and so many questions you need answers to!
So, when it comes to mobile app development for your startup business, what are the right questions you need to ask to figure things out?
In this blog, you'll:
Familiarise yourself with some of the basic concepts in mobile app development.
Become better prepared to handle outsourcing the mobile app development of your business.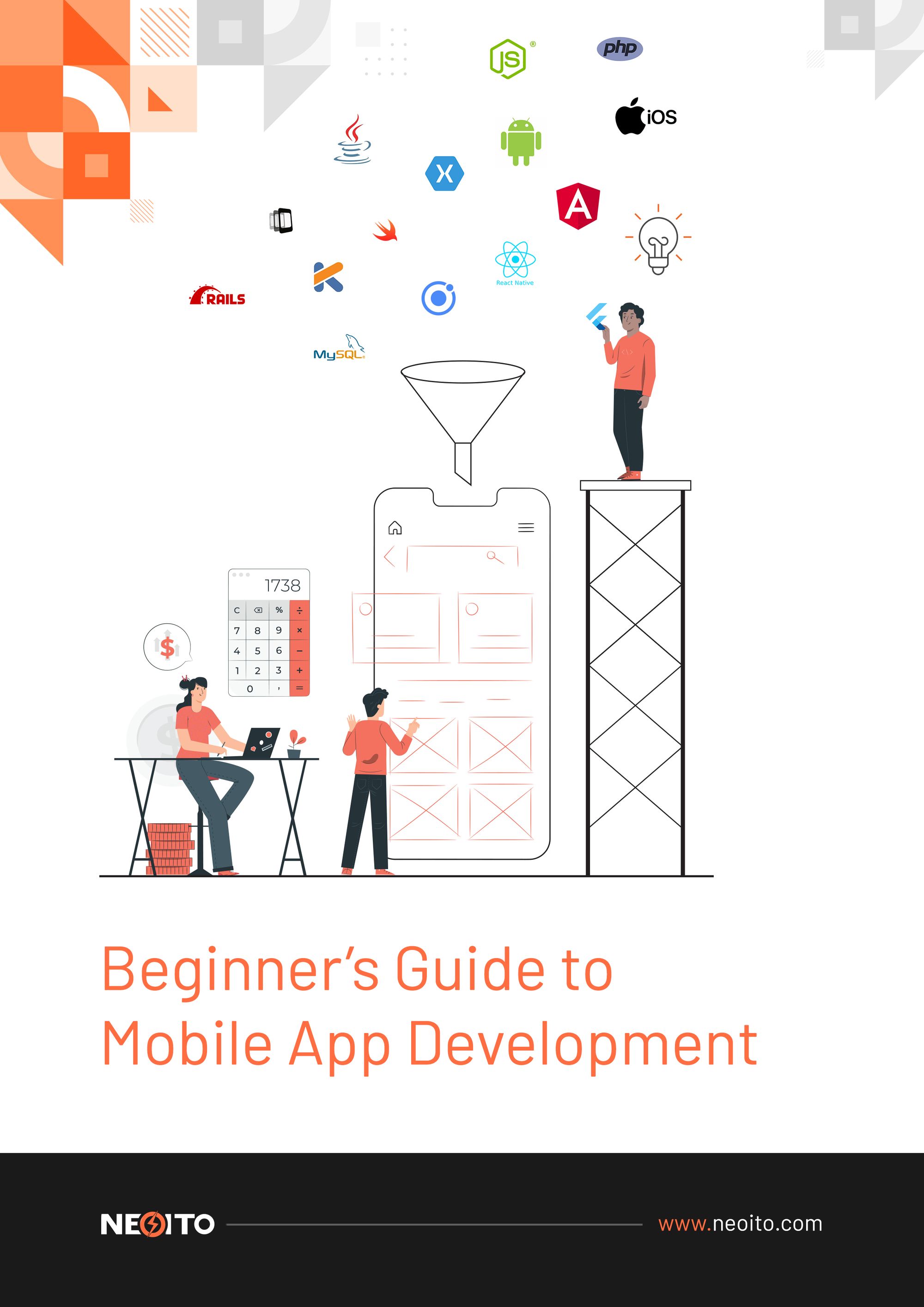 Free Download
A Complete Guide to Mobile App Development
Mobile App Development FAQs:
1. Is my app idea unique?
Well, let's hope so!
How can you find out if your app idea is truly unique? A few simple searches will help you determine whether you have come up with a novel app idea or whether your idea already exists in product form.
You can type in relevant keywords into search engines and see what pops up. Use the data you find to analyse the relevance of your app idea in the current market. You can also search app stores for similar apps using the right keywords.
If your idea is not unique, consider these questions:
Does your app have anything more to bring to the table?
Is your Unique Selling Point much better than your competitions'?
Do you think your app can make enough money to break even?
If you answered yes to all three questions, go ahead with your app idea.
Check out our blog on 14 Sure Signs That You Have A Great Business Idea for more.
2. How do I know my app is creative enough?
Now, this is a doozy of a question. How do you know if your app idea is creative enough?
Ask yourself this. Do you find your app idea creative enough? If yes, proceed to the next steps. Research and feedback.
Conduct a thorough background research to see what you're competing against. Does your app idea look like it could hold its own among the peer apps? If so, then you can go ahead and try to implement your idea and turn it into reality.
Don't forget to talk to others who have tread the same paths that you're treading now. There are plenty of experienced professionals you could pitch your app idea to see how viable it is in today's market.
3. Who will be interested in using my app?
It's important to remember that you are creating an app for others, not yourself. You need to be intimately familiar with the target audience of your product.
Your end users determine the future of your startup business and its ability to stay relevant in a highly competitive marketplace.
So, who are your end users? What are they looking for? Is there a specific niche demand that your app can address?
Do extensive research in this area and identify the audiences that could hold your potential end users. This will help you identify important business parameters such as the feasibility of your final product and the revenue-model you need to choose for your business.
Also read: How to Do Market Research for a Business Startup?
4. Is it important to choose an app category for my app?
App categories play an important role in the visibility of your final app. If you choose the right categories for your mobile app, it will improve your app's ranking significantly.
Consider choosing categories that are popular in searches and are also relevant to your app's functionality.
5. How long does it take to create a fully-functioning mobile app?
While a very basic version of a mobile app can take up to three months to develop, a complex mobile app development can take over nine months.
There is no time limit as such to create a fully-functioning mobile app for your business. The time it takes to complete your mobile app development project will be entirely dependant on the external factors you need to consider such as:
How complex do you want your app to be?
What are the core features that you want for your app?
Are you planning to outsource your app development to a reputed tech partner like NeoITO?
6. What are the prerequisites for a mobile app development project?
You don't really need to come from a technical background to understand the prerequisites for a mobile app development project. We'll list out the main ones here:
An app idea that is practically and economically viable.
Enough funding to kick your mobile development project into high-gear.
The passion and determination to execute your idea well.
Great communication and a workplace conducive to achievements.
And of course, a creative tech partner like NeoITO.
7. What are the main steps in a mobile app development project?
At NeoITO, our mobile app development projects are phased into seven distinctive stages:
Ideation – This is the part where we take your brilliant app idea and hone it till it shines.
Feasibility Studies – Our team of experts conduct detailed research to establish that your app idea has merit.
Design and Development – This is the stage where we bring out our big guns – our tech team – to design and develop your app idea.
Testing and Verification – We believe development and testing go hand in hand. This has helped us avoid numerous costly mistakes on behalf of our clients.
Documentation – We document every step of the tech journey you undertake with us. This gives us detailed notes to fall back on in the future and also come up with innovative ideas.
Product Launch and Marketing – Once your final product is all ready to be launched, we also help you come up with creative marketing solutions.
Product Evolution – Now, this is a crucial step. We believe in continuous learning when it comes to keeping up with the latest technology. This dedication to state-of-the-art services helps us make sure that your app evolves with the times.
Read the 7 stages of the product development process if you want to know more!
8. How much does it cost to develop a mobile app?
There is no cut-and-dried answer to this question. The cost of building a mobile app will be solely dependent on the features and complexity desired by the app owner.
You need to consider a number of factors before you can decide on a budget for your mobile app development project, some of which are:
How complex do you want your front-end to be?
Is there a steep deadline that you must meet?
What are the stakeholder expectations for your mobile app?
How detailed do you want your UI to be?
How large a load must your app's back-end be able to handle?
What are your financial projections like?
How soon do you wish to break even on your app's development costs?
Read the average mobile app development cost in 2021 to understand mobile app development costs in detail.
9. What frameworks and mobile app development languages should I choose for my app?
Again, this is a question that has no single answer.
The framework and programming language selected for your project will depend on various factors. Some of the main factors you need to consider are:
The project requirements.
The mobile app development skills of your team.
The complexity of the mobile app required.
It's always good to choose mobile app development languages with lots of frameworks and libraries.
To know more about the different mobile app development frameworks and programming languages that you can choose for your mobile app development, read the top mobile app development frameworks in 2021.
10. Is it better to hire freelancers or outsource my app development?
We say outsourcing is better.
There are many benefits that come with freelancing your mobile development project. You get access to a larger talent pool at lower expenditure costs. You get employees with flexible work schedules.
You basically get more work done with less resources.
So, what makes outsourcing even better than freelancing?
In simple words, outsourcing is when you pay an agency to hire freelancers to do the work for you. Outsourcing your work means you can get all the benefits of freelancing your project, with an added perk.
If you outsource your app development project, you can eliminate the stress of managing the freelancers who are working on your app idea.
If you are interested in learning the other perks of outsourcing, you can read why outsourcing may be the best move for your business.
11. How often will I have to update my app?
You will need to evaluate the user feedback your app receives to get a better idea of how often you must update it.
On average, you must update your app at least once a month to ensure that it stays up-to-date with the latest technological innovations. You can even update your app up to four times a month, if you feel your update will enhance the overall appeal and performance of your app.
12. Is it possible to make money using my app?
Yes, it is possible to make money using your app. Even if your app doesn't facilitate e-commerce, there are many ways of generating revenue using your app.
One of the most common ways of generating money using your application is by offering advertising space to other businesses. In addition to advertising, you can also consider revenue-generating business models like subscription models or freemium models for your mobile app.
Take a look at some of the common revenue-generating business models you can consider for your mobile app.
13. How can I find good investors to fund my app development?
Your app development project can't kick off without the essential funds. There are many ways to find reliable investors for your app development.
With the right pitch and supporting documents, you can easily find Angel investors, Venture Capitalists, or even family or friends willing to put their money where your app idea is.
Investors look at a few essential factors before giving your pitch the benefit of the doubt.
Take a look at the 17 vital factors venture capitalists look at while deciding to invest in your idea.
14. How will I measure the success of my mobile app?
You can measure the success of your app based on user engagement with your app.
How well is your target audience reacting to your finished app?
Is your app doing well on the app store?
Is your app living up to the financial projections you made?
Ultimately, your app's success or failure depends on how well you built it. The sweat, grit, and tears you invest in your app will definitely show on the final product. We've got a step-by-step guide for you on how to build your first mobile app.
15. If I outsource my app development, will I still be the app owner?
Yes, you will still be the owner of the app, irrespective of who gets the development work done. All copyrights and intellectual properties will be used at your sole discretion.
To ensure the best in data privacy and security, consider investing in a reliable tech partner like NeoITO for your app development needs.
16. Who are the main stakeholders in an app development project?
Let's say your mobile app development is like cooking a fancy dish for dinner. The main stakeholders you need to consider in a mobile app development projects are:
The Owner : the person who brings up the idea of a new dish.
The Investor : the person who spends money on the groceries.
The Tech Team : those who prepare the dish and taste it.
The End User: the person who dines that night!
17. Why should I get a mobile app for my startup?
Okay, you're in the wrong place if you still have doubts.
Read on if you want us to reinforce the importance of mobile apps for your business.
18. How can I make sure that my mobile app reflects my brand?
There are many ways to ensure that your mobile app also acts as a promotional platform for your brand.
You can customise your mobile app to showcase your brand values.
You can run native ads to educate your users.
You can even use your mobile app to increase brand awareness by creating engaging platforms with end users such as blogs and forums.
19. Should I get an Android or iOS app?
Your target audience determines the type of app you should get.
If you are inclined towards users who use Android phones more, then consider getting an Android app.
However, iOS users tend to pay more for premium app plans, so while deciding on the type of app, keep your intended sales targets in mind too.
You can also look into getting a hybrid mobile app if you wish to have a much bigger target audience for your finished app.
20. Should front-end or back-end be given more priority?
Do you want your mobile app to be more form-oriented or function-oriented?
If you want a mobile app that handles small loads and emphasises user interaction, then you need to give your front-end more attention.
However, if you need an app that can handle large loads of users without compromising on performance, you need to consider investing more time and resources on strengthening your back-end.
21. Which is the best app development company to outsource my project to?
The tech partner you choose to outsource your mobile app development project can, in essence, make or break your business. First, you need to understand your project requirements thoroughly. We can help you make an informed decision about choosing a tech partner that is the right fit for you.
We also believe that risk management and mitigation is important from the very beginning of the project. Read our blog on risk management in software development projects to get a clearer idea of the kind of the threats you should expect to face while developing your mobile app.
Conclusion
Building a mobile app for your startup is a time and labour-intensive project. It is one of the best investments you can make for your business. And your mobile app will reflect your brand values. So, choose your mobile app development services partner carefully.
You need the best tech team in the industry to guide you on your mobile app development journey. A mobile app development company with tons of experience understanding the nuances that drive tech startups like NeoITO can be a good tech partner for your vision.
Contact us to ask more! Our team of specialists are on call if you have more questions about mobile app development.