IoT apps for every Industry, custom-built
to scale
Revolutionary businesses disrupt their industries. Others follow. There are still countless unexplored areas across industries that could shape customer experience with the right IoT app development.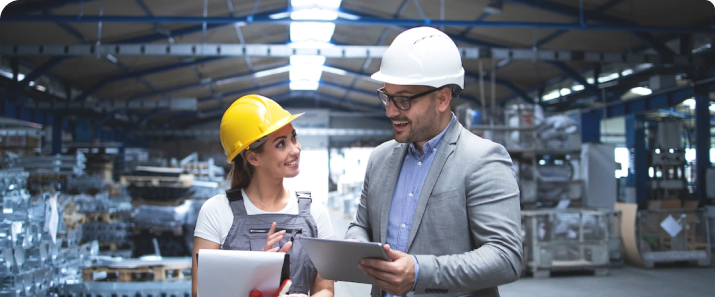 01

Manufacturing
Production quality control
Safety monitoring
Automated asset tracking
Automatic ticketing
Predictive maintenance
Process automation
Automated OEE assessments

02

Healthcare
Patient health monitoring
Wearable tech for patients
Automated drugs management
Treatment method optimization
Quicker disease diagnosis
Insurance coverage optimization
Operating equipment monitoring

03

Retail
Wait time management
Automated inventory control
Connected online & in-store experience
Smart shelves
Product delivery tracking
Customer experience personalization
Behavior analytics

04

Energy
Smart grid management
Machinery health tracking
Predictive maintenance
Remote production control
Automated resource optimization
Sustainable power generation
Electric vehicle management

05

Transportation
Traffic light automation
Parking assistance and automation
Connected vehicle tech
Transport/Convoy management
Smart accident assistance
Trip scheduling
Automated Toll and tickets

06

Agriculture
Farm data analytics
Remote farm monitoring
Sustainable farming
Automated pest control
Predictive irrigation
Harvest optimization
Livestock health management
Our Six Steps to IoT app Deployment, and one for Continuous Revision
Project
feasibility research
Planning and
timeline confirmation
MVP development
Alpha testing
Pre-deployment
checks
Official launch
Dynamic optimization
based on feedback
Our range of IoT Development Services
IoT development for all; happy customers overall.
Consult your IoT app idea
Check your IoT project feasibility and get expert help from our IoT consultants to build your IoT app.
Develop IoT apps
All set to get your IoT app to market? Accelerate your IoT development with our seasoned coders ready to build user-focused apps in record time.
Build solid backend & API
Strengthen your IoT app with the best in tech backend and API solutions. Deploy stable IoT apps capable of high volume traffic at affordable budgets.
Develop apps for IoT devices
Build IoT-enabled devices via apps to create a network of smart appliances for your users. Get help from our IoT team to launch your app today.
Build IoT Gateways
Create a central network for your users' connected devices with custom IoT gateways. We help customers worldwide manage their IoT devices while maintaining world-class network standards.
End-End support for IoT Development
Rest easy with our continued support and maintenance of IoT apps that often require tech revamps to stay ahead in the market.
Develop IoT apps for wearable devices
Build IoT apps for smart wearables to collect, track, and analyze user data and deliver better insights to customers. Get in touch to develop intuitive apps that tick.
Deploy Voice-enabled IoT apps
Use the best-in-class IoT to design and develop voice-enabled apps that elevate device functionalities for your users.
Run custom Data analytics
Our development team can help you build device networks that generate insights for your IoT devices to make data-driven decisions, make corrections, or/and automate processes.
You can count on us!
Take a look at what our expert web app development team offers you.
| | | | |
| --- | --- | --- | --- |
| Engagement models | Dedicated team | time & material | fixed-price |
| Size of project | Large | Medium to large | Small |
| Duration | Long | Average to long | Short and average |
| Client's control | High | Medium | Low |
| Budget | Highly flexible | Moderately flexible | Fixed |
| Change Requests | Possible during project implementation | Possible during project implementation | Possible after project completion |
| Time-frames | Estimated | Incremental | Predefined |
| Team scalability | Moderate | High | Low |
| Dedicated Resources | Retained month on month | Released after scope of work | Assigned |
| Requirements | Evolving | Evolving | Defined |
The best and Relevant Technology stack of our IOT apps
Wireless
Ethernet
Bluetooth
4g Lite
gsm network (2g/3g & sms)
Need IoT experts?
Hire ours in just 4 steps
Send us your project requirements
Select candidates with relevant domain expertise
Interview candidates to ensure best fit
Get them on & speed up development
Frequently Asked Questions
Why is it better to outsource IoT development?
IoT is a constantly evolving domain that requires teams that are willing to modify their offerings regularly. Our IoT team at NeoITO ensures applications to be cross-platform ready and accessible across a wide range of devices. Coupled with flexible budgets and quick launch and updates, businesses can focus more on user research and leave the tech to us.
How do I start a project with your team?
All it takes is a call with our team to discuss your app idea and fix a tentative deadline and budget for your project. As soon as they're ready, a team of IoT engineers can either be assigned or hired based on their expertise and the project can be commenced as quickly as possible.
Is it expensive to build an IoT app?
It depends on the level of features and the market you want to capture with your IoT application. Project budgets can be much lower if you require only a working MVP with basic features and functionalities to target early adopters. Projects with market-leading features may require more time to develop as they will require a lot of different functions to be developed, tested, and integrated to be used by a wide range of users.
How is NeoITO unique from other vendors out there?
Our development culture at NeoITO allows engineers to test their own ideas and find unique ways to solve user requirements. We've found that this has helped our clients build solutions that exceed their expectations and also find opportunities that were previously unseen which could have caused bottlenecks for their products in the future.
Do you provide continued assistance after developing apps?
Continued support and timely updates and maintenance are crucial for IoT applications to stand the test of successive waves of tech disruption. Our team of IoT developers and engineers constantly find ways to keep our projects market ready at all times and also implement timely adoption of new technologies to make applications quicker and more effective for users.
Looking for
other Services?
Explore our other related services to enhance the performance of your digital products.
Explore all services
Explore our other related services to enhance the performance of your digital products.